O.J. Simpson, the former football star who was imprisoned nearly a decade ago for a bungled Las Vegas robbery, was granted parole Thursday.
Simpson has served the minimum of a nine-to-33-year sentence at Lovelock Correctional Center, a medium-security prison northeast of Reno. He was convicted in 2008 of armed robbery and other charges related to a botched sports memorabilia heist in a hotel room.
"Thank you, thank you, thank you," an emotional Simpson told four members of the Nevada Board of Parole via videoconference.
He could walk free as early as Oct 1.
Simpson, 70, presented himself to the parole commissioners as a family man who has missed dozens of his children's birthdays while behind bars and a devout Christian who has led an essentially "conflict-free life."
"I've basically spent a conflict-free life. I'm not a guy that ever got into fights on the street with the public and everybody," he said.
Related: O.J. Simpson Has Been Granted Parole. What Happens Next?
The parole board on Thursday pointedly asked him why he had participated in the Las Vegas robbery and seemed to be looking for signs of contrition — but it took Simpson more than an hour to finally utter, "I'm sorry."
"What were you thinking?" commissioner Tony Corda asked Simpson, to which Simpson gave a seemingly combative, rambling response, going over many of the details of the crime, claiming he was just trying to get sports memorabilia that belonged to him.
An hour and five minutes into the hearing that was only expected to last 15 minutes, a more remorseful Simpson apologized.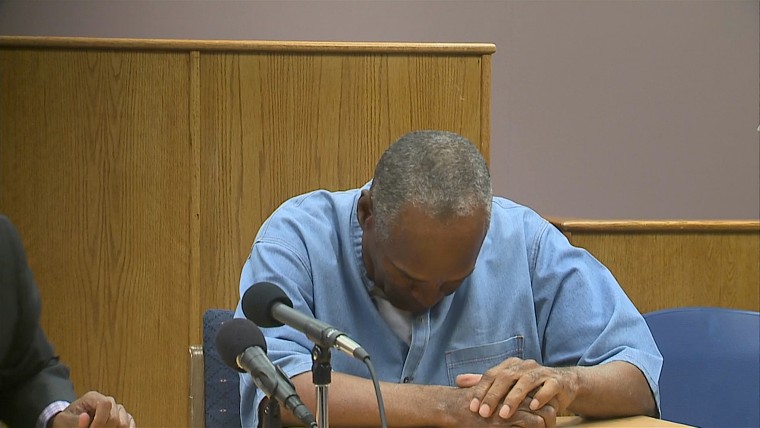 "I've done my time. I'd just like to get back to my family and friends," he said. "I'm sorry it happened. I'm sorry to Nevada ... I thought I was glad to get my stuff back, but it wasn't worth it."
He told the parole board that he'd like to go back to Florida, where he purchased a Miami home in 2000 and raised his children.
"I can easily stay in Nevada, but I don't think you guys want me here," Simpson said with a chuckle.
The Florida Department of Corrections said it was aware of Simpson's potential relocation, adding that he would be assigned a probation officer there.
The hearing gave the public a rare opportunity to see one of America's most well-known inmates.
Simpson was acquitted in 1995 in the gruesome murders of his ex-wife, Nicole Brown Simpson, and her friend, Ron Goldman, after a lengthy trial that riveted America. He was found liable for the double homicide in a 1997 civil case.
The robbery case was not connected to the double murder. Simpson still faces a $33 million civil judgment won by the families of the two victims. The Goldman family did not immediately respond to the news. Michael Wright, a representative for the family, said they were still grappling with it.
The so-called "Trial of the Century" captivated the country yet again last year with the release of an Emmy-winning FX miniseries that dramatized the legal saga and an Oscar-winning ESPN documentary that delved into the social issues surrounding it.
But the bizarre memorabilia heist that unfolded a dozen years after the legendary verdict proved to be Simpson's downfall.
Simpson had broken into the room in a Las Vegas hotel-casino with five other men and seized several items he believed were his property — game balls, plaques, photos of his children. He was convicted of armed robbery, kidnapping and 10 other charges in the crime.
Judge Jackie Glass sentenced him to 33 years behind bars, with the possibility of parole after nine years. In 2013, Simpson was deemed a low-risk inmate and granted parole on some of his charges.
Related: Prosecutor Christopher Darden Wants Simpson to 'Admit Your Sins'
Four of his accused accomplices — Michael McClinton, Walter Alexander, Charles Ehrlich and Charles Cashmore — took plea deals and testified against Simpson. They were sentenced to probation. A fifth accused accomplice, Clarence "C.J." Stewart, stood trial and was convicted. That conviction was later overturned by the Nevada Supreme Court, which ruled Stewart had been denied a fair trial.
Stewart, who spoke to NBC News by phone immediately after Simpson was granted parole, said he was pleased to see his co-defendant go free.
"I think it's very good," Stewart said. "He deserves a second chance."
"Now, the big question for me is: 'What's next, Mr. Simpson?' Are you going to use the abilities you learned in prison and put them to work?' If not, things are going to be very troublesome for him."
Simpson has spent his time behind bars mopping the prison gym floor and serving as a sports coach to other inmates. He told parole commissioners Thursday that he had become adept at conflict resolution.
His parole is due to expire Sept. 29, 2022, which means he must spend about five years living under the terms of his release. With good behavior and other factors, Simpson is eligible for up to a 50 percent reduction in his sentence under state rules.