Hours before O.J. Simpson was set to learn his fate Thursday at a Nevada parole board hearing, former prosecutor Christopher Darden blasted the former football star and his dubious past as a reason why he shouldn't be released — and said granting Simpson's freedom now would be "unfortunate."
"I like the photographs of O.J. in handcuffs more than I like the photographs of O.J. with a golf club in his hands," Darden said on NBC's TODAY Show.
Darden — one of the Los Angeles County prosecutors who played a key role in Simpson's sensational murder trial 22 years ago — added that he can't be trusted because he's long been able to manipulate people, labeling Simpson a "narcissist."
"He's saying what he needed to say and doing what he needs to do to get out of prison," Darden said.
Simpson, 70, was acquitted in the brutal stabbings of ex-wife Nicole Brown Simpson and her friend, Ron Goldman — murders that remain unsolved.
But it was his role as a ringleader in a 2007 armed heist to recover sports memorabilia from collectors at a Las Vegas hotel that led to his sentence of nine to 33 years. He's now nearing the nine-year mark, and is most likely to be paroled because of his good behavior, legal experts say.
"The fact that he's a model prisoner doesn't mean he's a model citizen," Darden said.
Related: Will the Nevada Board of Parole Grant O.J. Simpson's His Freedom?
Simpson's parole hearing will start at 10 a.m. PT (1 p.m. ET) in Carson City, although the Hall of Fame running back will appear via video conference from the Lovelock Correctional Center, a medium-security facility northeast of Reno where he's been housed.
The hearing, which will be livestreamed on NBCNews.com, could last no more than 15 minutes. Afterwards, the parole board will vote on whether he should be released. In addition, one of the men Simpson robbed in the 2007 case is set to testify, potentially on his behalf, according to The Associated Press.
A decision is expected later Thursday. If parole is rejected, another hearing could take place from one to three years from now. But if Simpson does win parole, he could be freed as early as Oct. 1.
While Simpson's past arrest and acquittal can't be used against him in the parole board's decision, Darden said he'd like for the board to question him about it — if only to see how he would answer today.
"Did you kill Ron and Nicole? ... That's the one question everybody would like to ask," Darden said.
"Let's move this discussion forward," he added, telling Simpson: "Admit your sins."
Darden, 61, remains convinced Simpson was behind the 1994 deaths of Brown Simpson and Goldman.
"We have yet to extract from him the punishment that he deserves," he said, adding that "justice ain't killing two people, butchering two people and getting away with it."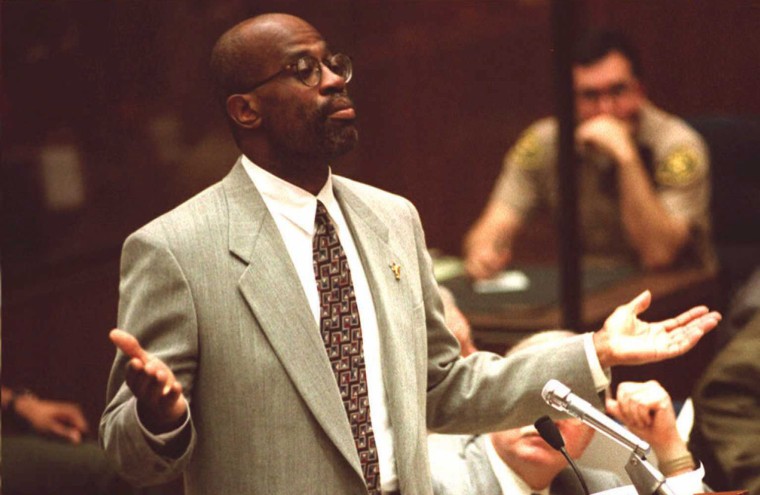 The public's consumption of the so-called "Trial of the Century" in 1995 has been fueled by renewed interest in recent years. An FX miniseries, "The People v. O.J. Simpson: American Crime Story," won critical acclaim (actor Sterling K. Brown, who played Darden, won an Emmy for the role) and the ESPN Films documentary, "O.J.: Made in America," won an Academy Award this year for Best Documentary Feature.
"It goes on and on," Darden said. "Now we have the parole hearing of the century."
He told TODAY last year that he wished he had never been involved in Simpson's murder trial, which turned him, fellow prosecutor Marcia Clark and the lawyers defending Simpson into household names.
Has he changed his mind?
"Never, ever," Darden said Thursday about wanting to relive his involvement. "I still feel that way."