Four members of the Nevada Board of Parole will convene in Carson City on Thursday to consider the case of Inmate #1027820. The parole hearing will likely be routine, save for one boldfaced fact: The inmate is O.J. Simpson.
Those parole board commissioners must decide whether one of the most infamous men in the nation, imprisoned nearly a decade ago for a bungled Las Vegas robbery, walks out of prison.
But according to two former chairs of the state parole board, the commissioners will treat O.J. Simpson, who turned 70 last weekend, just like any other potential parolee — notorious as he may be.
"That's really the beauty of the system: It's the same for everyone," said Dorla Salling, who served as chair of the parole board from 2000-2009. "It doesn't matter what your name is."
Simpson was acquitted in 1995 in the murders of his ex-wife, Nicole Brown Simpson, and her friend, Ron Goldman, after a lengthy trial that riveted America. He was found liable for the killings in a 1997 civil case.
The so-called "Trial of the Century" captivated the country again last year with the release of an Emmy-winning FX miniseries that dramatized the legal saga and an Oscar-winning ESPN documentary that delved into the social issues surrounding it.
Those series may have reignited public fascination with the former football star, but they will not shade the opinions of Nevada officials at the July 20 hearing, said Thomas Patton, another former chair of the parole board.
"I don't think they're going to be swayed by something that was put out in a media context. They're looking at a particular crime for which he was incarcerated in Nevada," said Patton, who served as chair in 1997 and 1998. "I don't think TV documentaries or shows — I would be very surprised if that played a role in anybody's thinking."
The crime in question, explored in detail in the five-part ESPN film, proved to be Simpson's downfall.
In 2008, Simpson was found guilty of robbing two sports memorabilia dealers at gunpoint in a Las Vegas hotel room. He had broken in with five other men and seized several items he believed were his property — game balls, plaques, photos of his children.
Simpson was convicted of kidnapping, armed robbery and 10 other charges in the crime. Judge Jackie Glass sentenced him to 33 years behind bars, with the possibility of parole after nine years. (He was granted parole on some of the charges against him in 2013.)
Four of his accused accomplices — Michael McClinton, Walter Alexander, Charles Ehrlich and Charles Cashmore — took plea deals and testified against Simpson. They were sentenced to probation. A fifth accused accomplice, Clarence "C.J." Stewart, stood trial and was convicted. That conviction was later overturned by the Nevada Supreme Court, which ruled Stewart had been denied a fair trial.
McClinton declined to be interviewed for this article, and the other men did not respond to requests for comment from NBC News. Bruce Fromong, one of the collectibles sellers, also declined to be interviewed; the other dealer died in 2015, according to The Associated Press.
Simpson will have an opportunity to speak during the upcoming hearing, according to David Smith, a spokesman for the parole board. He will appear via video conference from Lovelock Correctional Center, a medium-security prison northeast of Reno.
The commissioners will consider 11 objective criteria before deciding whether to grant Simpson parole, according to state guidelines.
"They're looking at the severity of the crime .... they're looking at the individual's personal and prior criminal history, they're looking at histories of drug abuse, alcohol abuse" and other factors, said Patton, one of the former parole board chairs. "It's big picture. They do a very thorough investigation."
The commissioners will examine Simpson's behavior in prison, and ask him questions about his plans for the future — including where he intends to live if released.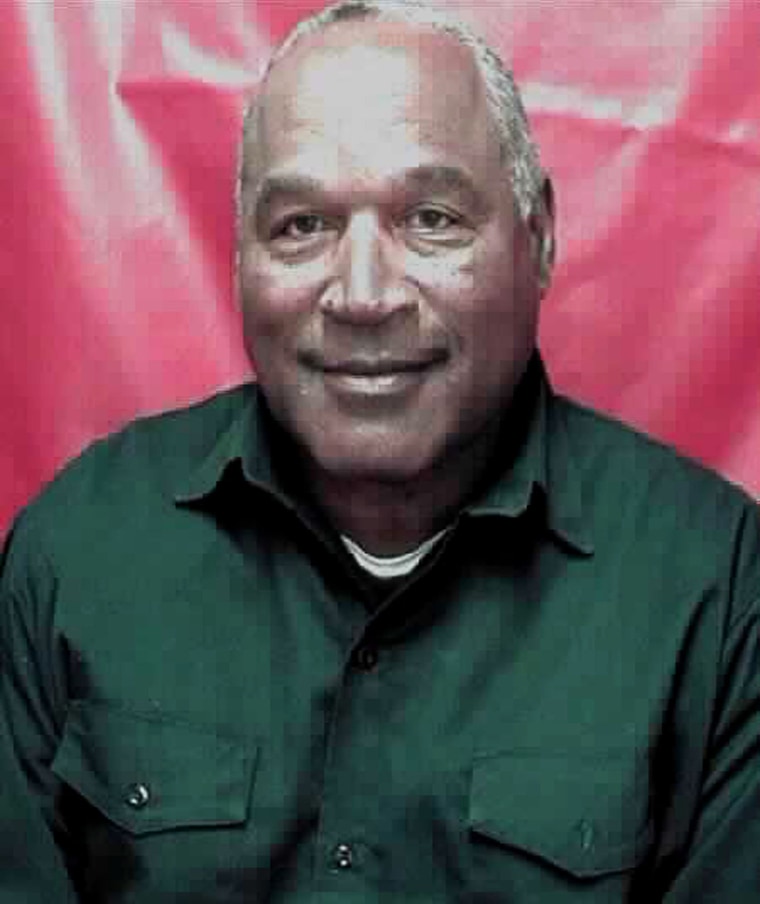 Four members of the six-person parole board will be in the hearing room in Carson City. They must reach a unanimous decision; if they can't, the two other members will review the case from a different location until the full group can reach a majority of four votes. In the rare case of a three-three tie, parole would be denied for six months and a new hearing would be held next January.
If Simpson is granted parole, he may not be released until at least October 1 — his technical eligibility date. (Nevada holds parole hearings roughly three months ahead of time.) His release would likely come with numerous conditions, and he would almost certainly be required to check in regularly with a parole officer.
F. Lee Bailey, a member of the "Dream Team" of defense attorneys who represented Simpson in his murder trial, said he is hopeful his onetime client will go free.
"I'm very sympathetic to him being released at the first possible moment," Bailey, 84, told NBC News.
If he is denied parole, Simpson could remain in prison until 2022. In either case, a decision is expected on the day of the hearing.
Salling and Patton, the former board chairs, declined to speculate on a possible outcome. Salling stressed that, for the members of the commission, the process is a "difficult task" that will inevitably make many people "unhappy."
"You have to do what you think is right and not really worry about public opinion," said Salling. "It's so important to treat everyone the same. And what's what these people do day in and day out."