O.J. Simpson has made his case for freedom.
Presenting himself as a family man who has missed dozens of his children's birthdays while he's been behind bars and a devout Christian who has "basically spent a conflict-free life," he pleaded his case Thursday before four members of the Nevada Board of Parole.
The board pointedly asked him why he had participated in the 2008 armed robbery in a Las Vegas hotel room and seemed to be looking for signs of contrition from the former football star and TV pitchman — but it took Simpson more than an hour to finally utter "I'm sorry."
"What were you thinking?" commissioner Tony Corda asked Simpson, to which Simpson gave a long-winded, combative response, claiming he was just trying to get sports memorabilia that belonged to him.
An hour and five minutes into the hearing that was only expected to last 15 minutes, a more remorseful Simpson apologized.
"I've done my time. I'd just like to get back to my family and friends," he said. "I'm sorry it happened. I'm sorry to Nevada ... I thought I was glad to get my stuff back, but it wasn't worth it."
With the hearing now over, commissioners are deliberating for an anticipated 20 to 30 minutes before returning to vote.
The board listened from Carson City, while Simpson appeared via video conference from two hours away at Lovelock Correctional Center, the isolated medium-security facility northeast of Reno that he has called home for nearly nine years.
The hearing gave the public a rare opportunity to see one of America's most well-known inmates since his conviction.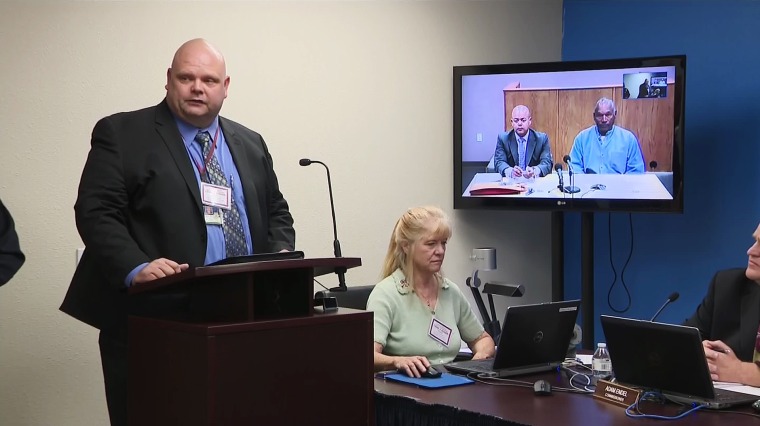 It began with Simpson, with his attorney Malcolm Lavergne seated next to him, answering basic questions, such as his inmate number. A gaffe by Nevada Board of Parole Commissioners chairman Connie Bisbee concerning Simpson's age sent ripples of laughter through the hearing.
"We have that you are currently, well, very recently, turned 90 years old," Bisbee told the 70-year-old Simpson.
"Ninety — I'm sorry about that. You look great for 90!" she quipped before correcting herself.
In a nod to the media frenzy happening outside, Bisbee said Simpson would be getting a fair chance at parole.
"Mr. Simpson, you are getting the same hearing as everyone else gets. I want to make that clear from the get-go," she said.
Bisbee then reviewed the risk factors — such as history of drug and alcohol abuse and disciplinary conduct over the past year — the board will be assessing as Simpson listened and nodded.
The board members wanted to know what Simpson has done to better himself while locked up. He told commissioner Susan Jackson that he helped organize a Baptist service in prison and that outside of prison, he had generally avoided trouble.
"I've basically spent a conflict-free life. I'm not a guy that ever got into fights on the street with the public and everybody," he said.
Simpson added that he is now "much better prepared" to deal with conflict and said he hoped to be able to spend more time with his four children.
"I've missed a lot of time, like 36 birthdays with my children," he said, later adding, "I've missed a lot of time with those kids."
Arnelle Simpson, Simpson's oldest child, then spoke to commissioners, holding back tears at times.
"No one really knows how much we have been through, this ordeal, in the last nine years," she said, calling her father her "best friend and my rock."
"We just want him to come home so we can move forward for us, quietly," she said.
She began her testimony by saying, "I'm a little nervous, so bear with me."
A member of the parole board comforted her by responding, "So are we."
One of Simpson's robbery victims, Bruce Fromong, also spoke, telling the board he felt Simpson's prison term was already too long for the crime he committed. Fromong has previously said he forgave Simpson.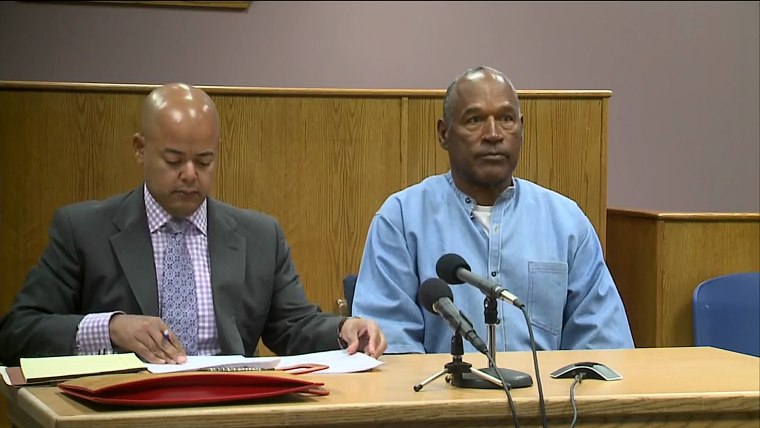 Simpson is approaching the minimum time served of his 33-year sentence after he was convicted in 2008 of kidnapping, armed robbery and 10 other charges related to a botched sports memorabilia heist.
He has spent his time behind bars mopping the prison gym floor and serving as a sports coach to other inmates. Legal experts believe his good behavior in prison will help him gain parole.
Related: What Has Judge Ito Been Up to Since the O.J. Simpson Case?
"I don't see any reason why he wouldn't, based on his being a model prisoner and the actions that he's taken over the years to better himself," Al Lasso, a Las Vegas trial lawyer who has observed the case, told NBC News.
Simpson's past should not play a role in his parole case, Lasso added.
"It's going to be hard to leave out the murder situation from the parole board's minds, but in the end, they have to go by a regulated system, a point system. And if you add up the points, he's more than eligible for parole," Lasso said.
Laurie Levenson, a Loyola Law School in Los Angeles professor and longtime Simpson case commentator, agreed parole was likely.
"There are no certainties because it is O.J., and we've learned to expect the unexpected, but just on his classification and his risk factors, he is a good candidate," she told NBC News.
But not everyone wants to see him released. Former Los Angeles County prosecutor Christopher Darden, who unsuccessfully prosecuted Simpson in the 1995 murder trial, said the once-beloved sports icon should not be trusted.
"The fact that he's a model prisoner doesn't mean he's a model citizen," Darden said on TODAY.
The only unusual aspect to Simpson's hearing will be the timing. Typically the parole board takes up to three weeks to make a decision, but because interest in this case is so high, a same-day decision is likely, the parole board said.
Simpson is no stranger to being the center of attention: About 150 million people tuned in to hear the verdict in the "Trial of the Century" 22 years ago, when he was acquitted in the stabbings of his ex-wife, Nicole Brown Simpson, and her friend, Ron Goldman. He was found liable for the double homicide in a 1997 civil case and owes a $33 million civil judgment, which he will still face should he be released from prison.
If his past is any indication, Simpson is a viable parole candidate. In 2013, he was deemed a low risk and was granted parole on some of his charges.
If he wins parole, Simpson could be free as early as Oct. 1. If he is not granted parole, he could be kept behind bars until 2022.