O.J. Simpson was released on parole early Sunday after serving nine years in a Nevada prison for a botched sports memorabilia heist, officials announced.
The 70-year-old former NFL star and actor was freed from Lovelock Correctional Center just after midnight (3:08 a.m. ET) "in an effort to ensure public safety and reduce the potential for incident," the Nevada Corrections Department said.
A short video showing his first steps outside was also released on the department's Facebook page.
Simpson is expected to remain in Nevada for the immediate future; Florida and California, where he has lived in the past, did not receive requests for transfer before his release, officials said.
And Florida's attorney general said the Sunshine State didn't want him.
"The specter of his residing in comfort in Florida should not be an option," Attorney General Pam Bondi said in a statement Friday. "Our state should not become a country club for this convicted criminal."
Simpson lost his home near Miami to foreclosure in 2012. But two of his children, Justin and Sydney, also live in Florida.
His longtime friend Tom Scotto told NBC News last week that Simpson was looking forward to playing golf, seeing old friends and spending time with family.
One thing he's not relishing: renewed attention on allegations he killed his ex-wife, Nicole Brown, and her friend Ron Goldman in 1994.
"He's tired of hearing about it. He doesn't want to talk about it. He doesn't want to talk about anything negative. He's a very positive guy, and he just wants to move forward," Scotto said.
Related: What's Next For O.J. Simpson Now That He's Been Granted Parole?
Goldman's father, Fred, said he was "disgusted" at the thought of Simpson walking free.
"I'm not too terribly thrilled that any horrible human being — certainly he fits that description — gets out of jail," he said last week.
Simpson was acquitted of murdering Goldman and Brown in a sensational, televised 1995 "trial of the century" but found liable for the deaths in a civil case two years later.
Then in 2007, Simpson and five other men broke into a hotel room at a Las Vegas hotel casino and seized a cache of items he believed were his property, including game balls and photos of his children.
With four of his accomplices testifying against him, he was convicted of armed robbery, kidnapping and other charges and sentenced to a maximum of 33 years, with parole eligibility after nine.
It was no surprise that his parole hearing in July was a spectacle, with TV viewers tuning in to hear Simpson tell board members he had led "a conflict-free life."
"I've done my time," he said. "I'd just like to get back to my family and friends."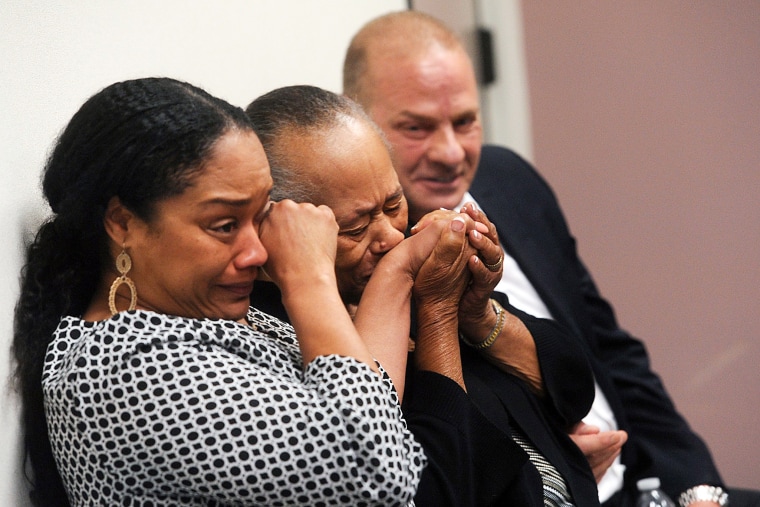 In Nevada, parolees typically report to their parole officer as soon as they are released and must submit a written report each month.
They can't associate with ex-cons and must submit to searches of their vehicle or residence. They can't have any kind of weapon — and booze is restricted, with a Breathalyzer result higher than .10 considered a parole violation.
Related: Christopher Darden Talks About O.J.'s Parole
Despite the conditions, which will be in place until parole expires after five years, Scotto expects Simpson to be out and about just like he was a decade ago.
"We're not going to hide," said Scotto, who has offered to let Simpson live with him in East Naples, Florida. "We will do the same things we did before. He's gonna live his life.
"The guy's gonna be like a president walking around. He's one of the most recognizable people in the world. Everybody knows who O.J. is," he added.
John Fuller, a prison coach who hasn't worked with Simpson but has counseled other celebrity felons, said the "Naked Gun" star should brace himself for some blowback.
"If he is coming out of prison thinking everywhere he goes people are going to smile and wave, he's mistaken," Fuller said. "He's going to face some challenges on an emotional level."
Simpson has no plans to work, Scotto said. That's because any money he makes outside his $25,000-a-month NFL pension can be seized by the Brown and Goldman families, who have judgments from the civil case.
J. David Scott, the attorney for Fred Goldman, said that with interest, the amount Simpson owes to all parties has ballooned to about $140 million.
"He can retire from the world like J.D. Salinger and disappear and live off his pension or he can seek to monetize his newfound fame and go out and attempt to enter memorabilia field or do other things," Scott said.
In the latter case, the attorney said, he's ready to go after every cent Simpson makes. "I view them as fun challenges," he said.
The civil verdict against Simpson wasn't considered by the Nevada parole board. The board also said it didn't consider his 1989 misdemeanor domestic violence conviction because it wasn't listed in a FBI database.
Lawyer Gloria Allred, who once represented Nicole Brown's family, has teamed up with a Nevada legislator to push a bill that would require the board to consider an inmate's domestic violence history before approving release.
If that becomes law, it wouldn't affect Simpson. But Allred said it doesn't mean he can run from his past.
"Mr. Simpson can smile and try to charm those who listen to him, but he will never be able to remove that stain and the legal history and how many people he has hurt in his life because of his criminal conduct," she said.