A vigil in honor of victims of the deadly Oakland, California, warehouse fire briefly turned into a political confrontation Monday night as saddened, angry participants shouted down the city's mayor with obscenities and boos.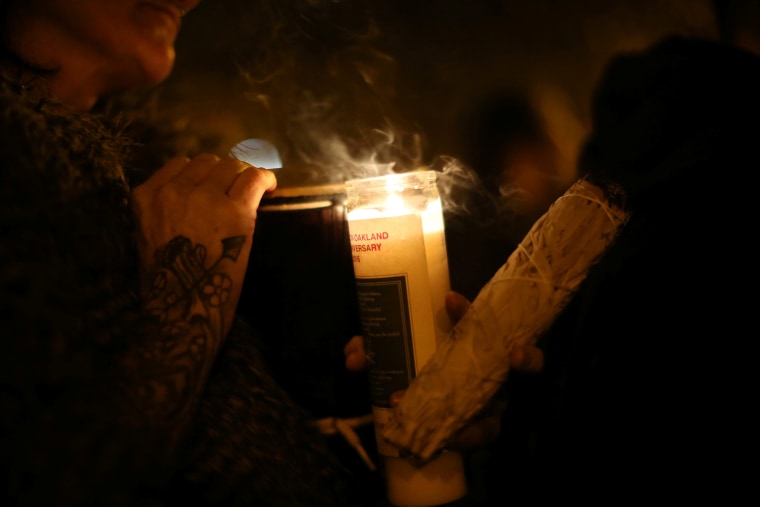 Several hundred people showed up at the Oakland Pergola and Colonnade at Lake Merritt for speeches and remembrances three days after at least 36 people were killed as flames engulfed the converted warehouse during a concert and party.
Amid an emotional outpouring from people who knew the victims, some speakers urged the city to protect "nontraditional warehouse residences" and "fringe places" where some Oaklanders have sought shelter as the city's housing costs skyrocket.
Related: 'Ghost Ship' Sailed Through Regulators' Fingers for Years
Boos and calls to resign greeted Mayor Libby Schaaf, whom some have criticized as emphasizing the warehouse's code violations in the hours immediately after the fire, instead of the shortage of affordable housing.
Vigil participants shouted "Stop victim blaming!" and "Step down!" as Schaaf prepared to speak, leading one of the organizers to ask that she be given a respectful hearing.
"It's OK. It's OK," Schaaf said. "This city is going to go through a lot of emotions, and one of those is anger, and that is my job to hear that."
Related: Oakland Warehouse Party Fire Probe Could Lead to Murder Charges, DA Says
"As we move forward right now, our focus has to be on those who we know are lost and those we are going to learn have been lost," she said to muted applause.
But when she returned to the subject of making sure all housing is safe, the crowd resumed shouting crude obscenities and insults.
The anger was in stark contrast to the reception given to Jesse Arreguín, the newly sworn-in mayor of Berkeley, home to the University of California's main campus.
Arreguín said the fire shouldn't be used as a pretext to shut down nontraditional living spaces like old warehouses.
"Artists must have a safe place to live and to work," he said to loud cheers.
Related: Oakland Fire Exposes Silicon Valley's Ugly Housing Crisis
Late Monday, the Alameda County Sheriff's Office Coroner's Bureau publicly released the names of 10 newly identified victims: Em Bohlka, 33; Micah Danemayer, 28; Chelsea Dolan, 33; Feral Pines, 29; Alex Ghassan, 35; Michela Gregory, 20; Edmund Lapine, 34; Jennifer Morris, 21; Benjamin Runnels, 32; and Jennifer Kiyomi Taouye, 31.
The department on Sunday night named seven victims: Cash Askew, 22; David Cline, 24; Nick Gomez-Hall, 25; Sara Hoda, 30; Travis Hough, 35; Donna Kellogg, 32; and Brandon Chase Wittenauer, 32.
The name of a 17-year-old was being withheld because the victim was a minor.