The fire that devoured an Oakland warehouse known as the "Ghost Ship" was already roaring before victims partying on the floor above realized they were in trouble, officials said Wednesday.
The inferno started on the ground floor and sent smoke pouring up two staircases, trapping the party-goers, who were overcome before they could get out, the Bureau of Alcohol Tobacco and Firearms said at a briefing on the massive investigation.
Because neither staircase led to an exit, they had no escape route. Authorities also said there were no fire alarms or sprinklers in the building, which was zoned as a warehouse but was being used as living space.
An exact cause of the inferno that killed 36 people has not been determined. Investigators are looking at a refrigerator, but also other possible culprits.
"We are looking for every possible source of ignition," said Jill Snyder, special agent in charge of the ATF's San Francisco Field Division. She said there is no evidence of arson.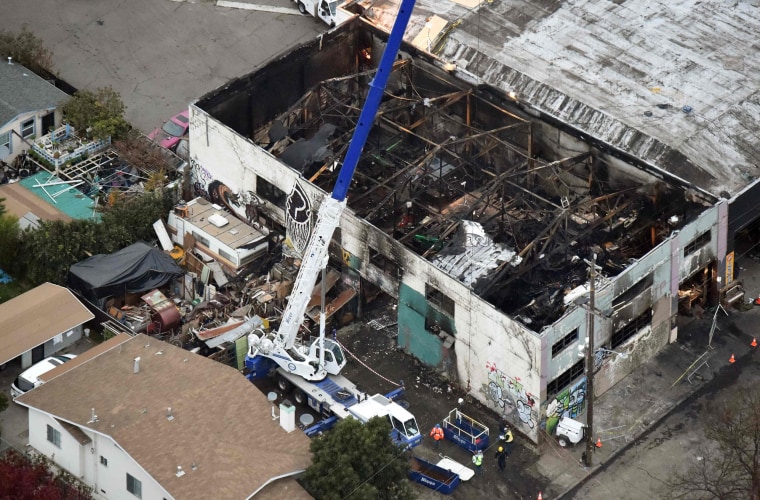 The 10,000-square-foot building did not have a permit for residential use, but the owners leased it to the founder of an artists' collective who lived there with his family and rented out space to other people.
Former residents and visitors describe the structure as a warren of studios and living areas. One staircase was fashioned out of wooden pallets, and electrical and heating systems were improvised.
City records show complaints about an illegal structure on the site were lodged just two weeks before the fire but inspectors wrote in their report that a chain-link fence around the property stopped them from gaining access.
Video obtained by NBC News shows police inside the building in October, raising questions about whether the city knew people were living in the warehouse and were aware of safety issues.
The warehouse fire was the deadliest fire in the nation since 2003, when 100 people were killed in the Station nightclub fire in Rhode Island.
Oakland's mayor, Libby Schaaf, pledged to create a task force made up of national fire safety experts and others to review building safety requirements, enhance complaint procedures, and enact more stringent building exit standards. That could include hiring more fire inspectors, she said.
Rising rents have been blamed by some members of Oakland's artist community as one factor motivating people to live in buildings like converted warehouses. The deadly fire has prompted a "flood of complaints" in the city, Shaaf said.
"We will learn from this tragedy to make Oakland safer," she said.