President Barack Obama answered a question about Bill Cosby on Wednesday by saying that no civilized country should tolerate rape.
Obama, at a White House press conference, said that there was no way to revoke the Presidential Medal of Freedom from Cosby, who has been accused of sexual assault by dozens of women. Obama declined to address those allegations.
Then he said: "I'll say this. If you give a woman — or a man, for that matter — without his or her knowledge a drug, and then have sex with that person without consent, that's rape. And I think this country, any civilized country, should have no tolerance for rape."
Cosby said in a 2005 legal deposition that he obtained prescriptions of a powerful sedative to give to women he wanted to have sex with, according to documents released last week in a Pennsylvania court. Cosby has never been charged and denies sexual assault allegations.
Cosby publicist Andrew Wyatt declined to comment on the president's remarks Wednesday.
Cosby was awarded the Medal of Freedom, the country's highest civilian honor, in 2002.
RELATED: 'The Answer Is No': Cosby's Hollywood Star Staying Put
Angela Rose, executive director of the victims group PAVE that spearheaded a petition drive to revoke Cosby's Medal of Freedom, repeated her call Wednesday for the award to be taken away.
"The Medal of Freedom embodies our nation's values. Allowing Cosby to maintain this coveted symbol suggests that we as a society support coercive sexual behavior," Rose said. "Revoking the medal will send a powerful message to America's youth about the critical importance of consent, which is a freely given, enthusiastic, verbal and sober 'yes,' not the absence of a 'no.'"
After the deposition became public, a spokesman for Sen. Kirsten Gillibrand, D-N.Y., said that the senator supported the petition drive, which as of Wednesday had a little over 11,000 signatures.
"Someone who admitted to using drugs for sex no longer deserves the nation's highest honor," said the spokesman, Glen Caplin.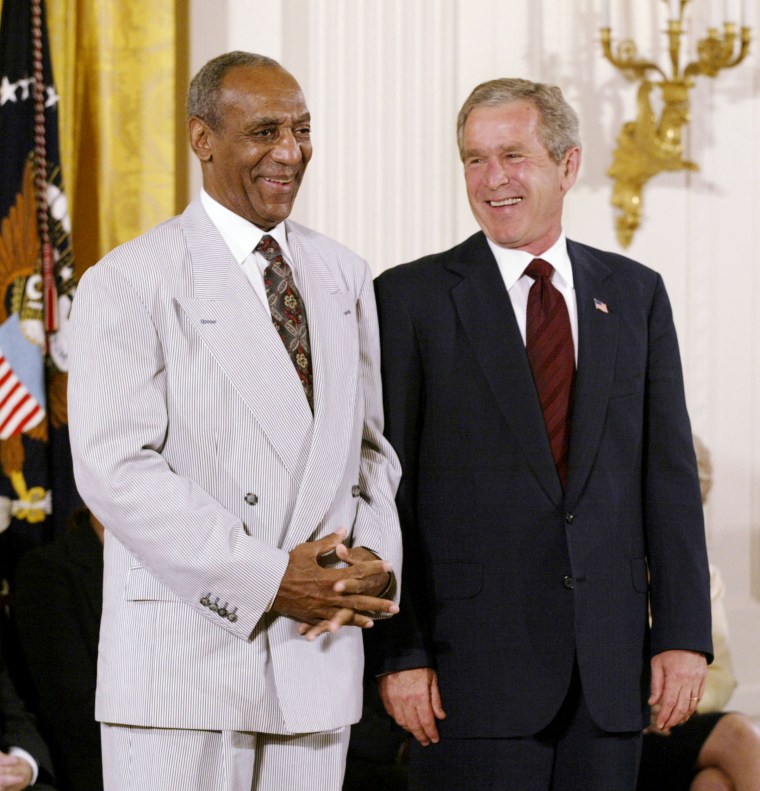 Sen. Claire McCaskill, D-Mo., has also said she supports the push to revoke the medal.
Whoopi Goldberg, who said last week that Cosby was "innocent until proven guilty," changed her stance Tuesday on ABC's "The View." She said that "all of the information that's out there kind of points to guilt."
Goldberg said she was shocked to learn that statute-of-limitations laws make it unlikely that the women making the allegations can take Cosby to court.
Rape is fundamentally a state crime and legal definitions vary around the nation. But in 2012, the FBI and the Justice Department revised the definition of rape for the purposes of collecting data on the frequency of the crime nationwide.
The new definition removed the strict requirement of force, and covered both sexes.
"Because many rapes are facilitated by drugs or alcohol, the new definition recognizes that a victim can be incapacitated and thus unable to consent because of ingestion of drugs or alcohol," the Department of Justice said at the time.