President Barack Obama, in his first direct comments about the FBI's review of newly discovered emails that could be related to its probe of Hillary Clinton's private server, said Wednesday he prefers not to deal in "innuendo."
"I do think that there is a norm ... when there are investigations, we don't operate on innuendo, we don't operate on incomplete information, we don't operate on leaks," Obama told the digital news outlet Now This News. "We operate on concrete decisions that are made."
In the aired version of the interview, Obama did not mention FBI director James Comey by name. He defended Clinton, the Democratic presidential nominee and his former secretary of state, as someone who is "going to be a great president."
"I trust her. I know her. I wouldn't be supporting her if I didn't have absolute confidence in her integrity and her interest in making sure young people have a better future," Obama said.
The FBI on Friday announced it is reviewing a new cache of emails potentially "pertinent" to the agency's suspended investigation into Clinton's use of a private server. Multiple federal sources told NBC News they were found as part of an ongoing probe into disgraced former congressman Anthony Weiner's alleged sexting with an underage girl.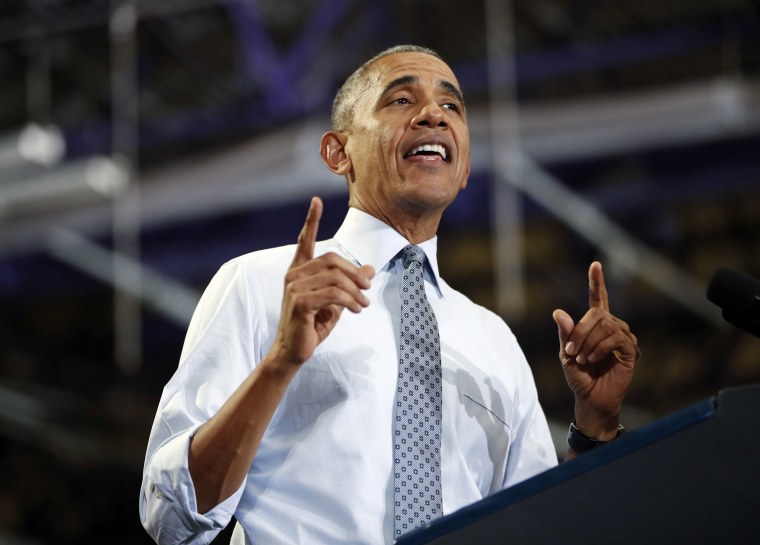 Since then, officials have been poring through the missives found on Weiner's laptop to find only the relevant communiques using a program that will target only the emails to and from Clinton's closest aide, Huma Abedin, Weiner's estranged wife, within the time when Clinton was secretary of state.
Obama said that he's steered cleared of discussing the timing of the new FBI review.
"I've made a very deliberate effort to make sure that I don't look like I'm meddling in what are supposed to be independent processes for making these assessments," he said.