President Barack Obama, in his final appearance as president with Jon Stewart on "The Daily Show," said Tuesday that while he's proud of his record in the White House, there's still "a bunch of other things we want to get done" in his last year and a half in office.
After 6½ years as president, he's starting to feel as though "I finally know what I'm doing," Obama said in the interview, which was taped Tuesday afternoon. Parts of the interview that didn't make the 30-minute broadcast were being posted later Tuesday night on the "Daily Show" website.
"I can't believe you're leaving before me," Obama told Stewart, who's leaving the satirical news show Aug. 6. "In fact, I'm issuing a new executive order that Jon Stewart cannot leave the show."
Unfortunately, he joked, it's already "being challenged in the courts."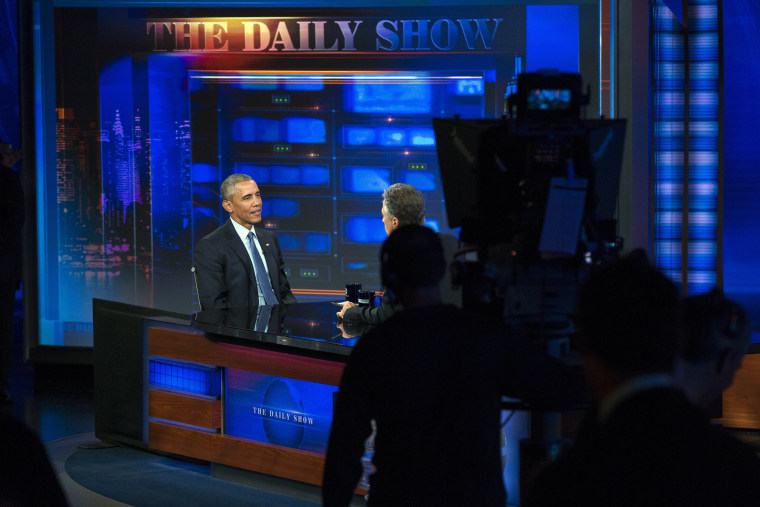 True to form, Stewart pressed the president on several issues, particularly the U.S. nuclear deal with Iran and the scandal over long waiting lists for veterans to get care at VA medical facilities.
Obama said the Iran deal, which the U.N. Security Council endorsed Monday, illustrated how important work goes on behind the scenes in contradiction of critics who complain that a president is accomplishing little.
"I do think the work we did early starts bearing fruit later," he said. "It just so happens that people are seeing the work we did when we first came in — so Iran ... [it] took four or five years to get them to the table."
But the president acknowledged that the same thing hadn't happened with the U.S. Department of Veterans Affairs.
"The situation with VA has always been we make a promise, but too often it's under-resourced," Obama said, saying it "entirely fair" to conclude that he'd failed to meet his own five-year timetable to reform the VA medical system.
"Number one, government works better now than it probably ever has given what we ask it to do," he said. "People work hard in the VA. But if you have a government that was built on 1930 models and it's not updated for decades, there will be a gap in terms of what it is doing now relative to what other folks do. It is the biggest example of that — we are redesigning from soup to nuts."
Obama also weighed in on Republican presidential candidate Donald Trump, whose incendiary comments have dominated recent news coverage.
"I'm sure the Republicans are enjoying Mr. Trump's dominance of their primary," he joked.