Filmmaker Steven Spielberg, composer Stephen Sondheim, violinist and conductor Itzhak Perlman and baseball great Willie Mays were among a number of notables presented with the Presidential Medal of Freedom by President Barack Obama on Tuesday.
Singer and actress Barbra Streisand, NASA mathematician Katherine G. Johnson, Democratic Sen. Barbara Mikulski also received the award.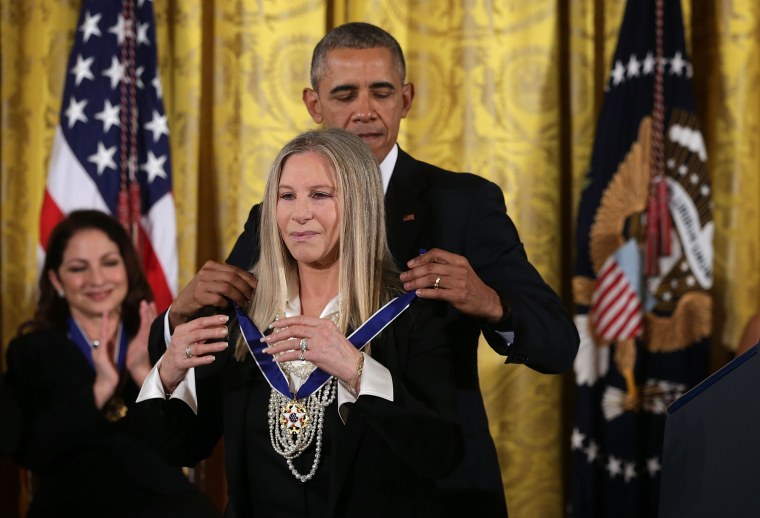 Obama said of Streisand, "She has collected just about every honor and award that there is — I couldn't believe she hadn't gotten this one."
New York Yankees catcher Yogi Berra, who died in September at the age of 90, was be awarded the medal posthumously.
"Today we celebrate some extraordinary people. Innovators, artists and leaders who contribute to America's strength as a nation," Obama said.
Celebrating Berra's military service and remarkable baseball career, Obama threw in one of Berra's famous "Yogi-isms" when he remarked, "One thing we know for sure: If you can't imitate him, don't copy him."
When chuckles eventually rose from the crowd, Obama smiled and said, "It took everyone a while."
Obama also credited Willie Mays' baseball career with his own success. "Willie also served our country: In his quiet example while excelling on one of America's biggest stages helped carry forward the banner of civil rights," Obama said.
"It's because of giants like Willie that someone like me could even think about running for president," Obama said.
Obama honored Spielberg not only for his achievements on screen, but also for founding a Shoah Foundation. He said the director's films are "marked by a faith in our common humanity."
Singer Gloria Estefan, her husband music producer Emilio Estefan, Bonnie Carroll, lauded for her work on behalf of veterans, singer James Taylor, former U.S. Rep. Lee Hamilton and former Environmental Protection Agency head William Ruckelshaus also received the award.
Johnson, the mathematician, calculated the trajectories of America's first mission in space and of the Apollo 11 moon landing. "So if you think your job is pressure-packed, hers meant that forgetting to carry the one might send somebody floating off into the solar system," Obama said.
Billy Frank, Jr., an advocate of Indian treaty rights, Shirley Chisholm, the first African American woman elected to Congress, and Japanese-American civil rights activist Minoru Yasui received the honor posthumously.
Yasui went on a walk in Portland in 1942 and defied the military curfew placed on Japanese Americans during World War II, and spent his life fighting for civil rights.
"Today Min's legacy has never been more important," Obama said. "It is a call to our national conscience, a reminder of our enduring obligation to be the land of the free and the home of the brave, an America worthy of his sacrifice."