A wistful Barack Obama welcomed Italian Prime Minister Matteo Renzi to the White House for the last official state dinner of his presidency Tuesday night, lamenting that after eight years in office, he's no longer "the young guy."
Obama and his wife, Michelle, greeted Renzi and his wife, Agnese Landini, on a red carpet outside the White House as photographers' flashbulbs clicked away like old-fashioned typewriters.
(Because you have to when the red carpet rolls out, The Associated Press observed: "Once again, Mrs. Obama didn't disappoint, dazzling by wearing what the White House described as a rose gold chainmail gown by Italian designer Versace.")
Toasting his guests on the South Lawn, the president noted that his 13th state dinner was also his last.
"Buona sera [Good evening]. Welcome to the White House and the final state dinner of my presidency," he said.
Then he added: "But in the immortal words of a great Italian-American, Yogi Berra, 'it ain't over till it's over.'"
Obama reminded the crowd of more than 400 — who included prominent Italian-Americans like Mario Andretti, Giorgio Armani, Nancy Pelosi and Rachael Ray, capped with a performance by Gwen Stefani — that Renzi was Italy's youngest prime minister when he assumed office in 2014 at age 39.
"Makes me feel old," he said. "I was the young guy. Now he's the young guy."
Related: Obama's Most Memorable White House State Dinners
Obama recalled the contributions Italy has made to U.S. democracy, highlighting Thomas Jefferson's devotion to the territory that is now Italy and noting that he was inspired by the words of Filippo Mazzei, an exile from Renzi's hometown, Florence, in writing the Declaration of Independence.
Returning sharply to the present, he added: "But sometimes, our presidential campaigns can seem like 'Dante's Inferno.'"
Reminiscing about a presidential trip to the Colosseum in Rome, which the first family visited in 2009, Obama grew thoughtful.
"In the grand sweep of time, each of us is here only for a brief moment. So many of the things that we focus on each day — the political ups and downs, the successes and the setbacks — those things are fleeting," Obama said. "What matters in the end is what we build. What matters is what we leave behind — the things that will endure long after we are gone."
In his toast, Renzi said that when the Obamas return to private life in January, they could visit Florence to figure out who produces the better tomatoes — Italy or Michelle Obama's White House garden.
"I know, Michelle, your tomatoes are great," Renzi joked. "But after the last weeks, let me be very frank — your speeches are better than your tomatoes."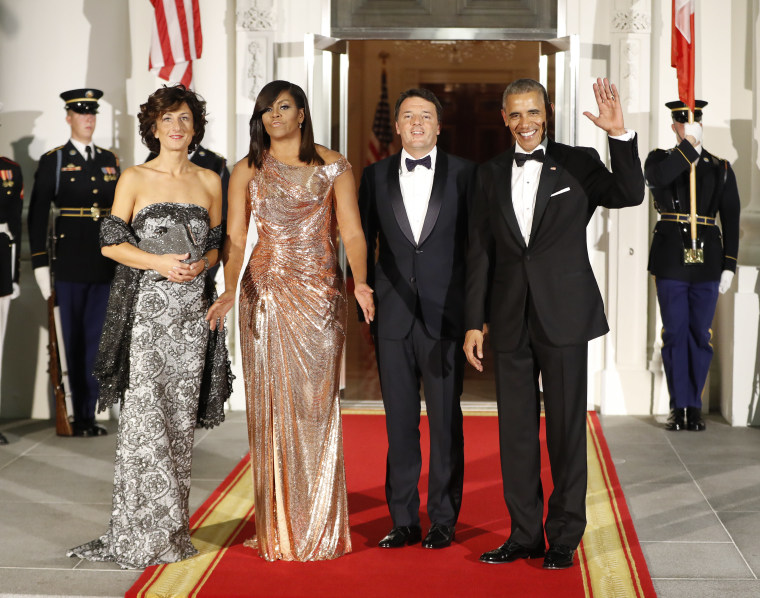 The gathering then tucked into a meal of sweet potato ravioli with browned butter and sage, warm butternut squash salad and beef pinwheels, served with broccoli rabe. Dessert was a green apple crostata (an Italian tart) and with buttermilk gelato.
It was prepared by celebrity chef Mario Batali with executive chef Cristeta Comerford and pastry chef Susie Morrison of the White House kitchen — using ingredients pulled from the same White House garden.