President Obama's final turkey pardoning was a "corny-copia" of Dad jokes.
In recent years, Obama's pardoning ceremonies have become something of a spectacle largely because his daughters, Sasha and Malia, seem exasperated by his corny sense of humor.
But this year, the Obama's girls broke tradition, skipping the ceremony because "they were fed up," Obama said.
"Malia and Sasha are thankful, by the way, that this is my final presidential pardon. What I haven't told them is that we're doing this every year from now on," he said. "No way I'm cutting this habit cold turkey."
Instead of the first daughters, Obama's nephews Austin and Aaron Robinson were on hand as two turkeys — named "Tater" and "Tot" — were spared from the dinner table, during Wednesday's ceremony on the White House South Lawn.
Tater and Tot will be able to live out their natural lives at the 'Gobblers Rest' reserve at Virginia Tech University.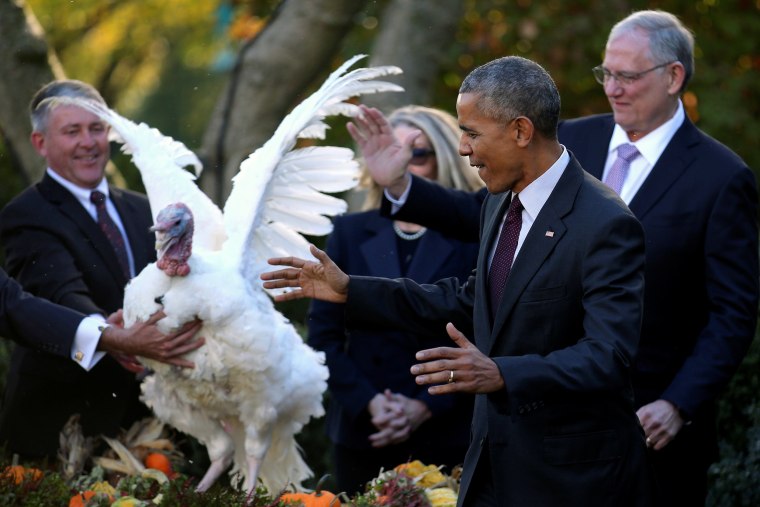 The tradition of pardoning the TOTUS — Turkey of the United States — dates back to 1863, when President Lincoln gave clemency to a turkey, according to the White House Historical Association. Turkeys are native to the United States and were frequently presented as gifts to former presidents as a sign of patriotism, historians said.
Obama paused to honor the turkeys who "didn't get to ride the gravy train to freedom." But he closed the ceremony on a more serious note, reminding Americans that Thanksgiving is a symbol of our national strength and unity.
"We have to see ourselves in each other because we've all got family we love and we all have hopes for their future," he said. "We lose sight of that sometimes and Thanksgiving's a good time for us to remember that."