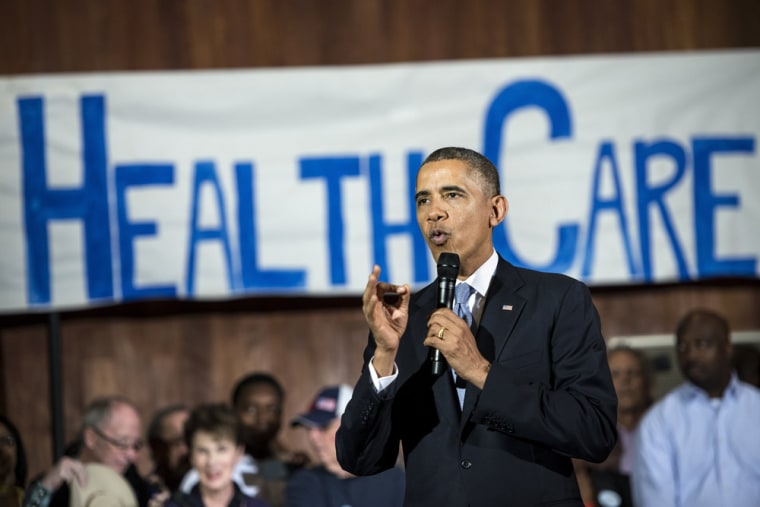 President Barack Obama on Wednesday traveled to what some might consider hostile territory to promote his Affordable Care Act: Texas. 
And the president did not miss the opportunity to point out that while the state's administration rejected portions of the law that could have insured hundreds of thousands, officials there also continue to complain about problems with the health care website. 
"One of the things that gets me a little frustrated… it's folks who are complaining about how the website's not working ... and yet they're leaving 1 million people right now without health insurance that they could immediately fix," Obama, speaking at Temple Emanu-El, told an eager crowd of about 75 volunteers from the Dallas Area Interfaith Coalition, a group that has been working to educate locals about health care options.
"There's not a lot of logic to that," the president added.
Texas Gov. Rick Perry has rejected an expansion of Medicaid benefits under the Affordable Care Act because he said the state could not afford it. 
"In Texas, where Medicaid already consumes a quarter of the state budget, we simply need the flexibility to implement fundamental, state-specific reforms to our Medicaid program, instead of a one-size-fits-all Washington mandate, before it bankrupts our state," Perry said in a statement Wednesday. 
Perry called Obama's trip to the Lone Star state "a desperate attempt to salvage his ill-conceived and unpopular program from a Titanic fate."
At the synagogue gathering Obama insisted his administration's health care law would help the economy, families and businesses — and told the volunteers that, despite issues with the website, Americans will get better insurance thanks to the 2010 Affordable Care Act.
"We're on the right side of history," Obama said.
The president did admit that even he was frustrated with the glitch-ridden health insurance marketplace website, but said teams are working around the clock to fix the problems.
"We are working overtime to get this fixed. The website is already better than it was at the beginning of October," Obama said. "By the end of this month, we anticipate that it's going to be working the way it's supposed to."
Related: