Returning to the place where his political career — and his first presidential campaign — began, President Obama visited the Illinois capital Wednesday, renewing his call for healing the nation's partisan discord and building a better electoral system.
Bemoaning a "poisonous political climate" that made citizens cynical and disillusioned and leaders unable to achieve great goals, Obama posed the challenge: "What can we do all of us together to try to make our politics better?"
He outlined a few solutions, none of them new: limiting the influence of money in politics — including a Constitutional amendment, if necessary; reforming the congressional redistricting process; and making it easier to register and vote.
At the same time, Obama said, the political culture needed to change so that there was less inclination to lie to voters, insult rivals or propose policies unsupported by science."Rather than reward the most extreme voices, or divisive voices, or who is best at launching schoolyard taunts, we should be insisting on a higher form of discussion in our political life," Obama said.
He didn't name culprits, but said the fractured media environment enabled it. "If I listened to some of these pundits, I wouldn't vote for me either — I sound like a scary guy," he said.
Looming in the background was the race to succeed him.
Obama didn't mention either of the Democratic candidates, his former rival and Secretary of State Hillary Clinton and Vermont Sen. Bernie Sanders. But his legacy depends on one of them winning the White House, with both promising to build upon Obama's work.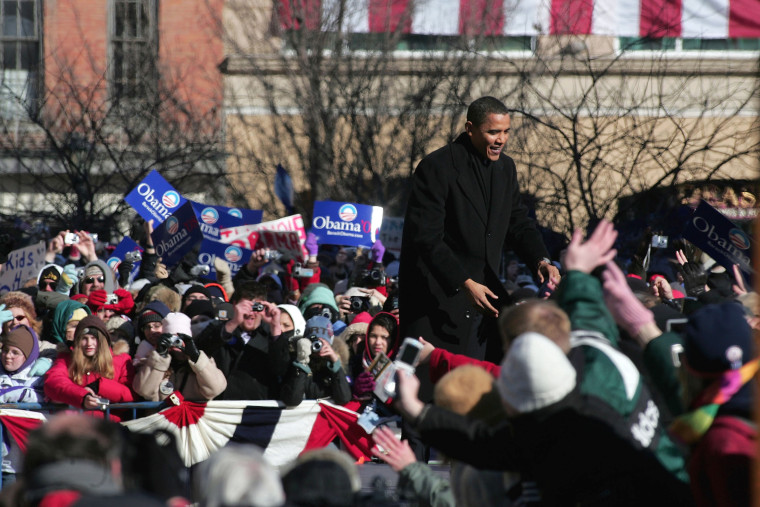 Obama's remarks, delivered to the Illinois General Assembly, served as a coda to a speech he gave exactly nine years earlier to announce his run for president, unveiling his "hope and change" platform and promising to "transform" a polarized nation.
He gave that Feb. 10, 2007 speech on the steps of the Old State Capitol, the spot where Abraham Lincoln gave his "House Divided" speech against slavery 150 years earlier. Obama, a 45-year-old freshman U.S. senator seeking to become the first black president, directly compared himself to Lincoln in stature and philosophy and echoed Lincoln's pre-Civil War call for unity.It worked, even if the realities in Washington taught him harsh new lessons.
Almost immediately upon arriving at the White House, Obama was buffeted by staunch opposition in Congress, a virtual impasse that forced him in many cases to abandon legislative compromise in favor of executive action.
Obama mentioned his disappointment with that in his final State of the Union speech last month, saying his inability to bring Republicans and Democrats together was "one of the few regrets of my presidency."
In Wednesday's speech to the Illinois legislature, a few blocks from the Old State Capitol, Obama reflected on his original idealism and argued that he made things better, even while acknowledging his inability to follow through on his 2007 promise to bridge the country's political divide.
He began with an almost wistful recollection of his time in the Illinois State Senate, where he says he learned bipartisan governing. He described working with members of both parties to pass legislation — and respectfully disagreeing with them when they didn't."I was able to be part of that here, and yet couldn't translate it the way I wanted to in our politics in Washington," he said.
Left unsaid was the partisan gridlock that has since gripped Springfield, where a Republican governor is at odds with a Democrat-controlled Assembly.
Despite the gridlock he lamented, Obama made the case that the cooperative spirit that drove his 2007 speech brought results, namely health care reform, which barely passed Congress and survived a Supreme Court challenge; the rescue of the auto industry; avoiding an economic depression; pushing a "clean energy revolution" and bringing troops home from Afghanistan and Iraq. He also included in that list the killing of Osama bin Laden.
"If we can't compromise, by definition we can't govern ourselves," he said.