President Obama's time in office is quickly drawing to an end, meaning he will soon need to find a new job. But, thanks to his snazzy connections, a good friend in the form of "Late Show" host Stephen Colbert stepped into the role of a resume-reviewer Tuesday to give the president some advice.
Obama sat down with "Randy," a mustachioed career counselor played by Colbert, in a mock-interview setting, in the president's last appearance on the late-night TV show.
Here are the most memorable Obama moments from his mock interview:
Obama: "Michelle" had a more powerful position than me
Randy looked through Obama's resume and said, "I don't see any promotions for the last eight years. That's not always good. Can you explain that?"
The president didn't hesitate to reference Michelle Obama, saying, "Honestly, there wasn't a lot of room for advancement in my last job. The only one with a powerful position was my wife."
Obama says the "22nd Amendment in the Constitution" requires him to leave
As Randy questioned why Obama couldn't stay in his job, Obama went straight for the law, saying, "Well, I'm leaving because it's required by the 22nd Amendment of the United States Constitution."
Unfortunately for the president, Randy wasn't impressed and translated Obama's "staying at your old job is unconstitutional" to "stole the office supplies".
Obama looks perplexed after birther question
Interviewers typically don't ask you where you were born, but thanks to the "birther" controversy led by Donald Trump, Randy put Obama in the hot seat by questioning his birth place.
But, POTUS wasn't having any of it and responded with just one word: "Really?"
Obama tries to figure out why he won the Nobel Peace Prize
With "almost 30 honorary degrees", Obama could have easily launched into a speech on why he deserved the Nobel Peace Prize. However, he took a step back and said, "To be honest, I still don't know."
Obama : "Well I was hoping to have an office with corners, at least"
Obama subtly dissed his own workplace -- The Oval Office -- and made it clear he would like to work in an office that "at least" has corners.
Obama throws shade at Colbert's social media questions
When Randy asked Obama if he had any "experience with Twitter," Obama went for the kill. "Well I have 77 million followers. Does that count?"
He also threw more a little shade when Colbert asked him "if he knew Snapchat had a new flower crown filter theme."
"Of course I know that, Stephen," Obama said.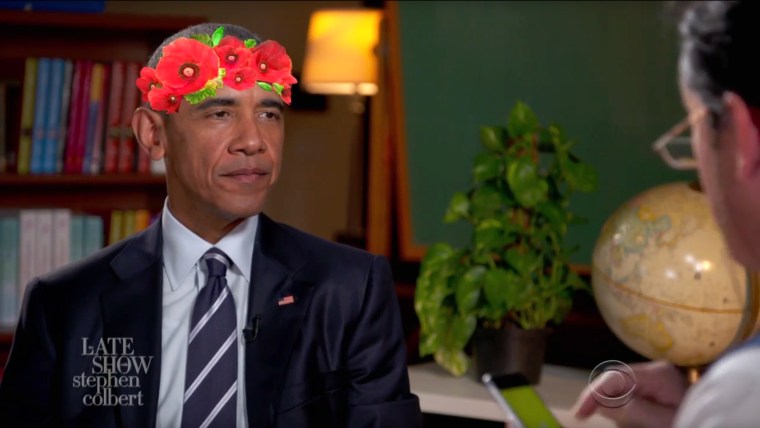 Obama on saving the auto industry : "Change that to: drives stick"
As Obama started to catch on that his list of accomplishments -- including efforts to reduce climate change and the warming of relations with Cuba -- were being whittled down to simpler concepts like "conversational Spanish," he asked Randy to change "saved the American auto industry" to "drives stick" because "no one believes him."
Obama knocks Trump
Colbert pulled out metaphorical snacks for Obama to choose from, symbolizing the two current presidential candidates.
"Would you care for an extra fiber nutrient bar, which has traveled to more than 100 countries, or this shriveled tangerine, covered in golden retriever hair, filled with bile, that I wouldn't leave alone with the woman I love?" Randy asked Obama.
"I think I'll go with the fiber nutrient bar," Obama replied, making his choice for president clear.