For the last time during his tenure in office, President Obama bestowed the Medal of Freedom, the nation's highest civilian honor, on a distinguished array of American icons on Tuesday.
It was a star-studded affair filled with luminaries from a broad range of fields spanning the arts, sports, philanthropy, education, science and mathematics. It was also an event filled with laughter.
The president, who stands at 6 feet 1 inch tall, craned to place a medal around the neck of basketball legend, Kareem Abdul-Jabbar, who is more than a foot taller than Obama.
The president warned the gathering never to travel with award winning actor, Tom Hanks.
"You've got pirates, plane crashes, marooned in airport purgatory, volcanoes...something always happens with Tom Hanks," the president said. "And yet somehow we can't resist going where he wants to take us."
The medal, which has existed in some form since the Truman administration, has been given at Obama's discretion more than any other president, and according to the Washington Post, he has honored women and people of color at a rate higher than any of his predecessors. For example, this year's awardees includes Motown soul singer Diana Ross, TV talk show host Ellen DeGeneres, veteran actress Cicely Tyson, artist and designer Maya Lin.
DeGeneres teared up as the president spoke of her career and her decision to come out years ago.
"It's easy to forget now when we come so far, where now marriage is equal under the law, just how much courage was required for Ellen to come out on the most public of stages almost 20 years ago," the president said adding that the actions showed how "important it was, not just to the LGBT community, but for all of us to see somebody so full of kindness and light, somebody that we liked so much, somebody who could be a neighbor, or our colleague, or our sister challenge our own assumptions, remind us we have more in common than we realize."
RELATED: Tom Hanks, Bruce Springsteen Among Obama's Last Medal of Freedom Recipients
Rock legend Bruce Springsteen, architect Frank Gehry, baseball broadcaster Vin Scully and actors Hanks, Robert De Niro and Robert Redford and Saturday Night Live creator and producer Lorne Michaels will also be awarded the medal at the White House ceremony.
Microsoft co-founder Bill Gates and his wife Melinda were awarded for their philanthropic foundation.
Awarding former basketball champions Michael Jordan and Abdul-Jabbar seemed to speak to the president's affinity for the sport.
"We've got … renowned character actors, like the guy from 'Space Jam'," Obama joked in a reference to Jordan's appearance in a film alongside Loony Tunes cartoon characters.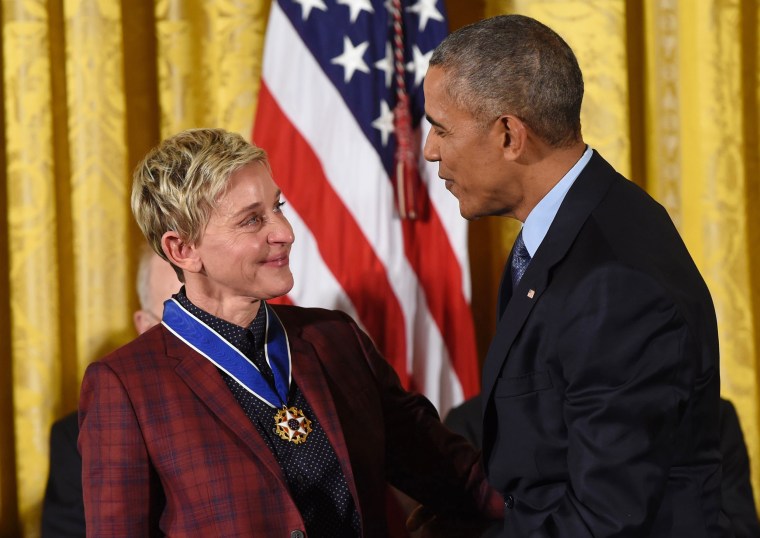 The group also includes several not so well known Americans, such as late Native American community leader Elouise Cobell, President of Miami Dade College Eduardo Padrón, math professor Grace Hopper, physicist Richard Garwin, former Federal Communications Committee chairman Newt Minow and NASA moon landing computer scientist Margaret H. Hamilton.
Related: 'Speechless': Vietnam Veterans Memorial Architect Maya Lin to Receive Medal of Freedom
This year's crop of awardees also features some famous figures who have made no secret of their antipathy towards President-elect Donald Trump, like Springsteen who has described the incoming president as a "flagrant, toxic narcissist".
De Niro, an Oscar winner, once floated the idea that he would like to "punch" the real estate mogul. Abdul-Jabbar, a NBA legend, was drawn into a personal feud with Trump during the campaign after he wrote a column criticizing the Republican's treatment of the free press.
Trump, who has shown penchant for taking negative press coverage personally, wrote Abdul-Jabbar a handwritten note last fall upbraiding him for having the gall to criticize him.
"Now I know why the press always treated you so badly — they couldn't stand you," Trump wrote. "The fact is that you don't have a clue about life and what has to be done to make America great again!"
Related: Ellen DeGeneres to Receive Presidential Medal of Freedom
Abdul-Jabbar's honor, takes on added significance since the Laker great is one of the most recognizable Muslim Americans in the country, and there is an ongoing national debate, spurred by Trump, about whether there should be a ban on Muslims entering the U.S. and/or a registry to track members of that faith.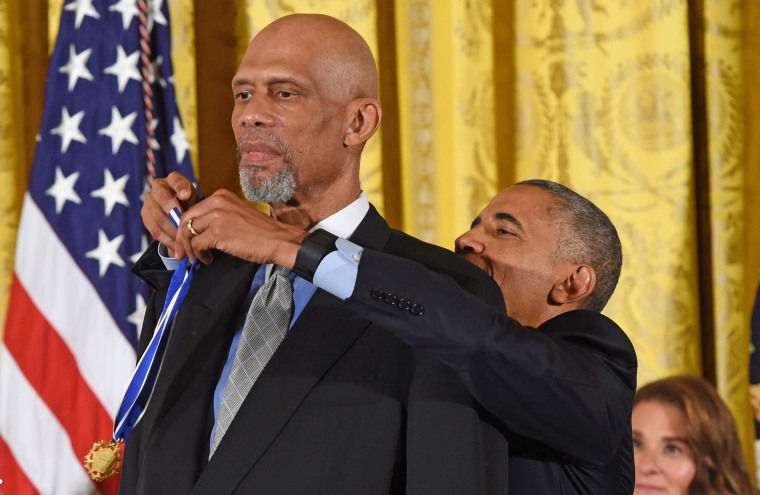 Abdul-Jabbar, a HIllary Clinton supporter who made no bones about calling the election of Trump the result of race-fueled animosity, took a more demure tone with his statement on receiving the honor:
"Receiving the Presidential Medal of Freedom would be an honor under any circumstances, but receiving it from President Obama, who has fought so tirelessly to bring about social justice for everyone, makes it that much sweeter," he wrote in a statement on his website. "I'm especially proud to be sharing this award with some of the people who have influenced my life. This acknowledgment invigorates me to continue the battle until everyone shares the great bounty of opportunity that this country has to offer. I'm hoping it will inspire others to do the same."
Obama's Medal of Freedom selections in the past reflect his progressive legacy.
Related: Black Legends to Receive the Presidential Medal of Freedom
He's posthumously honored gay civil rights icon Harvey Milk, paid homage to African-American trailblazers like Oprah Winfrey and Sidney Poitier, and, like most of his Democratic predecessors, he has made a point to makes nods to labor activists and philanthropists, as well as some of his most outspoken supporters from Hollywood.
The president said Tuesday that the honorees had all impacted him in a "a very powerful, personal way".
"These are folks who have helped make me who I am," Obama said gesturing at the gathering. "This is what makes us the greatest nation on earth, not because of our differences but because in our differences we find something common to share."