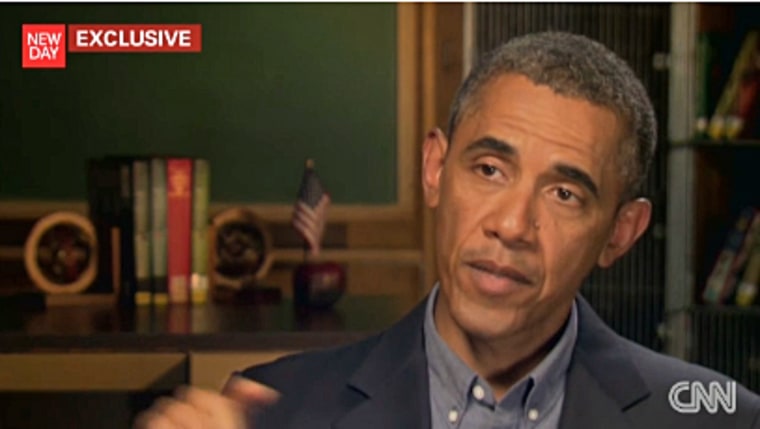 President Barack Obama said reports of a possible chemical weapons attack in Syria this week signal "a big event of grave concern" and said he has shortened the time frame for the U.S. to decide whether it will act to halt the bloodshed in the country.
"We are right now gathering information about this particular event, but I can say that unlike some of the evidence that we were trying to get earlier that led to a U.N. investigator going into Syria, what we've seen indicates that this is clearly a big event of grave concern," Obama said in an exclusive interview with CNN's Chris Cuomo that aired on Friday morning.  "And, you know, we are already in communications with the entire international community.  We're moving through the U.N. to try to prompt better action from them."
Cuomo asked the president if the U.S. government faced a "more abbreviated time frame" on key decisions in Syria and Egypt, to which Obama answered yes, but he also said: "We have to think through strategically what's going to be in our long-term national interests." 
The interview, which aired on CNN's "New Day," was taped on Thursday evening in Syracuse, N.Y., after Obama delivered a speech in that city promoting policies to lessen the cost of college, and touched on a wide selection of domestic and international issues.
The comments were Obama's first since Wednesday's alleged chemical weapons attack that members of the Syrian opposition claimed killed hundreds of civilians, including many women and children. The president expressed more urgency in the remarks than he has in the past in response to the two-year conflict that has cost more than 100,000 lives.
On Friday, a senior administration official confirmed to NBC News that State Department and intelligence agencies met at the White House for three hours on Thursday to discuss possible routes in Syria.
The official, who spoke on condition of anonymity, said, "We have a range of options available, and we are going to act very deliberately so that we're making decisions consistent with our national interest as well as our assessment of what can advance our objectives in Syria."
The official said on Friday that the options of instituting a no-fly zone or putting soldiers on the ground were not being considered for the moment.
In the CNN interview with Obama, Cuomo pointed out that it's been almost exactly a year since the president first said the use of chemical weapons in Syria would cross a "red line" and prompt a tough U.S. response.
Obama responded, "If the U.S. goes in and attacks another country without a U.N. mandate and without clear evidence that can be presented, then there are questions in terms of whether international law supports it. Do we have the coalition to make it work? And, you know, those are considerations that we have to take into account."
The commander-in-chief added that the U.S. is still trying to determine conclusively whether chemical weapons were used this week.
On Thursday, U.N. Secretary-General Ban Ki-moon asked the Syrian government to allow U.N. inspectors to investigate "without delay" the latest alleged chemical attack and asked for access to the site, which is near Damascus. A U.N. team arrived in Syria on Sunday to investigate several previous claims of chemical weapons use, Reuters reported.
Syrian President Bashar Assad's government is under growing pressure from Western and Gulf Arab countries and Assad's ally, Russia, to allow access to the rebel-held site of Wednesday's attack. Speaking in Seoul on Friday, Ban said he would press for the full cooperation of the Syrian government.
"I can think of no good reason why any party — either government or opposition forces — would decline this opportunity to get to the truth of the matter," he said, according to Reuters.
Russia urged Syria to comply with U.N. experts, and said Moscow and Washington agree that an objective inquiry is needed into the allegations. 
"The Russian side called on the Syrian government to cooperate with the U.N. chemical experts. It is now up to the opposition, which should guarantee safe access for the mission to the alleged place of the incident," the  Russian Foreign Ministry said, reported Reuters.
Britain's Foreign Secretary William Hague demanded the U.N. team get immediate access to the site Friday, saying time was of the essence before evidence deteriorates of what was very likely a chemical attack.
Hague said, "We do believe that this is a chemical attack by the Assad regime on a large scale" — a statement that goes well beyond what top U.S. officials have been willing to say about the strong indications of a chemical attack having taken place.
"There is no other plausible explanation for casualties so intense in such a small area on this scale," Hague said. "This is not something that a humane or civilized world can ignore."
Many have harshly criticized the White House for not acting more swiftly on Syria amid the allegations of the use of chemical weapons, including politicians such as Sen. John McCain, who recently appeared on "New Day" and argued that America's credibility in the Middle East has been damaged by the lack of response in both Syria and Egypt.
"I am sympathetic to Senator McCain's passion for helping people work through what is an extraordinarily difficult and heartbreaking situation, both in Syria and in Egypt, and these two countries are in different situations," Obama told Cuomo in the interview.
"But what I think the American people also expect me to do as president is to think through what we do from the perspective of what is in our long-term national interests."
Obama also pointed to the high costs of other recent American engagements, saying, "We're still spending tens of billions of dollars in Afghanistan."
Later Friday, the U.N. Joint Special Representative for Syria, Lakhdar Brahimi, said from Switzerland that Syria "is without any doubt the biggest threat to peace and security in the world today."
Besides Syria and Egypt, the interview touched on NSA surveillance, college costs, the school shooting outside of Atlanta earlier this week, and the first family's new dog, Sunny. 
NBC's Andrea Mitchell contributed to this report.
Related: