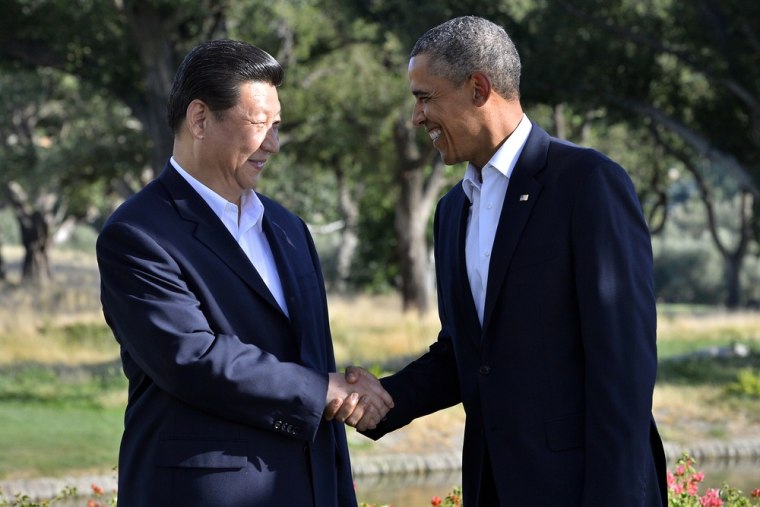 President Barack Obama sidestepped questions about cyberespionage linked to China, telling reporters Friday after meeting with Chinese President Xi Jinping that accusations against Beijing need further investigation.
On a day when he had to defend his own government's collection of cyberdata, Obama said he and Xi had had a "very constructive conversation" on the first day of their weekend summit in Rancho Mirage, Calif.
Earlier in the day, Obama defended the U.S. National Security Agency's collection of so-called metadata from telephone and Internet companies from strongly worded accusations that it amounted to unconstitutional secret spying on U.S. citizens.
That made for a delicate situation Friday night as Obama spoke to reporters after an evening meeting with Xi.
Obama said he and Xi agreed that it was important for China and the U.S. to come up with common rules on cybersecurity. But when asked about reports linking cyberattacks back to hackers associated with the government in Beijing, he said caution was needed because hacking often involved "non-state actors."
Speaking through an interpreter, Xi said China also had major concerns over cybersecurity and had itself been the victim of hacking.
Before the meeting, Obama insisted that addressing difficult issues like cyberespionage wouldn't scuttle a "new model of cooperation" between Washington and Beijing.
Obama cited human rights and cyberespionage as "inevitable" areas of tension, but he said he hoped the casual setting under the desert palo verde trees at Sunnylands — the estate built by late billionaire Walter Annenberg in Rancho Mirage — would foster an informal and "extensive" dialogue.
While it is the leaders' first big meet and greet, it won't be all desert strolls and pink sunsets. Plenty of weighty issues are sure to be addressed over the two-day summit. Here's a guide:
Cyber warfare
Neither China nor the United States wants to get entangled in a computer-powered showdown, and either world leader might want to bring up some strategies to civilize the online battlegrounds of the future. The two countries have gone back and forth, each accusing the other of being the worst offender when it comes to digital misdeeds, and media outlets, including The Wall Street Journal and The New York Times, have run extensive reports on attacks against their publications that they say came from hackers in China.
The head of China's Internet security agency said recently that he has "mountains of data" to demonstrate that hackers in the U.S. have targeted his country, Reuters reported. Blaming the government in Washington would not help resolve the issue, he said. The same week as Xi's visit, three members of Congress said they would introduce a bill to punish hackers who received support from the government of China or other foreign countries, like Russia.
Any comparison made between activity by the U.S. and Chinese government in cyberspace is "nuts," said Tim Junio, a cybersecurity fellow at Stanford University's Center for International Security and Cooperation. "The main issue is China doesn't really acknowledge all the intellectual property theft as well as espionage that's happening from Chinese territory."
North Korea
Xi and Obama might be able to find some common ground on North Korea. Neither country has much to gain from rookie dictator Kim Jong Un's saber-rattling, like when he said he'd "settle accounts" with the U.S. and put rockets on standby in March.
"For the first time, the areas of common interest between the U.S. and China are much more evident in China's declarations," said Orville Schell, director of the U.S.-China Relations at the Asia Society. "They're fed up. And they don't want some tin-pot dictator across their border messing life up for them, and they're now beginning to make utterances to that effect."
North Korea has long depended on friendly relations with China, from whom it gets crucial food and other supplies. There may be limits to how far China will bend for its neighbor to the south, however.
"We do not want to see chaos and conflict on China's doorstep," Chinese Foreign Ministry spokesman Hong Lei said in an April interview with NBC News.
Trade
The proposed $4.6 billion purchase of Smithfield Foods, a U.S. pork producer, by the Chinese company Shuanghui International raised some consumers' eyebrows recently, though officials from the company, which was founded in Virginia in 1936, said the acquisition won't affect the quality of the bacon on stateside breakfast tables.
When it comes to trade and investment between the two countries, overreaction may be the worst possible response.
"The biggest new challenge is Chinese investment in America. They have the money, and we need it," Schell said. "We are traditionally the most open economy in the world, and I think it's emphatically in our interest to welcome Chinese investment."
Better trade relations between the two countries might also have positive effects for people of Chinese descent in the U.S. who may feel discriminated against because of China's growing influence in the global market.
"A lot of people regard China as a threat or a potential competitor," Yong Chen, associate professor of Asian American studies at the University of California, Irvine, told The Associated Press. "Many people want China and the United States to have good relations so that Chinese-Americans will not be treated in a hostile manner."
Reuters contributed to this report.
Related: