WASHINGTON — The longtime head of Baltimore's library system was nominated by President Barack Obama to be the next Librarian of Congress on Wednesday, a rare pick for a position that has routinely been held by scholars in other fields.
If confirmed by the Senate, Carla Hayden would be the 14th Librarian of Congress in the institution's 214-year history and the first woman and the first African-American to hold the position, milestones that Obama called "long overdue."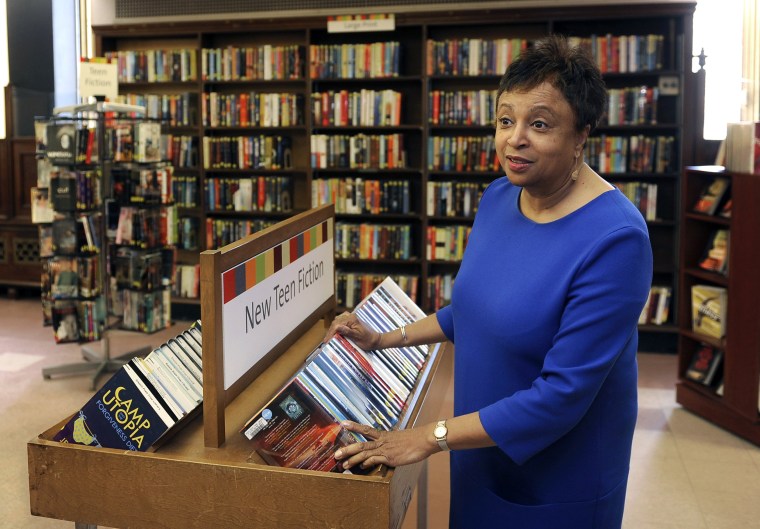 Last year, Obama signed a law establishing a 10-year term for the Librarian of Congress with an option for reappointment. The position was previously considered a lifetime appointment. The bill was passed amid criticism of the previous librarian, James Billington, for not keeping up with advances in technology. Billington was appointed by President Ronald Reagan and served for 28 years before stepping down at the end of last year.
Related: Library of Congress Isn't Tech Savvy
The Library of Congress is the nation's oldest federal cultural institution. It was formed largely based on Thomas Jefferson's collection of books to begin building a national library. Its collection of 162 million items includes research materials, historical resources and cultural treasures. The library also operates as a nonpartisan research organization for Congress and runs the nation's Copyright Office.
In a statement, Obama said he and first lady Michelle Obama have known Hayden since she worked at the Chicago Public Library in the early 1990s.
"Her understanding of the pivotal role that emerging technologies play in libraries will be essential in leading the Library of Congress as it continues to modernize its infrastructure and promote open access and full participation in today's digital world," Obama said.
Hayden, 63, who has led the Enoch Pratt Free Library in Baltimore since 1993, would be just the third professional librarian to serve in the position. The American Library Association urged the president to nominate a librarian, and Maryland's two Democratic senators, Barbara Mikulski and Ben Cardin, recommended Hayden last fall.
"The President could not have made a better choice," Sari Feldman, the president of the library association, said in a statement.
While Billington was criticized for the library's technological shortcomings, he was also credited with making research materials and legislative databases available online. During his tenure, the library also initiated lifetime achievement awards in music and writing and built a massive audio-visual conservation center in a Virginia bunker.
Established in 1886, the Pratt library is the nation's oldest public library system. During the civil unrest in Baltimore last spring that followed the death of Freddie Gray from an injury he suffered in police custody, Hayden kept the city's libraries open, including one close to where riots broke out.
"It became that community meeting place, and people were so relieved to have a safe place to be," Hayden said in a video released by the White House. "Making those libraries vital to communities will always be something that I look back on and say, 'We did that.'"