Former President Obama warned President Donald Trump against hiring Mike Flynn as his national security adviser, three former Obama administration officials tell NBC News.
The warning, which has not been previously reported, came less than 48 hours after the November election when the two sat down for a 90-minute conversation in the Oval Office.
A senior Trump administration official acknowledged Monday that Obama raised the issue of Flynn, saying the former president made clear he was "not a fan of Michael Flynn." Another official said Obama's remark seemed like it was made in jest.
According to all three former officials, Obama warned Trump against hiring Flynn. The Obama administration fired Flynn in 2014 from his position as head of the Defense Intelligence Agency, largely because of mismanagement and temperament issues.
NBC News Alerts:Sign up to be the first to know about breaking news
Obama's warning pre-dated the concerns inside the government about Flynn's contacts with the Russian ambassador, one of the officials said. Obama passed along a general caution that he believed Flynn was not suitable for such a high level post, the official added.
Two administration officials said Obama also warned Trump to stay vigilant on North Korea.
The revelations came on the same day that former acting Attorney General Sally Yates testified about the events that led to Flynn's eventual firing. Separately, two U.S. officials told NBC News that the Defense Intelligence Agency didn't know Flynn had been paid nearly $34,000 by a Russian state media outlet when it renewed his security clearance in April 2016.
Trump named Flynn as his national security adviser. Flynn, who was conducting private conversations with the Russian ambassador regarding sanctions, was then fired three weeks into the administration for misleading Vice President Pence about those conversations.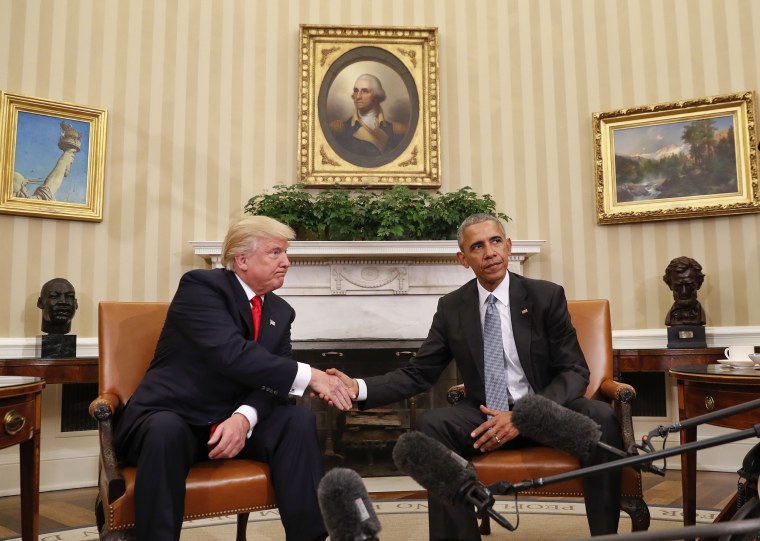 News of the Obama warning came as Trump sought to get ahead of a day of unpleasant disclosures about his former top foreign policy aide, taking to Twitter Monday to cast aspersions on Yates, the 27-year Justice Department prosecutor who warned the White House that then-National Security Adviser Mike Flynn had misled officials about his conversations with the Russian ambassador.
Related: White House Denies Claim That Yates' Testimony Was Blocked
"Ask Sally Yates, under oath, if she knows how classified information got into the newspapers soon after she explained it to W.H. Counsel," Trump tweeted, referring to Yates' conversation with White House counsel Donald McGahn.
But Trump has left many other important questions about the Flynn affair unanswered, including: What, if anything, did he know about his national security adviser's conversations with the Russian ambassador?
Monday afternoon, Yates is scheduled to testify for the first time in public, alongside James Clapper, the former director of national intelligence, who pushed Flynn in 2014 from his job as director of the Defense Intelligence Agency. The two are due to appear before a Senate Judiciary subcommittee at 2:30 p.m.
It was more than a week after Yates raised concerns about Flynn with McGahn that the story leaked to the Washington Post, prompting a series of events that led to Flynn's ouster from his White House job.
In a second tweet Monday morning, Trump noted that "General Flynn was given the highest security clearance by the Obama administration, but the Fake News seldom likes talking about that."
It's true that Flynn got his top level security clearance renewed in January 2016, but what Trump didn't mention is that Flynn should have received a far more thorough vetting in advance of his becoming national security adviser, a job that allows access to the nation's most closely-held secrets. What was the nature of that vetting, and did it raise any flags about Flynn's lobbying work for Turkish interests during the campaign, or his paid appearance on behalf of Russian state media, both now under scrutiny by law enforcement agencies? The White House hasn't said.
Related: Flynn Never Told DIA That Russians Paid Him, Say Officials
Another big question that has never been answered: Did Flynn coordinate with the president over his repeated contacts with Russian ambassador Sergey Kislyak? Those contacts raised alarms not only within the Obama administration, but within Trump's own transition team, according to reports Friday confirmed by NBC News. There were concerns that the Trump administration was signaling Russia not to worry about the Obama administration sanctions on Russia over its election interference, which expelled Russian intelligence officers from the U.S. and blocked access to Russian diplomatic compounds here.
Flynn was fired as national security adviser, White House officials said, because he told Vice President Pence he didn't discuss those sanctions with Kislyak, despite FBI transcripts showing that he did. That is among the issues Yates raised to McGahn, according to people who have been briefed on the matter.
People familiar with her plans don't expect her to get into much detail about her warnings regarding Flynn, largely because many of the underlying facts involve classified material.
In advance of her testimony, Republicans have been accusing her of acting politically, and noting that she was fired by Trump for refusing to enforce his travel ban. They call her a partisan Democrat.
Related: Former Acting AG Sally Yates to Testify Publicly in House Intel Probe
In response, her defenders point out that she spent much of her 27-year Justice Department career working as a line prosecutor, a non-political job. Though she was appointed to positions in both the Clinton and Obama administrations, she was widely respected on both sides of the aisle. Georgia Republican Johnny Isakson, her home state senator, was among those introducing her at her 2015 confirmation hearing to become deputy attorney general.
She was confirmed, 84-12.