Weeping at the memory of the children murdered during a shooting spree at Sandy Hook Elementary School, President Barack Obama unveiled a series of executive actions Tuesday aimed at preventing more mass killings.
In a powerful 30-minute address to the nation, Obama outlined his plans to slow the flood of firearms sales and keep weapons out of the hands of potential mass murderers.
But the normally stoic Obama grew visibly emotional when he recalled the murders of 20 first-graders and six staffers three years ago by a gunman with an assault rifle at the grade school in Newton, Connecticut.
"Every time I think about those kids it gets me mad," Obama said as his eyes welled up with tears. "And by the way, it happens on the streets of Chicago every day."
The president was introduced by Mark Barden, the heartbroken father of first grader Daniel, who was killed three years ago by gunman Adam Lanza at Sandy Hook. The president also stood flanked by 11 other people whose lives were scarred forever by gun violence.
Obama told the gathering that the nation "has to feel a sense of urgency" on gun policy reform and stridently criticized the GOP-controlled Congress and the National Rifle Association for thwarting earlier attempts at reform. He then directed federal agencies to expand background checks on gun buyers and tighten enforcement of existing gun laws.
"If we can set it up so you can't unlock your phone unless you've got the right fingerprint, why can't we do the same thing for our guns?"
"People are dying and the constant excuses for inaction ... no longer suffice," he said. "So all of us need to demand a Congress brave enough to stand up to the gun lobby's lies."
Under the new rules, anyone engaged in the business of selling guns — at stores, at gun shows, over the Internet — has to obtain a federal seller's license and do background checks on the buyers.
"The problem is some gun sellers have been operating under a different set of rules," Obama said. "A violent felon can buy the exact same weapon over the Internet with no background check, no questions asked. "
"We've created a system in which dangerous people are allowed to play by a different set of rules than a responsible gun owner who buys his or her gun the right way and subjects themselves to a background check."
Related: President Obama Pushes to Increase Gun Buyer Background Checks
Obama's initiative also calls for hiring hundreds of examiners to help the FBI do the increased background checks. And it requires weapons merchants to notify the ATF if their guns are lost or stolen.
"We're going to do more to help those suffering from mental illness get the help that they need," Obama said. "High-profile mass shootings tend to shine a light on those few mentally unstable people who inflict harm on others. But the truth is that nearly two in three gun deaths are from suicides. So a lot of our work is to prevent people from hurting themselves."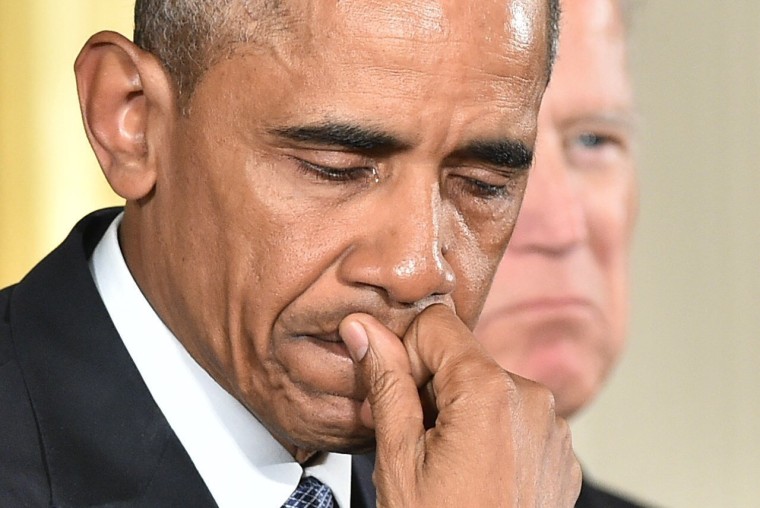 Obama added that they're going to "ensure that federal mental health records are submitted to the background check system."
"And for those in Congress who so often rush to blame mental illness for mass shootings as a way of avoiding action on guns, here's your chance to support these efforts," Obama said. "Put your money where your mouth is."
Obama said they will also take steps "to boost gun safety technology."
"If we can set it up so you can't unlock your phone unless you've got the right fingerprint, why can't we do the same thing for our guns?" he said.
Even before Obama announced moves to keep guns out of the hands of criminals and the mentally ill, Republican presidential candidates vowed to undo his executive actions should they win the White House.
But for Obama, whose gun control efforts took on a new urgency after the Sandy Hook massacre, the moves were a long time coming.
"That was the worst day of my presidency, and it's not something that I want to see repeated," Obama said two weeks after Sandy Hook.
After other mass shootings in Colorado, Arizona, Texas and South Carolina, Obama repeated his call for beefing up gun control and banning assault weapons — only to be rebuffed by Congress and the NRA.
Then, after last year's mass shooting at an Oregon college that left 10 dead, a visibly angry and frustrated Obama complained "we have become numb to this."
The president pushed back against criticism that his administration has tried to curtail Second Amendment rights.
"This is not a plot to take away everybody's guns," Obama insisted.
The president added that those killed by gun violence in houses of worship had constitutional rights as well.
House Speaker Paul Ryan and other Republicans panned the president's position.
"No matter what President Obama says, his word does not trump the Second Amendment. We will conduct vigilant oversight. His executive order will no doubt be challenged in the courts," Ryan said in a statement. "Ultimately, everything the president has done can be overturned by a Republican president, which is another reason we must win in November."
NRA spokesman Chris Cox fired back at Obama, accusing him of engaging "in political rhetoric instead of offering meaningful solutions to our nation's pressing problems."
"The fact is that President Obama's proposals would not have prevented any of the horrific events he mentioned," Cox insisted in a statement. "The timing of this announcement, in the eighth year of his presidency, demonstrates not only political exploitation but a fundamental lack of seriousness."
Obama made his announcement amid polls that show most Americans favor gun control and as Democrats in blue states such as California, Delaware and Oregon have passed measures to expand background checks and bar concealed weapons from college campuses.
Related: With Washington Stymied, It's Up to the States to Pass Gun Reform
"The gun lobby may be holding Congress hostage right now, but they cannot hold America hostage," Obama said.
The NRA is now being challenged by pro-gun control groups like Americans for Responsible Solutions, which is led by shooting survivor and former U.S. Rep. Gabrielle Giffords, and Everytown for Gun Safety, which was founded by former New York City Mayor Michael Bloomberg.
And instead of shying away from the hot-button issue to avoid angering gun owners in swing states such as Pennsylvania and Ohio, Democratic presidential candidate Hillary Clinton has made reducing gun violence a centerpiece of her campaign as has Vermont Sen. Bernie Sanders, who previously opposed some gun control measures.
Their GOP rivals remain adamantly opposed to increased gun control — and on the side of the NRA.
"We don't beat the bad guys by taking away our guns," Texas Sen. Ted Cruz, one of the GOP presidential candidates, has said. "We beat the bad guys by using our guns."