President Barack Obama says no one is more upset than he is with the glitches that have hampered open-enrollment in the Affordable Care Act — but some Americans who have tried time after time to sign up might disagree.
Three weeks into a six-month signup period, the federal website created to allow the uninsured to comparison shop for coverage has been an exercise in frustration for millions.
Here's what you need to know about the problems and the prognosis: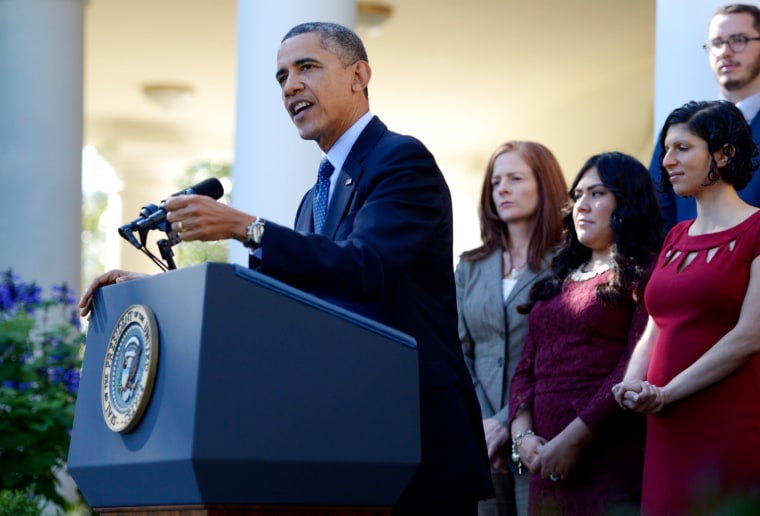 Why is this being called a failure?
Before open enrollment launched on Oct. 1, officials made it sound like signing up for the Affordable Care Act would be as easy as booking a trip on Travelocity: Simply create an account, plug in a few personal details and comparison shop between plans. Instead, the website created to handle the applications — healthcare.gov — has been beset by glitches.
One survey found only one in five people were able to log on without running into a technical roadblock. There were error messages and try-again messages. A quarter of those who tried just couldn't create an account. The Spanish-language version of the site has been delayed.
And those are just the front-end problems. On the back end, insurers reported they were getting incomplete or corrupted applications they could not process, and states are having trouble accessing the federal data.
This from a website that has cost three times as much as anticipated at a time when the administration was defending Obamacare from renewed attacks by the GOP in the midst of a government shutdown and a default crisis. Even Obama said, "There's no sugar-coating it.'
So, how many people have signed up so far?
The White House has released only a few numbers: There have been 20 million visits to the website and half a million applications submitted. How many people that represents or how many have successfully enrolled in a plan is unknown, and officials are not expected to release that data until mid-November.
It's a matter of debate whether enrollment is on pace with earlier estimates, including the Health Department's goal of 7 million newly signed up by the end of March and the Congressional Budget Office's prediction that 14 million would either get Medicaid or private health insurance on the exchanges in 2014.
Whose fault is it?
At his Monday press conference, Obama did not make any "the buck stops here" declarations, instead saying that no one is "madder" than he is that the system is so problem-plagued, although he didn't point any fingers.
Congressional Republicans have focused their ire on Health and Human Services Secretary Kathleen Sebelius, who raised hackles when she declined to RSVP for a Capitol Hill hearing into the bungled rollout on Thursday. With the GOP calling for her resignation, she has since said she plans to testify on Oct. 30.
Another target is CGI, the U.S. arm of a Canadian company, which was the lead contractor on the project to build the website. IT experts told the Wall Street Journal the system was built on a "sloppy software foundation."
Others blame a lack of funding, an over-optimistic launch deadline and a too-little, too-late testing schedule.
Is the problem being fixed?
The president says it is, although there are scant details on what's being done, how much it will cost and how long it will take.
The Health Department said Sunday it enlisted the "best and brightest" in a round-the-clock tech surge to iron out the bugs.
And Obama stressed that there are low-tech ways to get on board: by phone or in person. Operators have been added to call centers (1-800-318-2596) that can process applications. Government-funded local navigators can also help people with the paperwork.
Is time running out? Do people really need to sign up by Dec. 15?
No. Dec. 15 is the deadline to enroll if you want your new insurance to kick in at the earliest opportunity — Jan. 1. If you don't need or want it right off the bat, you can wait until Feb. 15 to sign up. Open enrollment runs to March 30, but if you wait that long, you may have to pay a small penalty. And those who opt out altogether will face a bigger penalty — up to 1 percent of their income — when the taxman comes knocking in April.
At this point it's unclear if deadlines will be pushed back or penalties forgiven because of the glitches. Some experts have said the government has less than a month to get things working properly without blowing its own deadlines.
How bad is this for Obama?
That probably depends on how quickly and completely it gets fixed, but the political and public-relations losses are mounting. At his Monday press conference, Obama acknowledged that the flaws had given the GOP a new opening to "go after" the Affordable Care Act.
"And let's admit it, with the website not working as well as it needs to work, that makes a lot of supporters nervous," he added.
The fallout may not be fully known until the end of March, when it will become clearer how many and what kind of people have enrolled in the exchanges.
That's because the success of the program depends on a healthy mix of demographics signing up: with the premiums of the so-called "young invincibles" who probably don't need much medical care underwriting the higher costs of older and sicker Americans.
If the early snafus keep the millennials from shelling out for policies, and the pools of the newly insured are weighted with people who need expensive medical care, premiums would rise in the future — stripping the all-important A out of the ACA.
Related: