Not so very long ago, the elders of Shishmaref, Alaska, warned the younger generation that cataclysmic change was coming to their tiny village on a barrier island perched just above the Bering Strait, where families still survive on seal meat and caribou soup.
"The elders that passed away used to say that someday we'll have no winter. It's happening now," said Jimmy Seetomona, 48, one of about 600 people who live in the village just 20 miles south of the Arctic Circle.
"I've noticed a lot of changes in my time," Seetomona added, surveying a coastline that has been shrinking as much as 20 feet a year. "There were a lot of homes here a few years ago."
Shishmaref, three square miles on the state's western edge, is one of more than two dozen villages that are washing into the ever-rising sea, making their residents the nation's first real climate change refugees.
President Obama's historic trip to the region this week will bring unprecedented attention to their plight and the double-bind they face.
If they stay, they could lose everything to flooding and erosion. If they leave, they cut ties with ancestral land that has sustained them, and kept their traditions alive, for centuries.
And there's no guarantee they can leave. The government estimates it would cost $300,000 a resident to relocate each villager — if they even can find a suitable inland site.
"It's not easy to move a village," Cheryl Rosa of the U.S. Arctic Research Commission said on a recent visit to Shishmaref with NBC News.
"Even if you move five miles down he coast, it's a whole different ballgame," she added. "You're going to be that much farther away from where your marine mammal resources are and your fish resources are, and that's problematic. That's more fuel, more time, more danger, especially on unsafe ice."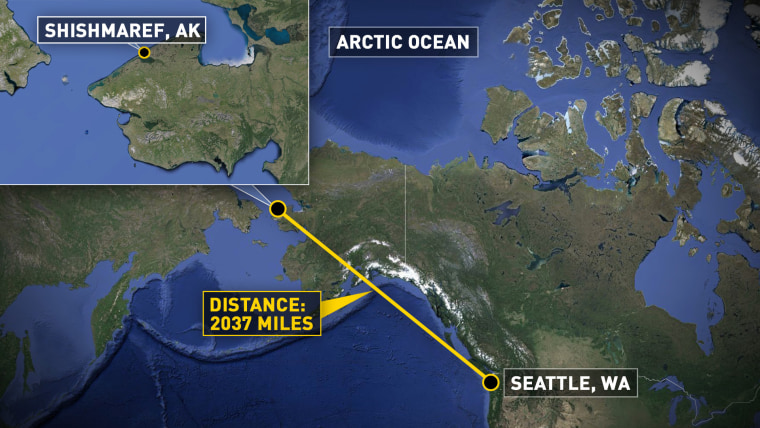 Global warming may be an issue for all of America, but it's happening twice as fast in the Alaskan Arctic, where President Obama is on a historic mission this week to highlight climate change.
With less sea ice to hold down waves, storm surges are washing away land, damaging homes and threatening water and sanitation systems in vulnerable villages like Shishmaref.
An old seawall constructed with big rocks hauled in from Nome sank and had to be replaced. A new one keeps the water created by melting snow from draining back out. One big storm could take out the garbage dump and leave the whole place awash in trash.
"There's no way we can stop the ocean," said Sharon Nayopuk, head of trash and recycling for the village, which has just under 600 residents.
Adm. Robert Papp, the U.S. special representative to the Arctic Council, a consortium of eight countries with land in the region, said it's unlikely Shishmaref can stay where it is.
"They're probably going to have to move," he told NBC News.
They're far from alone. Officials say up to 31 villages are in imminent peril, while another 150-plus face potential problems.
Newtok, home to about 400 people about seven hours south of Shishmaref, decided to pull up stakes and relocate to higher ground nine miles away, but a leadership spat has stalled federal and state funding for the effort, which could cost up to $130 million.
In Kotzebue, a larger village of 3,200 people about 100 miles north of Shishmaref, they have opted to stick it out, banking on a $34 million rock wall, paid for with federal funds, to keep sea ice off the doorsteps for now.
Shishmaref has been home to eskimos for hundreds of years. There's one paved road and one school. Seal meat and fish are hung out to dry on racks, and crafts like whalebone carving are passed down through the generations.
The village — which lost 14 building in the 1970s to a major storm — have voted in the past for relocation, but finding a new home on the vast expanse is trickier than it might seem.
"There's really no place to relocate to," said Clifford Weyiouanna, one of the elders. "You can't build nothing on tundra that's got two feet of ice. The minute you put something on it, it's going to melt and houses are going to sink."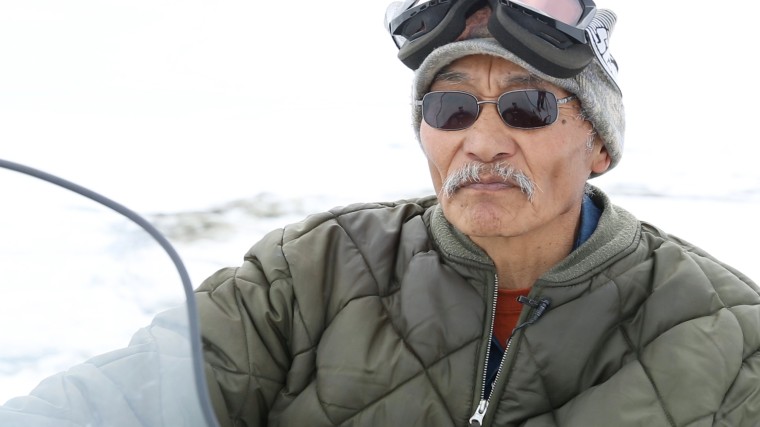 Weyiouanna is 72 years old. When he was a kid, he used to watch icebergs float over from Russia. There was a beach wide enough that DC-6 planes used it as an airstrip.
"It started eroding pretty fast — year after year — and we've lost an awful lot of ground," he said. "That ice out there is only about three to four feet thick when it used to be six, seven feet thick.
"The amount of snow we get now isn't as bad as Maine and Philadelphia," he said. "Where they're setting records, we're setting a record for no snow."
Across the Arctic, the ice starts melting earlier and forming later in the year, shortening the hunting season — a calamity in a village where 700-pound bearded seals provide the dried meat and seal oil that get families through the winter.
"Last year was a kinda lean year," said Fred Goodhope Jr., another elder. "There was some who got enough to carry them through the winter but there was a lot of people, like our family, didn't get enough."
Goodhope, who has lived in Shishmaref since 1961, doesn't know how many more winters the village can weather.
"You've got older people and children here, you know? What are we going to do if we get a major flood?" he wondered.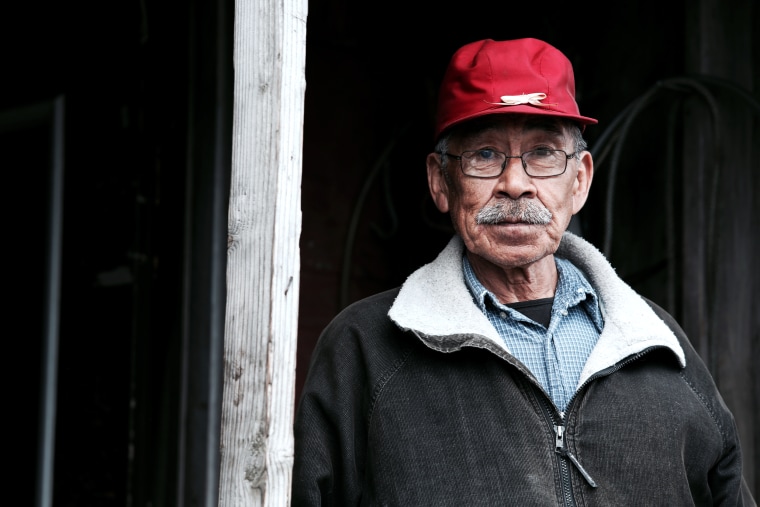 But moving comes with its own perils.
"We know how to hunt our terrain. We know how to get our berries, where to get our bearded seals, know where to fish," said Seetomona. "It would be different to us and then we wouldn't have nothing to pass along to the kids."
Then there's the financial cost: A new home for Shishmaref comes with a $180 million price tag, according to government estimates.
The feds may have spent tens of billions to help Louisiana recover from Hurricane Katrina, but Alaska — with its three electoral votes and faraway terrain — is a harder sell for Washington lawmakers and American taxpayers.
"Anything new in the Arctic is a new start for the federal budget, a federal budget that's under pressure and [that] people want to reduce," Adm. Papp said. "We need to make sure those people in New Orleans know that they have countrymen who live in villages in the Arctic that are slipping into the sea."