Joseph Gliniewicz was buried on Labor Day, with thousands of people lining the streets of Fox Lake, Illinois, where the police lieutenant was remembered as a hometown hero who spent his last moments facing down danger.
Even in death, he'd fooled them.
For years, the Army veteran had crafted an image as a ramrod-straight lawman who mentored young people interested in law-enforcement careers. But behind that façade, his career was crumbling.
His own colleagues had accused him of a variety of misdeeds that had "destroyed morale." And, as investigators would discover, Gliniewicz, 52, had siphoned tens of thousands of dollars from the Police Explorers program.
Fearing he would be caught on the eve of his retirement, Gliniewicz plotted to kill a village official who was looking into the finances, police say.
On Sept. 1, in a final, spectacular coverup, he staged his own suicide, shooting himself in the chest after reporting he was in pursuit of three men who likely never existed, investigators announced this week.
Related: Fox Lake Lt. Joseph Gliniewicz Committed Suicide: Illinois Police
Left blindsided were those thousands of mourning citizens of Fox Lake.
After enduring the loss of a police officer, the community is now grappling with another blow: the realization that their grief had been, at least in part, based on a fraud.
That includes Mayor Donny Schmit, who considered Gliniewicz a friend of 30 years.
On the day after the lieutenant's death, Schmit held back tears as he described Gliniewicz as "G.I. Joe" — a respected veteran, decorated officer and family man who was "an asset to our community."
After this week's revelations, Schmit acknowledged his confusion, saying he was trying to square the Gliniewicz he befriended with the one revealed after his death.
"The person that I thought I knew for 30 years had another side I wasn't aware of," Schmit said.
Other residents of Fox Lake have reacted in a similar manner. A company that printed hundreds of signs in support of Gliniewicz said in a statement after the revelations, "we knew him only as a dedicated father, a caring friend and passionate law enforcement officer."
"My gosh, G.I. Joe went from a hero to a criminal," neighbor Leroy Marre told NBC Chicago. "It's real sad."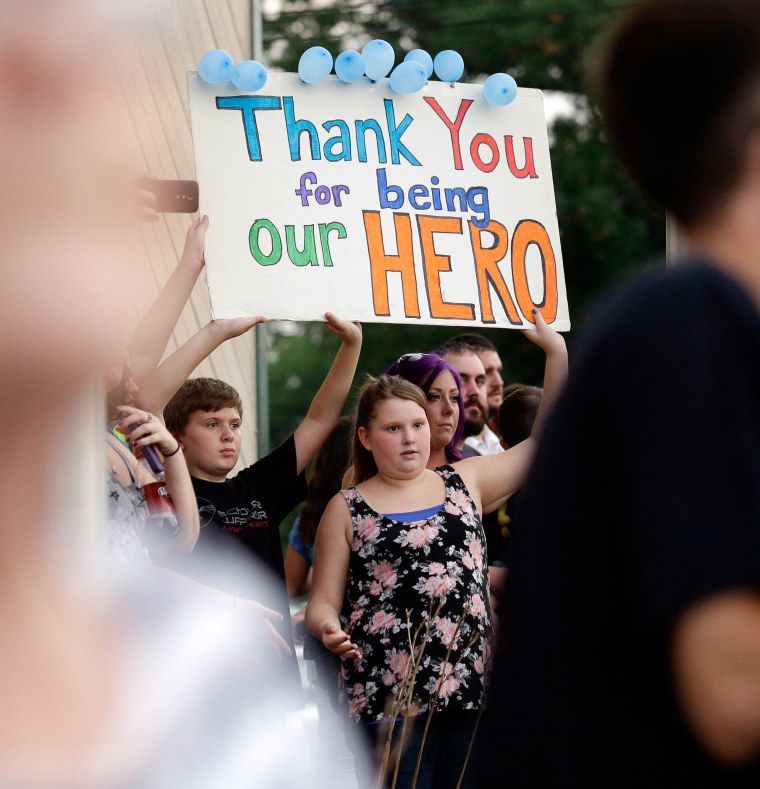 There is also outrage. Signs honoring Gliniewicz around town have been taken down, or defaced with words like "liar."
Charitable organizations who raised money for the lieutenant's family want their gifts returned. The future of the Explorers post is in doubt.
And the case isn't closed in the vacation village 60 miles northwest of Chicago.
The criminal probe has expanded to include Gliniewicz's wife and one of his sons, sources close to the investigation told NBC News.
Gliniewicz's downfall seems to have begun more than halfway into his police career, which began in 1985 when he joined the Fox Lake Police Department following a five-year full-time stint in the Army.
His personnel files covering the first 15 years of his police work — during which he remained an Army reservist — are filled with commendations and positive reviews.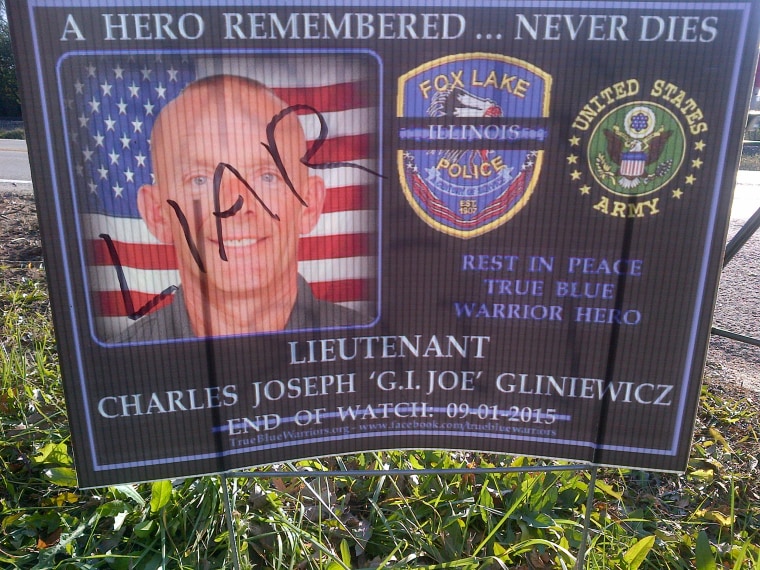 For many years, he was the public voice of the department, the designated spokesman who described crimes, accidents and rescues to the local media. He also made news himself, mostly for his work training young men and women to grow up to be police officers.
But there was also trouble.
In 2002, the department eliminated Gliniewicz's position as commander of support services, citing problems between him and the force's communications division, according to the files.
In 2003, a female officer who worked under Gliniewicz accused him of pressuring her into oral sex three years earlier, NBC Chicago reported. A judge dismissed the complaint, but Gliniewicz was suspended for a month.
That same year, a dispatcher complained that Gliniewicz had suggested he could shoot her and hide her body, and that he later pulled out his service weapon while they were in the radio room together.
In 2009, several members of the Fox Lake Police Department sent an anonymous letter to the mayor accusing Gliniewicz of throwing "morale within the department [to] an all-time low," according to the personnel files.
The colleagues said that Gliniewicz had been suspended six times for "an inappropriate sexual relationship with a subordinate" and that suspects had warned them not to arrest them because they were "friends with Joey."
The letter also accused Gliniewicz of grabbing women's breasts at department Christmas parties, sharing information from other officers' private files, getting thrown out of local bars, walking out on a $300 bar tab, using his squad car for personal errands and allowing civilians to fill their cars at the police gas station.
Gliniewicz's personnel file didn't indicate whether any action was taken on his colleagues' letter.
There were even darker allegations, all revealed after his death.
As a massive manhunt came up empty, and the coroner said he couldn't rule out suicide, investigators searched through Gliniewicz' background and found a web of lies and law-breaking.
Announcing the results of the probe this week, investigators said that for seven years, Gliniewicz had forged signatures on official documents and stolen tens of thousands of dollars from the Fox Lake Police Explorer Post for personal purchases, mortgages, travel expenses, gym memberships, adult websites and personal loans.
Municipal officials were on to him, and Gliniewicz knew it.
Investigators found incriminating text messages, some of which revealed discussions with others about a hit on the village administrator who was leading a charge to examine the Explorer program's records, sources said.
Gliniewicz's fears culminated on Aug. 31, when the administrator, Anne Marrin, sent him an email regarding the Explorer's inventory, investigators said.
The following morning, Gliniewicz was on patrol and reported he was stopping to question three men. He radioed for backup. The officers arrived and found Gliniewicz dead at the scene.
Gliniewicz, who as an Explorers trainer was experienced in creating fake crime scenes, had left his pepper spray, baton and glasses strewn in a strategically placed trail, making it look like there had been a struggle, investigators said. Then he shot himself in the chest twice in a remote, marshy area of Fox Lake.
George Filenko, commander of the Lake County Major Crimes Task Force, said this week that Gliniewicz had "committed the ultimate betrayal."
The news threw the village of 10,000 into a deep spell of soul-searching.
One woman, Skye Wildey Ziemke, took to her blog and wrote about the anguish. She argued that there was nothing to feel ashamed of, because the grief was real.
"There seems to be an overwhelming sense that we were duped, fooled, or used. We were not. We loved," she wrote. "Not because of the type of death, but because we were made to love."
She went on: "We were made to be in community and to be a family and to support each other. There is still grieving to do — so go ahead and feel it."