A police agency in Washington, D.C., has opened an internal investigation after an officer used a stun gun multiple times on a man at a subway station.
Video posted on social media showed the officer with the Metro Transit Police deploying the stun gun on Tapiwa Musonza, 28, on Saturday, as the latter was talking to two other officers who had detained some black teenagers at the platform.
The incident began when police responded to reports of young people threatening Metro passengers with sticks, police said in a statement on Twitter.
Che'mere Jones, who posted the video on Facebook of the officer deploying the stun gun, said that when she got off a train, she saw several black teenagers being held by police on the platform.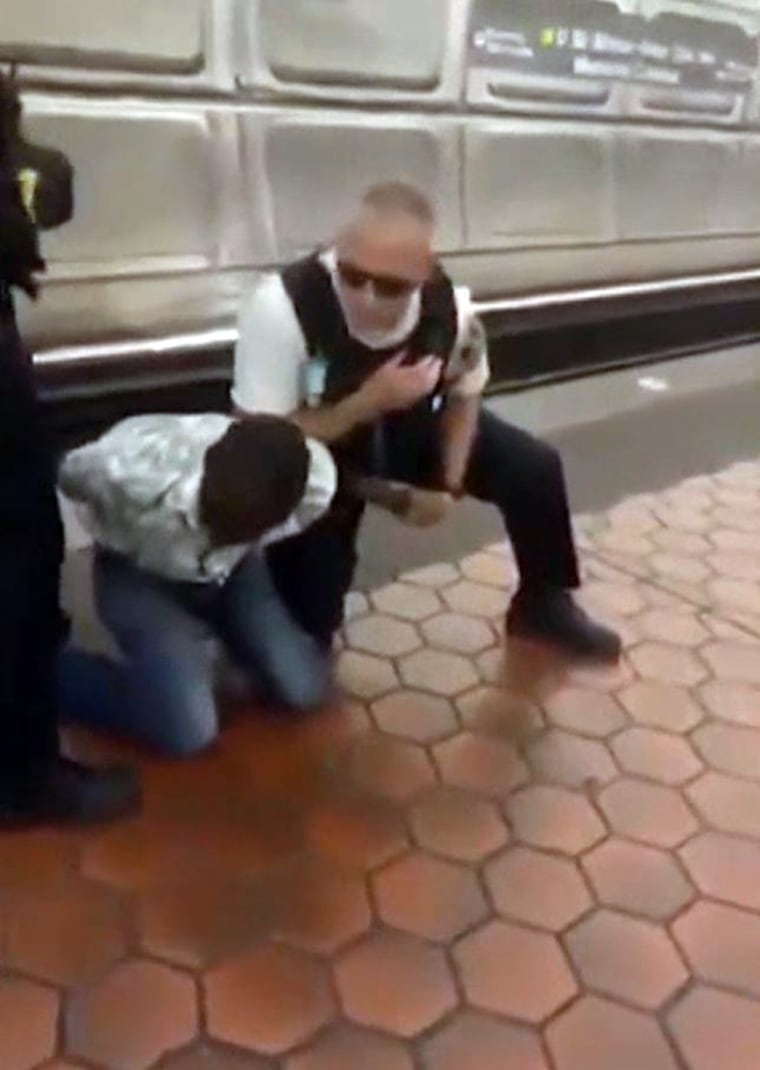 Jones wrote in her post that the man later identified as Musonzo was "trying to calm down the situation."
In hervideo of the incident, Musonza appears to be talking with two police officers over a bench while another person sits on the bench between the officers. A third officer then approaches Musonza, and the two begin to argue loudly, with Musonza waving his arms and the officer pushing him several times in the chest.
The officer then uses his stun gun on Musonza, who is seen struggling on the ground as the officer uses the stun gun on him several more times while a second officer helps restrain Musonza. At one point, Musonza rolls close to the train platform edge.
Musonza was taken into custody and charged with assault on a police officer, obstruction of justice and resisting arrest, his lawyer Lee Smith told NBC News on Tuesday. Those charges were dropped Monday.
Metro Transit Police said in a statement about the incident, "An adult male patron who was not involved in the original incident allegedly began interfering with the police investigation and according to an officer's report, displayed behavior consistent with preparing to fight the officer."
Police also said they are investigating the officer's handling of the matter.
As to the reports of the teens threatening passengers, the police statement said "officers did not locate a victim of a crime," and the teens were released.
The Facebook video sparked criticism of police for the use of force against Musonza and the detainment of the teens.
City Council member Robert C. White criticized what he called "the violent and dangerous escalation" by the police during the incident, and said he has requested a public roundtable with the area transit authority board to discuss the transit police force's "tactics for policing minors, particularly children of color."
Musonza's lawyer, Lee Arthur Smith III, said his client "is happy to be back with his family."
"He's still dealing with the trauma of the event, he was extremely shaken and very upset," Smith said. "He was having a calm discussion with two officers when a third officer entered the situation and assaulted him for what appears to be no reason."