An officer for Bishop International Airport in Flint, Michigan, was stabbed Wednesday in what local, state and federal law enforcement authorities were investigating as a terrorist act.
According to witnesses, 52-year-old Canadian Amor Ftouhi, who first entered the United States June 16, allegedly shouted "Allahu akbar" and blamed the United States for deaths in Syria, Iraq and Afghanistan before stabbing Lieutenant Jeff Neville with a large knife.
Multiple senior law enforcement officials with direct knowledge of the investigation told NBC News that the suspect was not in any FBI databases prior to the incident, unlike the majority of suspects in the last several U.S. terror attacks.
The FBI is leading the investigation in coordination with the Bureau of Alcohol, Tobacco, Firearms and Explosives, Michigan State Police and other partners in Flint and Canada.
The stabbing happened outside of the TSA area, meaning the suspect did not get through security with a knife, four senior law enforcement officers told NBC News.
Ftouhi ambled around the airport before the attack, spending some time in an airport restaurant before heading to a bathroom where he deposited his bags, according to David Gelios, FBI special agent in charge of the Detroit Division. Ftouhi then brought out the knife.
Officials said that they believe the attack was an isolated incident and that there is "no specific, credible" threat to the Flint community.
Ftouhi faces a charge of violence at an international airport, which carries a 20-year sentence. The number of charges could grow, Gelios said.
Ftouhi has been talkative and cooperative with investigators Gelios said.
"He has a hatred for the United States and a number of others that that motivated him to come to the airport today," Gelios said.
Neville, a father of two who has worked at the airport since approximately 2000, is a member of the airport's Department of Public Safety and a retired Genesee County Sheriff's Department lieutenant.
The airport public safety officer took Ftouhi to the ground by himself and continued to fight him until the suspect was handcuffed, according to Bishop International Airport Director of Public Safety Christopher Miller.
"Lieutenant Neville is in satisfactory condition," Miller said at an evening press conference. "He's doing fine residing in a local hospital right now. He's resting comfortably."
Michigan State Police initially tweeted that the officer was in critical condition. Just after 1 p.m., officials confirmed Neville was out of surgery and was upgraded to stable condition.
"I spoke with his family up at the hospital, and he had completed surgery," Genesee County Commissioner Mark Young told NBC News. "He was still in recovery when I left the hospital."
Young — whose 35-year friendship with Neville began when the two worked at the Genesee Sheriff's Office — said while everyone is relieved the officer is alright, the situation is still tragic.
"I'd say we are feeling relieved that he's in stable condition. This is something that police officers across the country — this is the Damocles that sits over every officer when they go out every day," Young said.
Neville had a successful career at the sheriff's office, Young said, earning several awards before climbing the ranks with the airport police.
"[Neville is] probably one of the nicest individuals you'd ever meet. He's always quick to help and try to help people who have problems," Young said. "I literally don't know anyone more like that then him."
Authorities said the FBI was leading the investigation and tweeted that the airport had been closed after the stabbing.
It has since re-opened, according to the Federal Aviation Administration.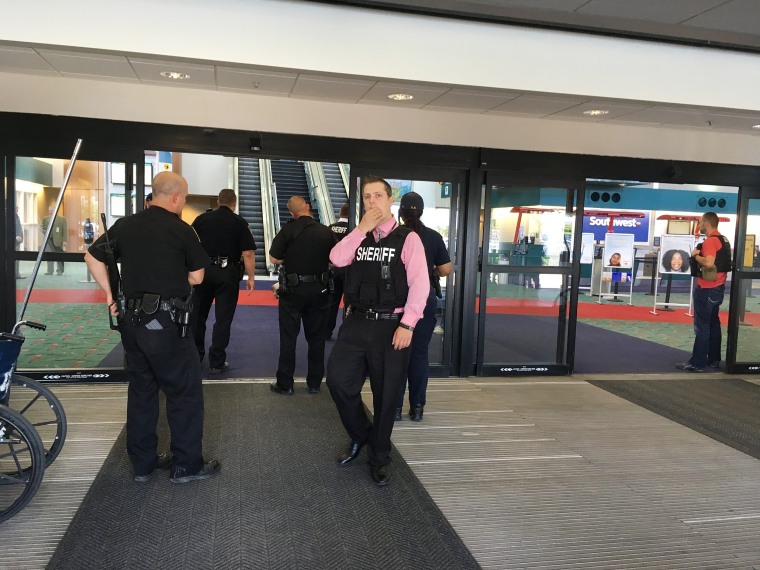 Bishop International's Facebook page posted that travelers inside the airport had been safely evacuated.
Airport Director Craig Williams said that five flights were affected and did not takeoff. Flights were grounded until 4 p.m., though planes were able to land.
Witness Ken Brown told The Flint Journal that he was dropping off his daughter at the airport and saw the officer after he was stabbed. He said he saw a man detained by police and a knife on the ground.
"The cop was on his hands and knees bleeding from his neck," Brown said. "I said they need to get him a towel."
K-9 units were seen outside the airport after the stabbing as officers checked vehicles in the airport parking lot.
In a statement, Canada denounced the attack on Neville and said its law enforcement agencies were in touch with "their U.S. counterparts."
"Canada condemns this heinous and cowardly act. Our thoughts and sympathies are with the officer and his loved ones," a statement from the Canadian Embassy said.
The suspect was in custody, according to a press release from Flint City Hall, where security had been increased as a precaution. City Hall is approximately five miles away from the airport.
"Right now we are still awaiting more information about the situation at Bishop Airport this morning," Mayor Karen Weaver said in a statement. "My thoughts and prayers are with all of our law enforcement officers who work to service and protect us each and every day."
Michigan Governor Rick Snyder sent his thoughts to Neville in a tweet.