At least nine protesters were arrested and five police officers injured during May Day clashes in Seattle where flares, bricks and Molotov cocktails were thrown, authorities said.
The anti-capitalist disorder followed a peaceful march earlier in the day by advocates for workers and immigrants — one of several nationwide events Sunday calling for better wages for workers and work permits for undocumented migrants.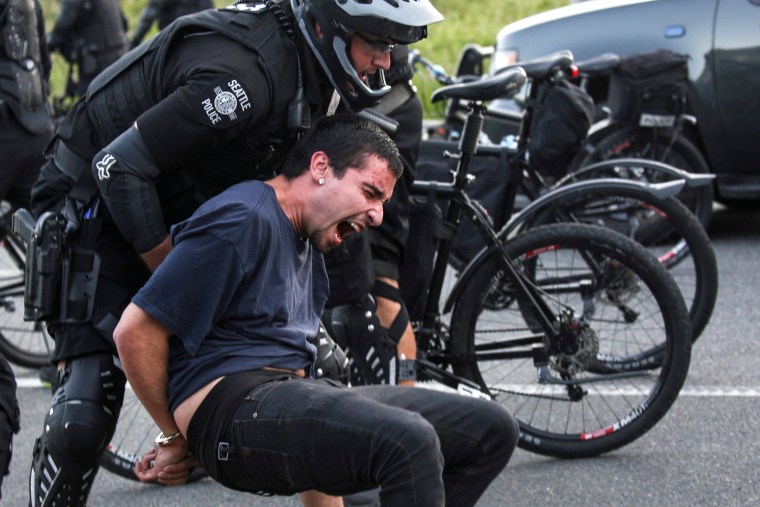 One officer was struck by a rock, one was hit by a Molotov and a third was bitten, the Seattle Police Department said. The nature of the injuries to the other two officers was not immediately known.
The anti-capitalist demonstrators carried signs including one saying: "We Are Ungovernable."
Police deployed blast balls — small firework-like devices that give off a loud bang and a dose of pepper — amid reports of assaults on officers and broken windows.
Eight men aged between 20 and 32 and one juvenile female were arrested for offences including property destruction, assault and obstruction, police said.
"It is unfortunate and deeply regrettable that in a city that goes to incredible lengths to respect First Amendment rights, there are some who disregard our values and engage in senseless acts of violence and property destruction," Seattle Mayor Ed Murray said in a statement.
"This city condemns any acts of physical violence against our police officers, and my thoughts are with the officers who were injured."
Last year, police in the city arrested 16 during similar demonstrations.
In Los Angeles, May Day marchers took to the streets chanting slogans and carrying signs — and at least one Donald Trump piñata.
"We want them to hear our voices, to know that we are here and that we want a better life, with jobs," said Norberto Guiterrez, a 46-year-old immigrant from Mexico who joined families, union members and students who marched through downtown.
Demonstrators repeatedly called out Trump for his remarks about immigrants, workers and women. The leading Republican presidential contender has called for a wall on the border with Mexico and chided Democratic hopeful Hillary Clinton for playing the so-called "woman card."
"In addition to fighting for workers' rights, we are fighting for our dignity this time around, our self-respect," said Jorge-Mario Cabrera, a spokesman for the Coalition for Humane Immigrant Rights of Los Angeles.
In San Francisco, hundreds of marchers rallied at Fisherman's Wharf for immigrant and workers' rights and to demand justice for several men fatally shot by city police.