Officers involved in the shooting that left an Ohio man dead earlier this week will not be charged, Hamilton County Prosecutor Melissa Powers said in a news conference on Friday.
An investigation was launched after 28-year-old Joe Frasure Jr. died Tuesday, a day after he was shot by police who believed he was a burglary suspect. Frasure Jr.'s family said he was cleaning out his late grandmother's home.
Powers said the three officers involved in the incident were acting in self-defense because Frasure Jr. refused to comply with orders to get out of the minivan he was in and drove it towards the officers, almost striking them.
Officers encountered Frasure Jr. and his father, Joseph Frasure Sr., at the back of an apartment building when they responded to a call for a burglary in progress on Monday. Frasure Sr. was standing on the driveway near a gray minivan that Frasure Jr. was in, Powers said.
Officers shouted commands at them to put their hands in the air, exit the vehicle and get on the ground, which Frasure Jr. didn't do, Powers said.
"Frasure Jr., in an attempt to get away, pulled his vehicle in reverse, accelerated and crashed into a tree. The officers continued to shout commands for him to stop and get out of the car," said Powers. "He put the car in drive, quickly accelerated and drove his vehicle straight at the officers."
After almost hitting one officer, Frasure Jr. "then steered his vehicle in the direction of the other two officers," who continued to shout commands at him to stop, Powers said.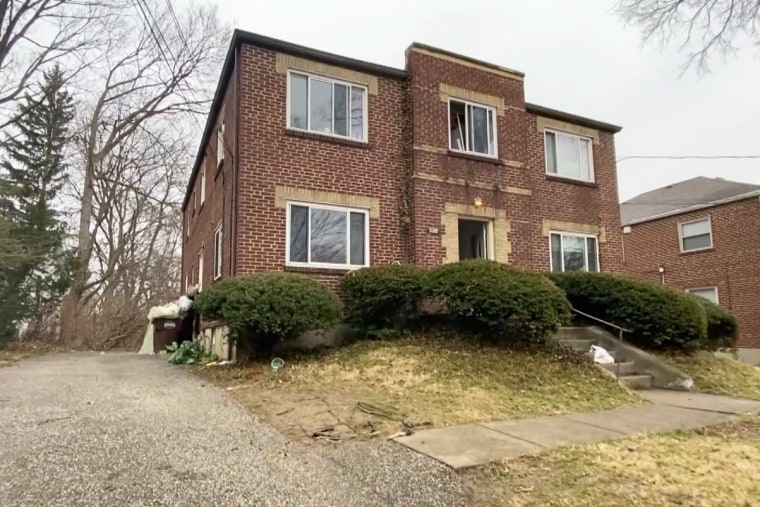 "In an act of self defense, both officers discharged their service weapons, approximately 3 to 4 rounds in total at the suspect as the vehicle sped within feet of them, several shots struck the vehicle and at least one shot struck Frasure. The vehicle then crashed into the side of the apartment building," she said.
Powers did not clarify where Frasure Jr. was shot, but said she believes a bullet hit the side of his head.
In body camera footage released of the incident and viewed by NBC News, officers can be seen encountering the two men at approximately 12:43 a.m. at the back of the apartment building.
"Hey, stop! Put your hands in the air!" an officer holding a gun can be heard yelling as he approached the front of a minivan.
On the bodycam footage, the officer continues to yell commands as Frasure Jr. drives forward, prompting the officer to move out of the way.
Frasure Jr. is then seen on the bodycam driving to the driveway as an officer runs out of the way and shots are fired. He then crashes into the side of the building.
Frasure Jr. was taken to the University of Cincinnati Medical Center where he died a day later.
Powers said it ultimately "does not matter" if Frasure Jr. was intentionally driving towards the officers or just trying to get out of the driveway.
"Whether he was driving intentionally to run the officers over, or whether he was trying to flee, it really, we will never know that answer for sure," Powers said. "But what we do know is that the officers lives were threatened and they felt in danger."
The three officers are currently on paid administrative and will be receiving counseling, according to Wyoming Police Chief Brooke Brady.
Frasure Jr.'s half brother and sister-in-law, who were able to watch the footage shortly before it was shown at the news conference, say he was just trying to get away from the officers who had their guns drawn.
"His dad threw his arms up immediately and Joe is in the car and he sees an officer running at him with a gun drawn, so he freaked out and backed up," Erika Frasure, his sister-in-law, said. "He was escaping from those officers. They took his life."
Frasure Jr.'s family says he was at the apartment building to help clean out the apartment of his grandmother, Julie Coleman, who had recently passed away.
Powers says it's her understanding that "no one had permission to be in that building," adding that his sister, two children and her boyfriend were in the apartment at the time of the incident.
"The board of health, in Wyoming, city of Wyoming, had prevented anyone to be even residing in that building. So, we don't really know the real purpose why anyone was in that building," Powers said. "It could've been, if they were squatting, were they moving things? We have no idea."
People were permitted in that building to retrieve their belongings "during the daytime, only," Powers added.
Frasure Jr.'s family, who says his grandmother lived in the building until she died on Jan. 6, refutes the prosecutor's statement.
"This is a situation that easily could have been avoided, all they had to do is stop, comply and explain, 'I'm here, this is my grandmother's apartment, we're here to help my sister,' whatever it may be," said Powers. "But the officers that night, when they made those decisions in that situation, did not know any of that information."