At least 10 people were killed and nine others were wounded when a gunman who demanded to know his victims' religions opened fire Thursday on a campus in southwest Oregon, witnesses and authorities said.
The gunman was killed in a firefight with Douglas County sheriff's deputies at Umpqua Community College, Sheriff John Hanlin said. Multiple law enforcement sources identified him to NBC News as Chris Harper Mercer, 26, but the sheriff wouldn't confirm that identity, saying he didn't want to "glorify" the man's actions.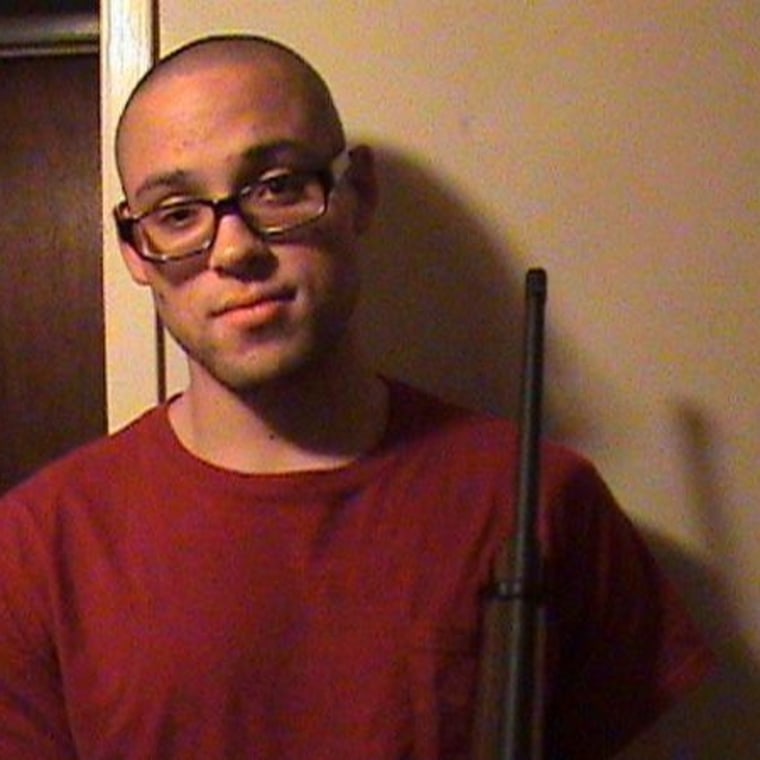 "You will never hear us mention his name," Hanlin said Thursday night, because "he in no way deserves it."
Police would not say whether they had determined a motive.
Dr. Jason Gray of Mercy Medical Center said early Friday that the hospital received 10 patients Thursday — one died, two were quickly treated and released and three were transferred to a hospital near Eugene for a higher level of care.
Of the four remaining patients, one was discharged late Thursday and one will leave Friday. As for the other two, Gray said they were both expected to survive, but one remains in critical condition.
He also could not account for the discrepancy with authorities, who had said seven people were injured in the massacre.
A Southern California man who said his name was Ian Mercer and claimed to be the suspect's father told NBC Los Angeles that he had spoken with police and the FBI. "Obviously it's been a devastating day, devastating day for me and my family," Mercer said. "Shocked, is all I can say."
State Attorney General Ellen Rosenblum and other officials earlier had said 13 people were dead after the events near Roseburg, where the shootings were called in at 10:38 a.m. (1:38 p.m. ET). But investigators in Roseburg said they couldn't confirm that number, and law enforcement officials told NBC News it was likely that some victims were counted multiple times amid the confusion of the scene.
"At this time, we are reporting and can confirm 10 fatalities in the shooting," Hanlin said. "This number is the best, most accurate information that we have at this time."
No officers were injured, said Hanlin, who said: "It's been a terrible day."
Hanlin wouldn't say whether Mercer was included in the 10, although sources told NBC News that he was one of the victims. Law enforcement sources said that Mercer's connection to the college, where he wasn't a student, remained unclear.
High school student Autumn Vicari told NBC News her 19-year-old brother J.J. was in a room filled with students at the college when the gunman entered.
According to her brother's account, Vicari said at one point the shooter told people to stand up before asking whether they were Christian or not.
Vicari's brother told her that anyone who responded "yes" was shot in the head. If they said "other" or didn't answer, they were shot elsewhere in the body, usually the leg. Vicari said her brother managed to escape but watched as three people were later killed in another room. He believes the gunman didn't spot him, Vicari said — adding that J.J. was struggling to deal with what he witnessed.
Multiple law enforcement sources told NBC News that four weapons were recovered from the scene in Roseburg, in the southwest corner of the state about 60 miles south of Eugene — three handguns and a long gun similar to an AR-style rifle. Investigators also found several magazines for 5.56mm ammunition and a ballistics vest, one of the sources said.
"This has been a long, sad, tragic day at UCC," Rita Cavin, the college's interim president, said Thursday night. "And the thing we should take away from it is the power that love can bring to a community."
A visibly frustrated President Barack Obama — who has denounced the proliferation of guns in society after more than a half-dozen previous mass shootings — said "thoughts and prayers are not enough."
Related: Obama Says American Gun Culture 'Doesn't Make Sense'
"It's not enough," he repeated. "It does not capture the heartache and grief and anger that we should feel, and it does nothing to prevent this carnage from being inflicted some place else in America next week or a couple months from now."
The FBI, the U.S. Bureau of Alcohol, Tobacco, Firearms and Explosives and the U.S. Marshals Service all joined numerous state and local agencies at the scene.
A parent of a student who was in the classroom where the shootings occurred also told NBC News that the gunman asked at least "a few" people what religion they were. The parent asked that they not be identified.
Kortney Moore, an 18-year-old student, told the News-Review newspaper of Roseburg that she was in a writing class in Snyder Hall when her teacher was shot in the head. She also said the shooter told people to state their religions.
Courtney Rennie, 23, second-year human services student, told NBC News: "I was walking into class, and I heard what sounded like a car backfiring. ... You don't even think that's somebody shooting a gun. I kept envisioning someone is going to come around the corner and and shoot the windows out."
Related: Students Hid in Darkened Classroom After Shooting
Kenny Ungerman, a Navy veteran in his first year in the school's medic program, said he had just come out of a writing class at Snyder Hall and was talking to the National Guard recruiter when "we heard a gunshot."
"It sounded like a handgun. It wasn't loud enough to be an assault rifle," Ungerman told NBC News. "Then I saw a guy with a handgun right outside — he was wearing jeans and a T-shirt. He was going toward the building, and he just disappeared into the building."
Ungerman said he heard people running and screaming, "He has a gun!" and "He's shooting!"
"I only saw him for a split second," Ungerman said.
Army veteran Chris Mintz was shot seven times while trying to "protect" other students during rampage, his aunt told NBC News. He had undergone surgery, she added.
Umpqua is a two-year school with about 3,300 full-time students and 16,000 part-time students. It started offering classes in 1961.
Related: Deadliest Mass Shootings in U.S. History
In a joint statement, the American Association of Community Colleges and the Association of Community College Trustees said called the shootings a "tragedy" and said they were committed to on-campus safety and security.
But "while campus safety is of the utmost priority, due to their open nature, college and university campuses are susceptible to these types of events," the organizations said.