LOS ANGELES — Business is so good at online retailer Ghost Gunner that it's sold out of its most popular items: key pieces for homemade assault-style rifles — known as "ghost guns" — which exist under the radar of law enforcement.
The "80 percent lower receiver" parts are so named because they fall just short of meeting the federal definition of being guns unto themselves.
They can easily be shaped and fastened into full-fledged killing machines. But those who want to use Ghost Gunner's popular CNC (computer numeric control) tool to do this will have to wait: it's sold out, too.
The future of firearms — 3D-printed weapons and ghost guns — have officials so alarmed they're calling for stricter regulation. Both types lack serial numbers that would enable law enforcement to track them, and both are available in plastic, which can bypass metal detectors, especially if certain parts like firing pins are removed.
The National Rifle Association says fear of plastic guns is overblown because they were outlawed from coast to coast by the Undetectable Firearms Act of 1988. Ghost guns made with metal parts purchased online, however, remain legal in most of the country.
When guns are in the news, business is good, Cody Wilson, the man behind Austin, Texas-based Defense Distributed, told NBC News in a recent interview. "Every time there's a big national stink," he says, "we sell out."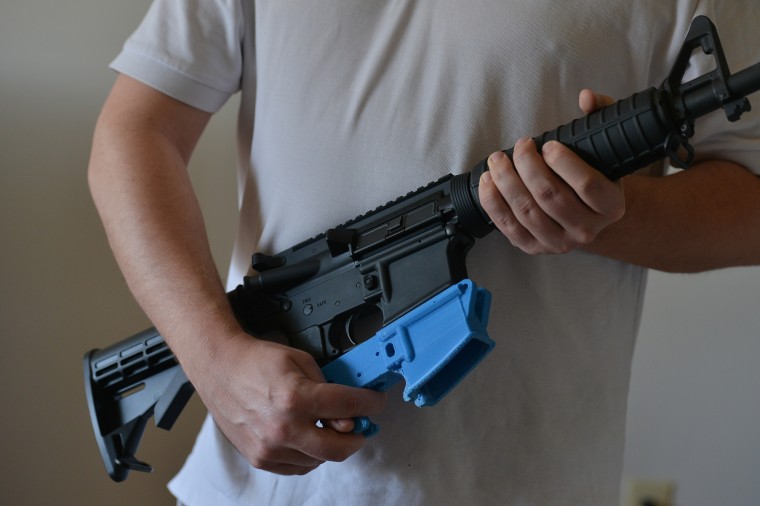 Wilson has been getting attention because the U.S. State Department recently agreed to end its prohibition of his online publication of blueprints that allow anyone to make an untraceable firearm from scratch using a 3D printer.
A federal judge on Tuesday, however, granted a request for a temporary restraining order that prevents Wilson from publishing the plans for how to make the untraceable guns.
"In a major victory for common sense and public safety, a federal judge just granted our request for a nationwide temporary restraining order — blocking the Trump administration from allowing the distribution of materials to easily 3-D print guns," said New York Attorney General Barbara D. Underwood, who was part of a coalition of nine states suing over the firearms instructions.
But a coalition of gun rights groups created a website and posted similar gun blueprints later Tuesday night, seemingly in protest against the judge's ruling.
President Donald Trump tweeted Tuesday that he is "looking into 3D Plastic Guns being sold to the public" and noted that he had "already spoke to NRA."
Attorneys general from 20 states had formally urged Secretary of State Mike Pompeo and Attorney General Jeff Sessions Monday to reverse course and ban publishing of the instructions.
Los Angeles City Attorney Mike Feuer, co-chair of the group Prosecutors Against Gun Violence, says 3D-printed guns, like ghost guns, will be embraced by felons unable to legally obtain firearms in California.
Publishing the blueprints "would allow people who can't get guns to download them and evade detection," he said.
Separately, ghost guns — the unmarked, unregistered result of those "80 percent" parts widely available online — made headlines in July when authorities busted an alleged firearms ring in Los Angeles.
The day after Independence Day, officials in L.A. announced that a confidential informant and an undercover federal agent had purchased 20 assault rifle ghost guns from a pair of suspects who now face allegations of unlawfully manufacturing and trafficking weapons, according to a criminal complaint.
The alleged sellers, Julio Herrera, 27, and Raychelle Hernandez, 26, were part of a gang-connected ring that sold completed ghost guns to associates in Hollywood, according to the Bureau of Alcohol, Tobacco, Firearms and Explosives and the Los Angeles Police Department.
Ghost gun parts have been available on the internet throughout most of the decade, but authorities say they're increasingly coming across gang members and felons in possession of resulting firearms. Federal law hasn't kept up with the online availability of these parts, and attempts to pass new legislation in Congress have been unsuccessful.
"This is an emerging trend that is just continuing to increase," Bill McMullan, special agent in charge of the ATF's Los Angeles office, said during a press conference announcing the July bust. "Criminals are making their own weapons because they're not able to buy them legally."
Homemade AR-15 type rifles were used in a northern California mass shooting last year and in a rampage at Santa Monica College in 2013, but authorities fear they could do even more damage if they become a staple of the street.
"For the ATF it sometimes makes things a little more challenging when gang members are getting around the laws and trying to find ways to get their hands on guns and creating more violence in their communities," McMullan later told NBC News.
He said he believes that ghost guns are a problem across the nation but that agents are coming across them more in states, like California, "that have stricter gun laws."
Ghost guns are also finding their way to Mexican drug cartels, according to a 2016 report from the Government Accountability Office. "It's international now," said Adam Skaggs, chief counsel for the Giffords Law Center to Prevent Gun Violence, which lobbies for stricter firearms control. "There's a huge, dangerous underbelly of the gun industry operating online."
Also in July, New Jersey Attorney General Gurbir Grewal sent cease-and-desist letters to online firms that sell "partially-built firearms" in the Garden State, warning that the selling of parts that could make an assault rifle is outlawed there.
"These weapons are illegal in our state," he wrote. "I will bring legal action against your company."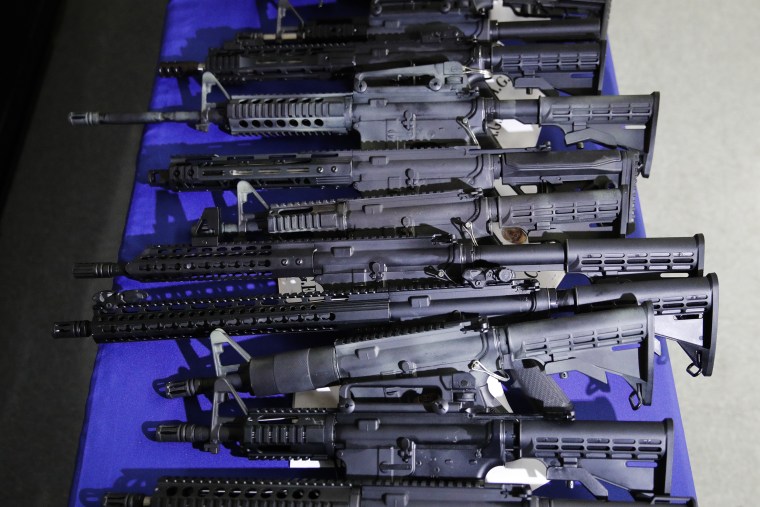 Ghost gun kits, complete with tools for assembly, can be found online for about $600 and up.
"It's often cheaper than buying a gun from a gun shop," said Kyleanne Hunter, vice president of programs for the Brady Campaign and Center to Prevent Gun Violence.
Ari Freilich, a California-based staff attorney with the Giffords Law Center, said some websites "intentionally market the products as, 'No serial numbers, no Big Brother.'"
And 3D-printed guns also come sans serial numbers. Wilson, of Ghost Gunner and Defense Distributed, sued in 2015 after the U.S. State Department ordered that his printer-friendly blueprints for handguns and assault-type rifles be taken offline because they allegedly violated regulations limiting the export of firearms technology.
The State Department has been working on relaxing and ultimately surrendering these rules to the U.S. Department of Commerce since the administration of President Barack Obama, so capitulation seemed likely.
"This was a voluntary settlement entered into following negotiations between the Department of State and the plaintiffs," a State Department spokesman said in a statement.
Wilson said either way gun owners are winning. Even as his blueprints were subject to the temporary restraining order, he noted that similar plans are available on the so-called dark web. "Even if I was to lose [the case] the internet wasn't going to stop serving gun files," he said.
However, pistols printed using 3D machines are basically disposable, good for only a few shots because the plastic-based material doesn't hold up to the heat and can break if firearms are dropped, Wilson said.
"The gun wasn't intended to be a serious gun," he said, adding that making one at home is about "symbolic intentionality."
For those who want to step beyond symbolism, the Corona, Calif.-based GhostGuns.com website (which isn't related to Ghost Gunner) sells "complete" AR-15 style "build kits" for just under $1,000. They include key parts made of billet aluminum.
The rifles are "capable" of being converted to fully automatic mode, the site says. It adds the kits aim to "give you an unregistered weapon system that's ready for almost any combat scenario."
The owners of GhostGuns.com did not respond to NBC News' request for an interview.
In nearby Hollywood, authorities allege members of the busted ghost gun ring were assembling AR-15-style rifles and 9-mm style semi-automatic handguns without serial numbers, for sale to associates who might not be able to pass a background check.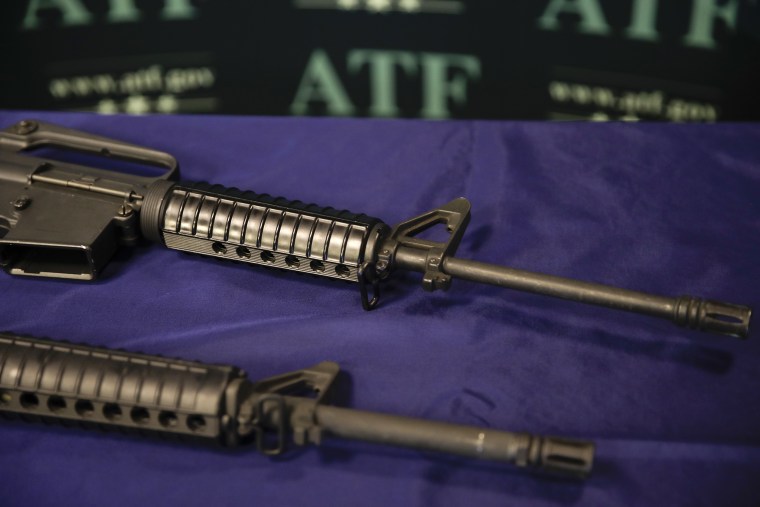 Asked if the suspects sourced their parts online, an LAPD detective said investigators didn't want to "taint the case" by releasing too many details. But investigators acknowledged the predominance of online gun parts.
The group of suspects includes felons with convictions for assault with a deadly weapon and robbery who would not be able even to handle guns legally in California.
The defendants, 10 in all, are connected to an unspecified East L.A. gang but worked out of Hollywood hotels, police said. Law enforcement officials seized more than 50 firearms and accessories, authorities said. Defendants faced 47 felony counts.
The last outstanding suspect was arrested on July 4, police said.
At the news conference announcing the bust, LAPD Det. Ben Meda held up a seized pistol and explained why ghost guns are so reviled by police.
"This particular firearm has the serial number plate, but it's blank," he said. "When the lower frame is sold to you, it's just a piece of plastic that is eventually milled out to fit the rest of the upper on this firearm. You either pick it up at a gun show or you pick it up on the internet delivered right to your house."
Skaggs, of the Giffords Law Center, added, "With a short amount of time and a drill bit you can buy at your local Lowe's or Home Depot you can produce an assault weapon or handgun without ever getting a background check."
California has already addressed the loophole that allows just about anyone with an internet connection to purchase ghost gun components.
In 2016 Gov. Jerry Brown signed Assembly Bill 857, which will require owners of ghost guns to have applied for a serial number by the beginning of next year. The California Department of Justice states that it expects as many as 75,000 ghost guns to be registered. The law does not mention 3D-printed weapons.
Another California bill in the offing would mandate that, by mid-2023, ghost gun parts be sold only through licensed dealers.
Experts say ghost gun laws in most other states are nonexistent. New Jersey prohibits assault rifles, homemade or otherwise, and legislation to ban the purchase of gun parts is being weighed in the state capital. Ghost Gunner notes on its site that it will not ship key components to the Garden State.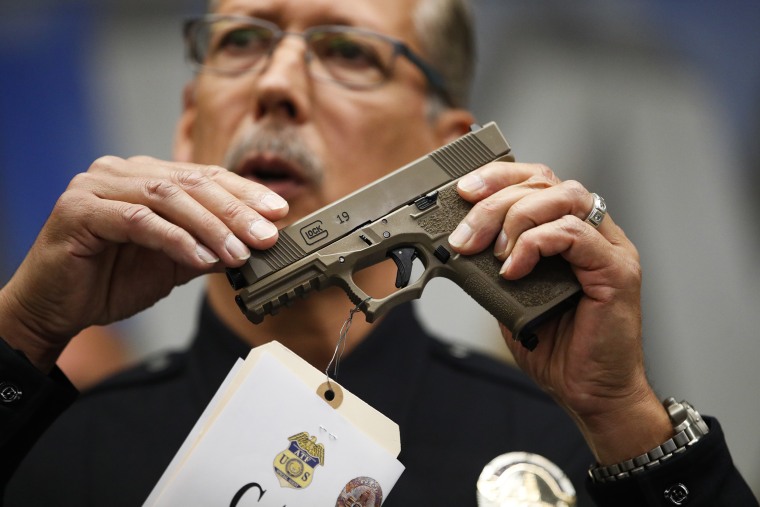 At least one congressman, U.S. Rep. Thomas Massie, R-Ky., defended the publication of gun blueprints as protected by the constitution. "Even Congress can't ban 3D printers, the internet, or the First Amendment," he said.
The NRA did not respond to NBC News' requests for comment for this story, but on Tuesday the director of its Institute for Legislative Action, Chris W. Cox, released a statement on the 3D-printed guns furor.
"Many anti-gun politicians and members of the media have wrongly claimed that 3D printing technology will allow for the production and widespread proliferation of undetectable plastic firearms," he said. "Regardless of what a person may be able to publish on the Internet, undetectable plastic guns have been illegal for 30 years. Federal law passed in 1988, crafted with the NRA's support, makes it unlawful to manufacture, import, sell, ship, deliver, possess, transfer, or receive an undetectable firearm."