MONTGOMERY, W.Va. — A fiery oil train derailment in southern West Virginia last February resulted from a broken rail that started with a crack that should have been detected but was missed in two inspections, federal investigators said Friday.
RELATED: Fiery Oil Train Derailment Renews Fear of Aging Rails
A CSX train was carrying 3 million gallons of Bakken crude when it derailed Feb. 16 during a snowstorm in Mount Carbon. Twenty-seven of the train's 109 cars derailed. Twenty cars leaked crude oil.
The Federal Railroad Administration said the broken rail resulted from a crack that had expanded. The problem was missed by CSX Corp. and a contractor on inspections in December 2014 and last January, said Sarah Feinberg, the FRA's acting chief.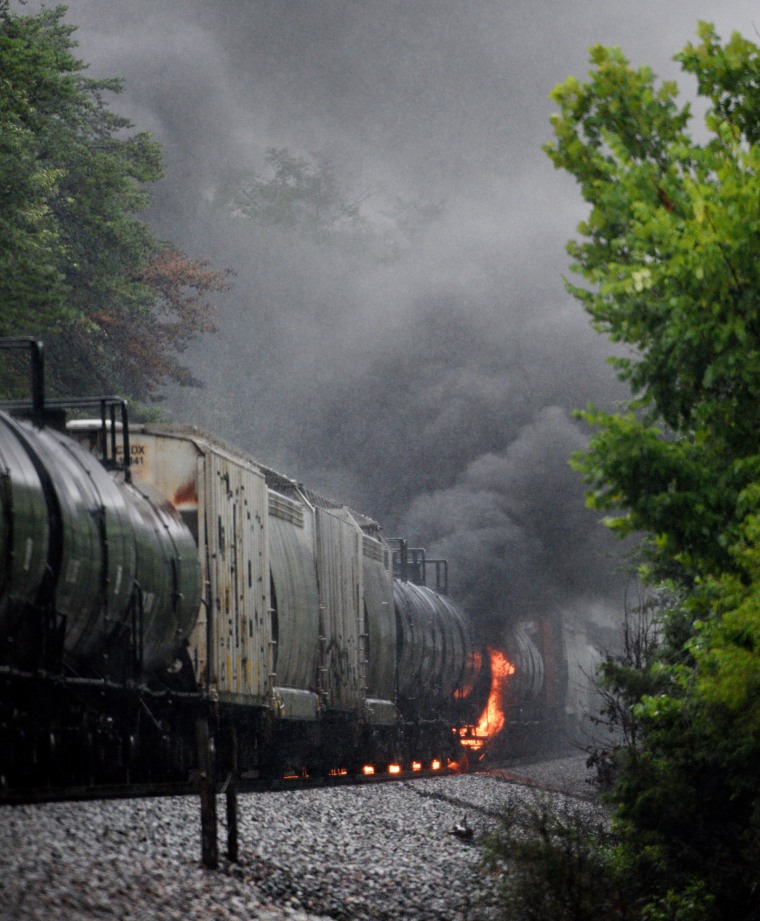 "This accident, like many rail accidents, was preventable," Feinberg said at a news conference.
Rail contractors drive along the tracks in trucks equipped with technology to take EKG- or sonar-type readings, searching for potential flaws and defects as they move along. Feinberg said the contractor's equipment picked up a potential problem during the inspections, but the operator indicated in subsequent interviews that the problem appeared to be due to surface conditions, not a flaw in the rail.
If the operator had left the vehicle to inspect the location more closely or used a hand-held device, "FRA investigators believe the rail defect could have been discovered prior to the derailment," Feinberg said.
The rail was near the location of another broken rail discovered earlier by an FRA inspector that was repaired in May 2014.
FRA chief safety officer Bob Lauby said the sheer weight of trains likely played a role in expanding the crack in the rail. He believed weather wasn't a factor.
CSX and the contractor have been fined $25,000 apiece for failing to verify a potential rail defect, the FRA said.
"Our country relies on the safe transportation of large quantities of energy products across the nation, and it is our responsibility to require operators to implement strict safety standards," U.S. Transportation Secretary Anthony Foxx said in a news release. "FRA's findings and action today should make it clear to rail operators that we will do exactly that."
The derailment shot fireballs into the sky, burned down a nearby house and caused fires on the ground that smoldered for days.
The owner of the destroyed home was treated for inhalation injuries. No one else in the area was hurt.