No paperwork has been submitted for "top secret" security credentials for any of President-elect Donald Trump's grown children or his son-in-law Jared Kushner, senior intelligence officials with direct knowledge of the situation told NBC News.
As members of the transition team, the kids can apply for "secret" clearance, which would allow them to review documents — routine budget and organizational — at a much lower level of classification.
But there has been no official request to vet them for top secret clearances, something they would need if they were to end up playing a formal role in the White House. That doesn't mean, however, that they couldn't pursue one later.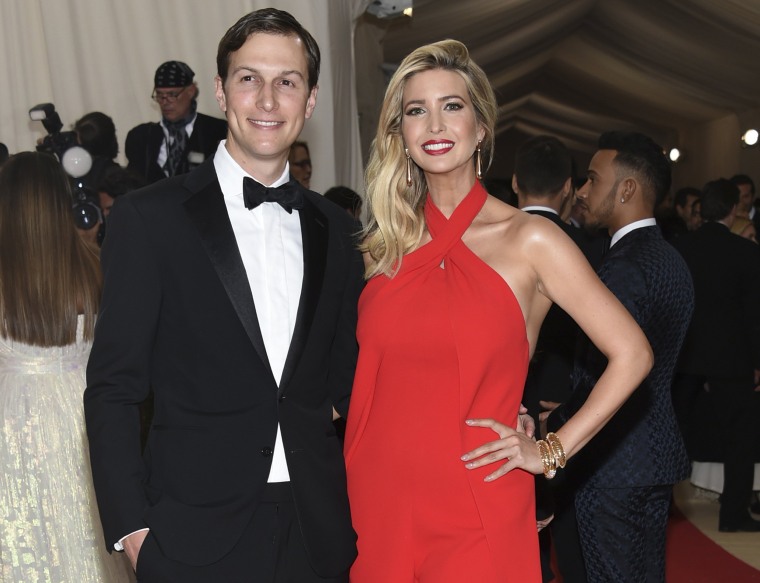 Trump has said his children will run the Trump Organization, the family business, but there has been mounting speculation that he may want Kushner by his side in the White House. Kushner played a key role in the campaign.
The process of applying for the highest clearance is arduous. It requires submission of detailed financial records, a questionnaire about past behavior and foreign contacts, and for some agencies, a polygraph examination.
"I am not trying to get 'top level security clearance' for my children," Trump tweeted Wednesday morning.
The top secret "sensitive compartmented information" clearance is an official designation that allows an individual access to America's most sensitive secrets on a "need to know" basis, including covert operations, the names of CIA sources, NSA intercepts, and nuclear plans.
So far, about 200 people associated with the Trump transition already hold top secret clearances or have in the past five years, the official said.
Fewer than four dozen names have been submitted for brand new top secret clearances. Intelligence officials say it will take an average of four to six weeks for each to be cleared, though some may get interim clearances more quickly.
Neither the President nor Vice President — nor their wives — needs clearances. It comes with the job.
A senior intelligence official told NBC News that there has never been a requirement for the First Lady or children in residence at the White House to have any sort of security clearance. If the president chooses to share something with the First Lady or family members, it is at his discretion, since in theory, he also has the authority to make the determination that the "disclosure" does not damage national security, the official said.