A couple in Ohio became the unwitting faces of the heroin problem plaguing the state when a city posted a picture of the pair passed out in the front seats of a SUV — while a 4-year-old child sat in a back seat.
James Lee Acord and Rhonda Pasek were arrested Wednesday by an East Liverpool police officer shortly after the haunting photographs were taken, said Brian Allen, the city's director of public service and safety.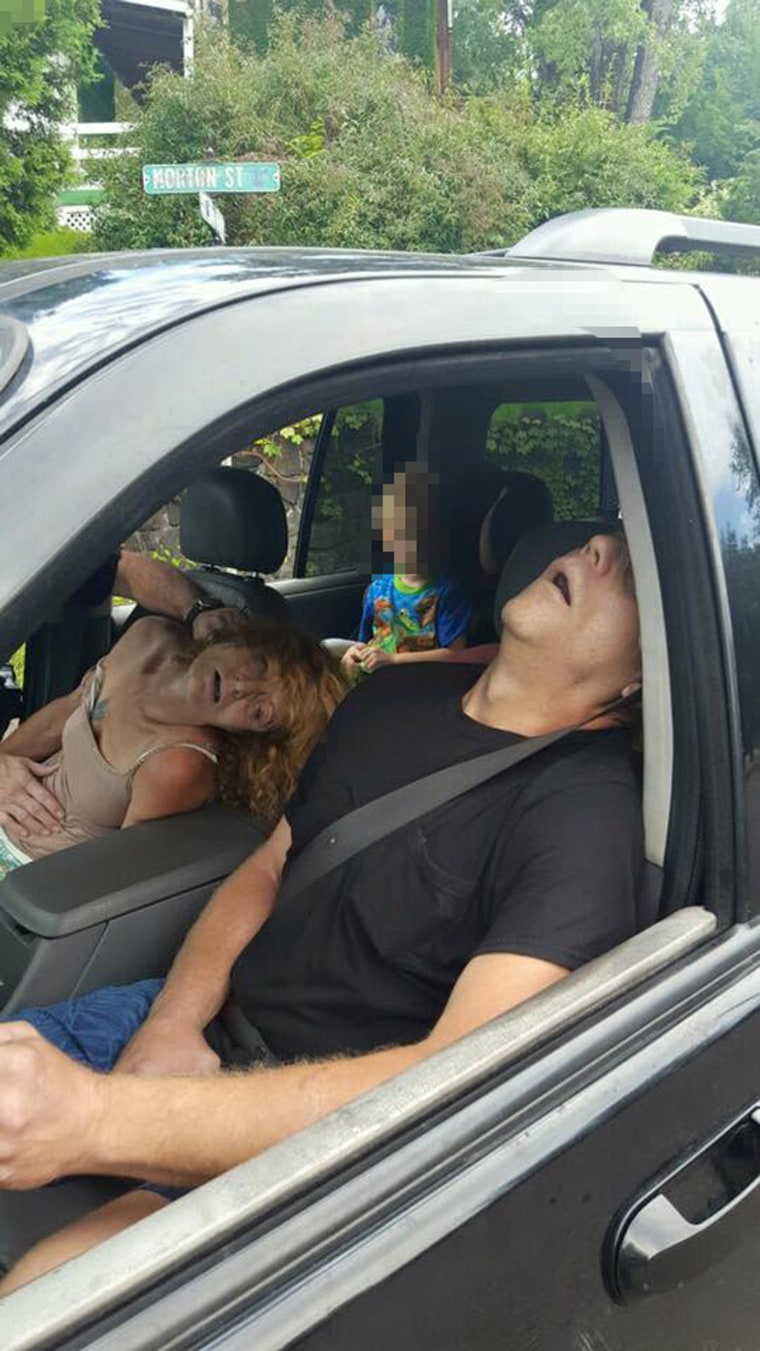 The city of East Liverpool posted the police photos and a police report on the city's Facebook page to graphically illustrate the dangers of "the poison known as heroin."
"We feel it necessary to show the other side of this horrible drug," their statement reads. "We feel we need to be a voice for the children caught up in this horrible mess. This child can't speak for himself but we are hopeful his story can convince another user to think twice about injecting this poison while having a child in their custody."
Allen said the 4-year-old boy in the picture was turned over to children's services. He said the boy was Pasek's grandson. The initial police report identified the lad as Pasek's son.
Acord and Pasek were detained, according to the report, a little after 3 p.m. Wednesday after East Liverpool Patrolman Kevin Thompson spotted a Ford Explorer with West Virginia plates that was "driving very erratic."
"At Prospect Street an East Liverpool School Bus was in the process of discharging children," the report states. "The suspect vehicle began to brake hard and skidded to a stop."
Thompson, who was heading to work in his personal car, said he ran out to the Ford and found Acord in the driver's seat.
"I noted his head bobbing back and forth his speech was almost unintelligible," he said in the report. "I also noted pin point pupils."
Acord told the officer he was driving Pasek to the hospital. "He then began to try and manipulate the gear shift," the officer stated. "I had to reach in and turn the vehicle off and remove the keys."
The case is being treated as a "suspected heroin overdose," but a substance recovered from the scene was sent to a crime lab for analysis and a final determination, according to Allen and a police report.
"Minutes could've meant the difference between how it played out to what could've happened. Somebody could've been killed or seriously injured," Thompson told NBC affiliate WTOV in Steubenville.
Within minutes both Pasek and Acord were passed out, the report stated. They were given drugs to prevent them from overdosing and rushed to a hospital.
Acord, 47, has already pleaded no contest to a charge of operating a vehicle while intoxicated and endangering children, said Allen. He was sentenced to 360 days in jail, ordered to pay a $475 fine, and has his license suspended for three years.
Pasek, 50, has pleaded not guilty to endangering children, public intoxication, and a seat belt violation, Allen said. She is due back in court on Sept. 15.
States like Ohio have been struggling with an epidemic of heroin overdose deaths. Fueled by cheap prices, the number of heroin-involved deaths nationwide have nearly quadrupled between 2002 and 2013, federal health officials said in July.
Last month, the Obama administration unveiled a plan aimed at emphasizing treatment rather than prosecution of addicts as a way of stemming the deadly tide.