EAST LIVERPOOL, Ohio — For 30 years, this small city along the Ohio River has been home to the Heritage Thermal Services incinerator, a controversial hazardous waste facility that has been cited for multiple violations and faced numerous lawsuits. In 2015, the Environmental Protection Agency said in a report that the Heritage site had repeatedly exposed the community to chemicals that can cause cancer and miscarriages.
The facility has denied any wrongdoing and continued to operate, and is now receiving toxic waste from last month's Norfolk Southern train derailment in East Palestine, 20 miles away.
"I think at some point, the powers that be are just like, 'You know, they've been getting it forever. We'll just put that there instead of polluting a new community,'" said Amanda Kiger, 49, who added that she has had cancer twice and knows many others in the area who've been diagnosed as well. "They just pile it on us."
The Feb. 3 train disaster has sent health concerns rippling not just through East Palestine, but also in the places that have begun to accept shipments of contaminated soil and water from the site of the derailment. As of Wednesday, approximately 1.8 million gallons of hazardous liquid wastewater and 700 tons of solid waste had been hauled out of East Palestine, according to the Ohio EPA. The materials have traveled as far as Michigan and Texas for disposal.  
In a statement, Heritage Thermal Services (previously known as Waste Technologies Industries) said it was "providing support at the site in accordance with the cleanup plan approved by government agencies with jurisdiction over the response to the event."
"HTS stands ready to do its part to help protect human health and the environment of its East Palestine neighbors," the statement added.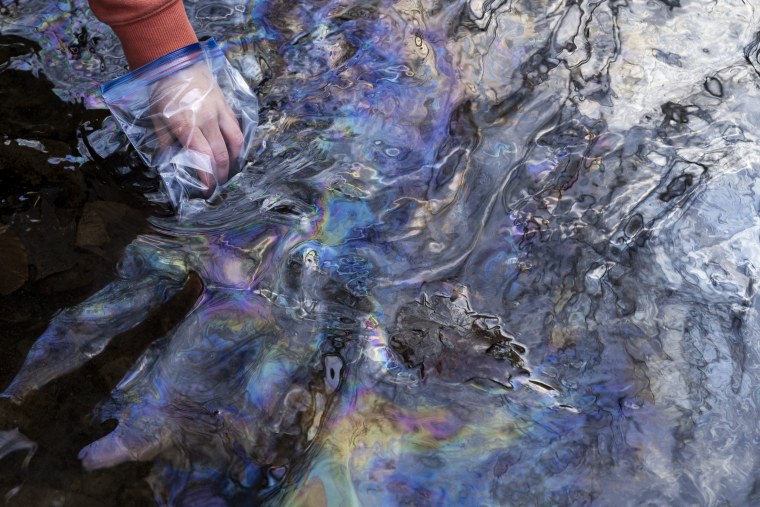 After the train derailed in East Palestine, some of the chemicals it was transporting leaked into the surrounding air, soil and water. Norfolk Southern officials released and burned off one particular cancer-causing chemical, vinyl chloride, to avoid an explosion. 
Cleanup efforts continue, and state and federal officials have told area residents that their air and drinking water are safe, even though some have been diagnosed with bronchitis and other problems that medical professionals suspect are linked to chemical exposure. 
Although it is not yet known whether the transport or disposal processes for the contaminated material poses any risk to people nearby, its arrival nonetheless caught some officials off guard in distant states.
"It's a very real problem; we were told yesterday the materials were coming, only to learn today they've been here for a week," Harris County, Texas, Judge Lina Hidalgo said last week, according to the Associated Press. The county is more than 1,300 miles away from East Palestine.
In Michigan, there were similar concerns.
"The fact that it's here, and we haven't been informed of the volume, we haven't been informed of how it actually got here — Did it come by truck? Did it come by train? Did those transport vehicles, were they well-equipped to be able to deal with this?" Wayne County Executive Warren Evans said in a press conference, according to The Hill.
Over the weekend, the EPA ordered shipments of the hazardous waste to be temporarily paused. The move came several days after the agency assumed control of the cleanup efforts, which has enabled it to require Norfolk Southern to clean up the area to its specifications, rather than allowing the company to do so voluntarily.
For communities such as East Liverpool, the federal agency's involvement provides little comfort.
"We, over years and years, have been waiting for remedies that don't come," said resident Ricardo Gonzalez, who added that he has always wanted to grow fruit and vegetables in his garden for his grandchildren but is too afraid that toxins in the soil could pose a risk. "We're overlooked."
East Liverpool Mayor Gregory Bricker said he understood residents' worries but said he had received reassurance from the federal and Ohio EPAs. 
"They assure me that the site can handle it," he told NBC News.
New calls for rail safety
On Wednesday, the administrator of the Federal Railroad Administration, Amit Bose, spoke from East Palestine and announced a national initiative to improve rail safety. That effort will focus on track inspections along rail routes where large amounts of hazardous materials are transported. 
Meanwhile, a bipartisan group of senators unveiled the Railway Safety Act of 2023, which would tighten requirements for trains carrying hazardous materials and increase the frequency of rail car inspections.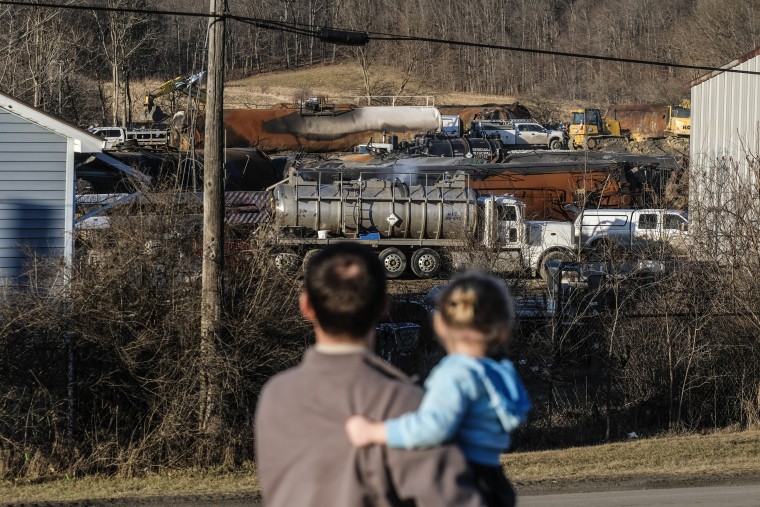 Transportation Secretary Pete Buttigieg commended the bill, saying on MSNBC's "Morning Joe" that it was time to "stand up to the railroad industry lobby and get something done."
He added that the health of residents near the train derailment remains a top priority.
"The state is even doing work on mental health because whether or not somebody shows symptoms that are directly traceable physically to this, we know that a lot of people, just from that upheaval and that trauma, are facing things where they need and deserve mental health support," Buttigieg said. 
Residents of cities that have accepted hazardous material from the derailment say they hope they receive support, too.
"I would ask the community, the state regulators, our senators or representatives: Do not, I repeat, do not forget about this area," Gonzalez said, his voice breaking. "I have anxiety. It's depressing."
Gabe Gutierrez and Halle Lukasiewicz reported from East Liverpool, Ohio. Elizabeth Chuck reported from New York.