An Ohio family using a home DNA test found that their 25-year-old daughter is not related to her father, according to a lawsuit they filed against a hospital and two fertility practices.
Joe Cartellone said his family made the discovery earlier this year after buying an Ancestry DNA kit to learn more about their Italian heritage, the family's lawsuit filed Wednesday in the Hamilton County Court of Common Pleas said.
"I never would have imagined the Christmas gift of a home DNA kit would unveil this kind of abuse of our trust," Cartellone told reporters this week. "It's hard to explain the shock and agony when you find out someone you love and care for — your own daughter — is not genetically related to you."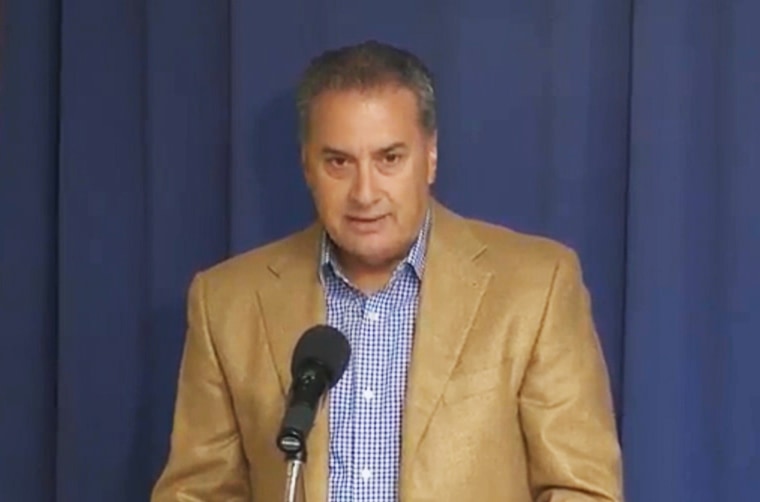 He and his wife, Jennifer, and daughter, Rebecca, are suing three Cincinnati defendants — the Institute for Reproductive Health, The Christ Hospital and Ohio Fertility Providers.
DNA tests showed that Rebecca is related to five men she has never met before, and one of them "previously worked as a doctor at The Christ Hospital," family lawyer Adam Wolf told NBC affiliate WCMH in Columbus.
Wolf said his clients want to know the identity of Rebecca's biological father and whether Cartellone's sperm was used for another patient.
"If you provide sperm to create an embryo and you find out that sperm was not used for your daughter, you have to wonder, where did your sperm go?" Wolf said. "We are questioning if they were negligent or engaged in intentional misconduct, and whatever it is, it is horrifying."
Cartellone said the emotional fallout has been difficult.
His wife, Jennifer, "has to deal with the fact that this clinic and doctors fertilized her egg with a complete stranger's sperm and placed them in her body," he said. "These clinics need to be held accountable and suffer real consequences."
After using the Ancestry kit, the family underwent further DNA testing to confirm the results, the lawsuit says.
The Christ Hospital said in a statement, "While we are evaluating the allegations surrounding events alleged to have occurred in the early 1990s, it is The Christ Hospital Health Network's practice to not publicly comment on pending litigation."
The Institute for Reproductive Health issued a statement saying it was not involved with the treatment for the Cartellones as neither it nor its IVF laboratory existed at the time of the alleged incident. "IRH is a practice group of reproductive endocrinologists and is a completely separate entity from Christ Hospital."
The statement further said that the institute maintains strict protocols "'to verify patient identity and maintain the chain of custody of all specimens involved in the IVF process," and that its lab protocols have been inspected and accredited by various organizations.
A spokeswoman for the Ohio Fertility Providers also said it was only founded in the early 2000s, and thus has no connection to the Cartellones.
The Cartellones' case illustrates a lack of oversight that could help prevent mistakes at fertility clinics, the family's lawyers said in a release Wednesday.
"As an increasing number of people use fertility services, the industry has outpaced regulation. There is clearly a need for additional governmental oversight," the release said, quoting Naomi Cahn, professor at George Washington University Law School and author of a book on the fertility industry.
In one well-known case in 2014, home DNA tests revealed that a local fertility doctor in Indianapolis had secretly used his own sperm to impregnate his patients in the '70s and the '80s, The Atlantic reported.
More recently, in Canada, a fertility doctor was formally reprimanded in June for inseminating at least 11 women with his own sperm and giving the wrong sperm to dozens more women beginning in the 1970s.