An Ohio man who slashed four restaurant patrons with a machete and was later killed by police had come to the attention of the FBI four years ago for radical comments, law enforcement officials said.
Agents took a brief look at Mohamed Barry but moved on, the officials said. The officials did not elaborate on the radical comments.
Investigators said Friday it is unknown why Barry, 30, attacked patrons at Nazareth Restaurant and Deli in Columbus shortly after 6 p.m. Thursday, or why he struck at that restaurant.
Barry was shot and killed by police at the end of a five-mile chase shortly after the rampage.
The FBI and the Department of Homeland Security have been called in to assist in the investigation.
"Based on the nature of the assault, we believed it prudent to bring in federal partners," Columbus Police Chief Kim Jacobs said. "We believed he acted alone ... I'm not aware that we have any known history with the suspect."
Investigators are looking into whether Barry attacked the restaurant in the mistaken belief that owner Hany Baransi was Jewish, sources told NBC News. He is actually an Arab Christian from Haifa, Israel.
Barry, who lived in Columbus, had asked a worker at the Nazareth Restaurant and Deli where the owner was from a half hour before he started slashing, investigators said.
"Obviously we were targeted because there's a whole bunch of businesses around here," Baransi told the Columbus Dispatch. "I'm the only foreigner."
While police have confirmed that Barry questioned a restaurant worker before returning with the machete, Jacobs insisted "we do not have a known motive at this time."
Meanwhile, police identified the four survivors of the mayhem — William Foley, 54, Neil McMeekin, 43, Gerald Russell, 43, and Debbie Russell, 43.
Foley, who remains in critical but stable condition, was the most badly hurt victim.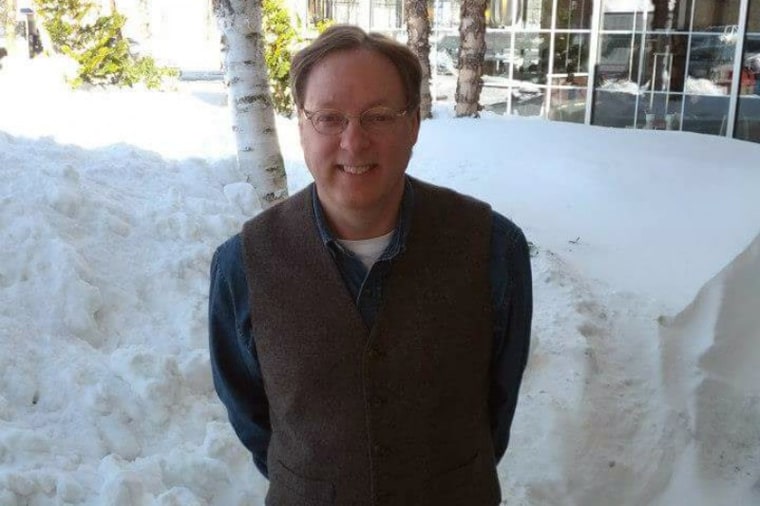 Baransi said Foley is a musician who regularly performs at the restaurant.
"I wish that guy attacked me," he told the Dispatch. "Bill is gentle. He would not hurt a fly."
Foley's longtime friend Bonny Ryan Stem told NBC News the victim has a following in Columbus and also does Civil War reenactments.
"He is a very talented man," Stem said. "He is loving and kind and makes everyone feel as though they are his best friend. He is a very patriotic family man who loves his wife and his family."
It was dinnertime when Barry barged in and began attacking diners with his machete, police said.
The patrons fought back and hurled chairs at the intruder, police said. Baransi said one of his workers fended off Barry with the metal baseball bat he keeps behind the counter.
Barry fled the eatery in a white Toyota Corolla.
When cops caught up with Barry and forced his car into the curb, the suspect "lunged across the hood" with a machete and knife in his hand, Sgt. Rich Weiner told NBC affiliate WCMH Thursday night.
Police fired a Taser stun gun to try and stop him, Weiner said. When that didn't work, they fired their guns multiple times. The suspect was pronounced dead at the scene.
Baransi told the Columbus Dispatch the only reason he was not in the restaurant is that he had gone home that evening with a migraine.
"The one night I leave early this happens," Baransi told the newspaper, adding that he had not taken a night off since Jan. 2. "I feel so guilty for leaving my people."