/ Source: Associated Press
COLUMBUS, Ohio — An Ohio police officer who shot and killed a Black man as he lay in bed in his home last summer is no longer on the force.
Columbus police said Friday evening that Officer Ricky Anderson "retired in bad standing due to the ongoing criminal and administrative investigations into the death of Donovan Lewis."
A police department spokesperson told reporters that retirement in bad standing means an officer will receive a pension but cannot retain a gun or police badge after leaving the force. Attorneys for the officer, who had been on the force for three decades, declined comment.
Lewis, 20, died at a hospital following the shooting in the early morning hours of Aug. 30. Police body camera video shows he was shot once in the abdomen, less than a second after an officer opened his bedroom door. Lewis appeared to be holding a vape pen, but no weapon.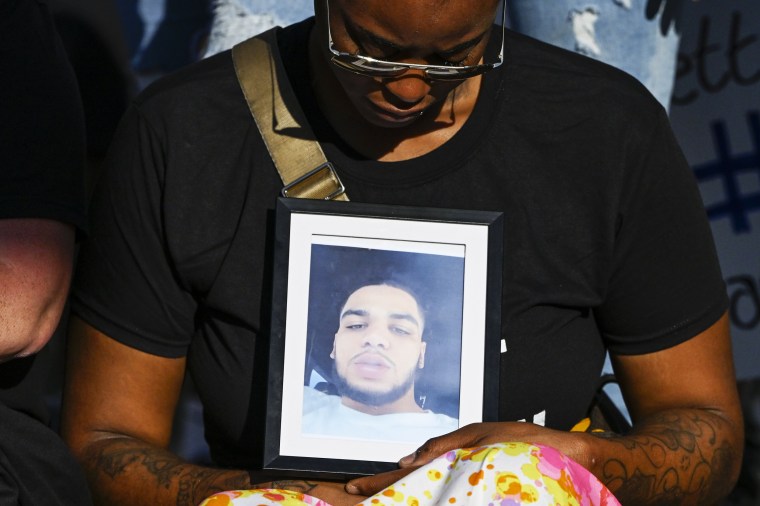 Columbus police said officers had come to arrest Lewis on multiple warrants, including domestic violence, assault and felony improper handling of a firearm. No weapon was found in his home. No charges have been filed in the death of Lewis.
Lewis family attorneys called the department's announcement of the retirement on Friday evening just before the weekend "cowardly," especially because the family has repeatedly called for the officer's termination.
"This family deserves so much better," the attorneys said in a statement, saying city leaders have "poorly handled this totally unnecessary killing" and vowing to be "steadfast in our pursuit of justice."
The Franklin County prosecutor's office has said special prosecutors will review the state attorney general's investigation and present the case to a grand jury to determine whether charges are warranted. The prosecutors said last month that reviews of use of force by law enforcement can be time-consuming and they sympathized with the frustration of the family, but they were "dedicated to achieving justice in this matter."
The family has filed a wrongful death civil lawsuit against the city and the five white officers serving the warrant, accusing the officer who fired of battery, breach of duty, intentional and negligent infliction of emotional distress, failure to render aid and violating Lewis' constitutional rights. The complaint also accuses officers of violating a measure requiring officers to render immediate medical attention to an injured suspect."
Following Lewis' death, the Columbus police chief issued a policy change about warrants served late at night.
Chief Elaine Bryant directed the Columbus Division of Police to seek high-level approval for some warrants served from 11 p.m. to 6 a.m., according to a memo sent to all sworn personnel.
"Effective immediately and until revised or rescinded by me, no pre-planned arrest warrants shall be served at private residences for all misdemeanor offenses (including domestic violence) and non-violent felony offenses between the hours of 11:00 PM and 6:00 AM without the prior approval of a lieutenant or above," the memo said.
Lewis died less than two years after Columbus police Officer Adam Coy lost his job days after he fatally shot Andre Hill, a 47-year-old Black man. In May 2021, the city of Columbus reached a $10 million settlement with Hill's family over that shooting.
In April 2021, a Columbus police officer fatally shot Ma'Khia Bryant, a 16-year-old Black girl. The officer who shot the teenager, Nicholas Reardon, was cleared of any criminal wrongdoing, prosecutors announced in March.
That same month Bryant was killed, Mayor Andrew J. Ginther and City Attorney Zach Klein requested a review of the Columbus Division of Police. In September 2021, the Department of Justice agreed to review the practices of the city's police department.