An Ohio plastic surgeon used sedatives he procured through his practice to drug and rape multiple women, dating back to at least 2013, according to federal authorities who have been investigating him for more than a year.
Manish Raj Gupta, 49, faces federal charges of illegally dispensing controlled substances, aggravated sexual abuse, and sex trafficking by force, fraud or coercion, according to a criminal complaint filed Friday in U.S. District Court for Northern Ohio. He was arrested the same day and booked at the Lucas County Corrections Center, the jail's booking commander told NBC News.
The FBI began investigating Gupta, a board-certified plastic surgeon with offices in Toledo and Oregon, Ohio, and one in Michigan, in January 2019, after a woman who worked as a "high-end escort" reported that Gupta had "improperly drugged and then performed sex acts" on her in September 2016.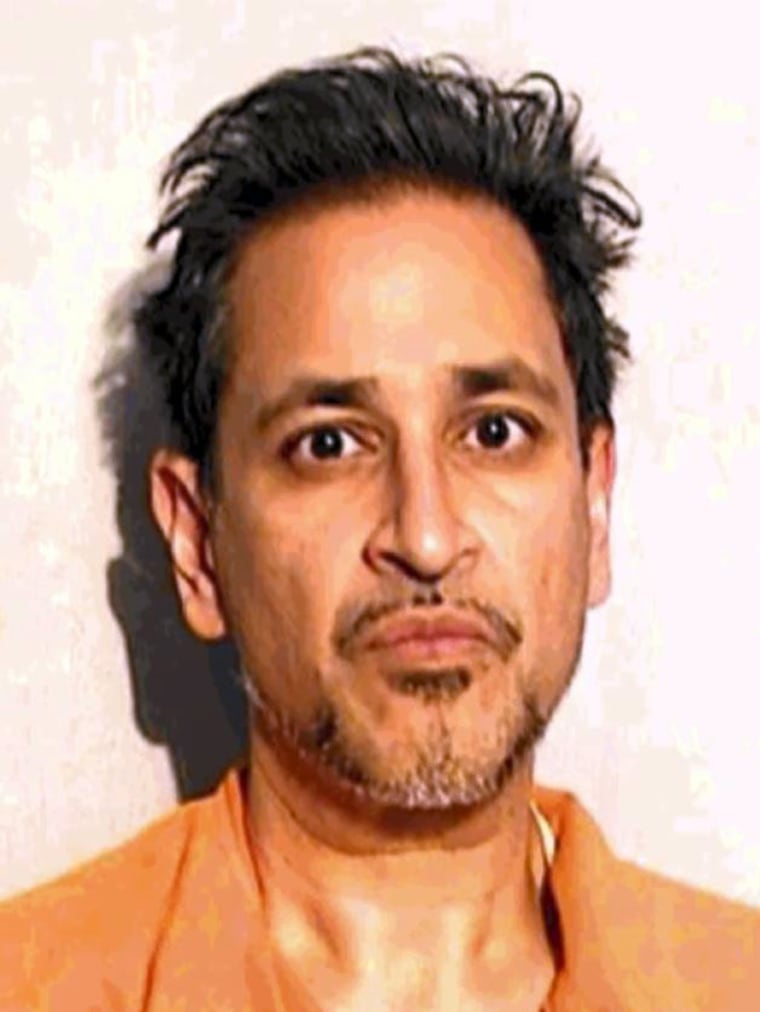 Email exchanges show Gupta and the sex worker, identified as KB, had arranged to meet at a hotel in Los Angeles, where Gupta would be for a convention, according to an arrest affidavit. In the emails, Gupta outlined his sexual preferences, including his request to film the encounter, which KB declined.
When they met, KB performed consensual oral sex on Gupta, and later was asked to "turn away from him and slowly take off her clothing," the indictment said. "KB believes Gupta could have been recording her because he demanded she do it so many times and because it involved her having her back to him."
Gupta then asked KB to change into lingerie and served her a glass of prosecco.
KB sipped from the glass, and Gupta asked her to insert and remove anal beads, the affidavit said. She does not remember anything after removing the beads.
In the morning, KB drove to the home of a client who is an anesthesiologist, and asked him to administer a drug test. The test showed she had a tranquilizer in her system.
KB then went to a treatment center for a rape test, but after, did not report the incident to police. She did, however, visit two websites that women who date online and work in the sex industry use to report "men who are dangerous," the affidavit said.
Complaints on the websites "dating from March 2013 through September 2016 identify Manish Gupta or Dr. G as a plastic surgeon from Toledo, Ohio, as 'very dangerous,' 'drug user/drug present,' 'raped me during date … he also recorded a video'," investigators said, according to the affidavit.
Another woman said Gupta "drugged me during a date, raped me and recorded all this."
Gupta's employees at his practice, Artisan Cosmetic Surgery, began to get suspicious of him when a woman called the office "stating that Gupta had drugged her, raped her and video-recorded her," describing him, his phone and his car in accurate detail, the affidavit said.
Employees who traveled with him for frequent conferences and conventions also found it strange that he never brought a bag on flights. Investigators said he would ship his medical bag to and from where he was staying, instead of flying with it.
Employees told investigators that in 2013, a different bag, used by Gupta to bring supplies to hospital procedures and Botox parties, went missing. They searched all over, until one of them found it on the top of a bookshelf.
When the employees "opened the bag, they found multiple sex toys, anal lubricant, large plastic syringes, empty anesthesia bottles, women's lingerie, a blindfold, a tripod with a possible camera, and narcotics, including ketamine, benzodiazepine, Valium suppositories and Versed," the affidavit said.
The next year, an employee found 10 to 20 SD cards in Gupta's desk. A federal agent who obtained a search warrant for the content of the cards said "they contained five different videos of Gupta engaging in sex acts with four different unconscious women."
The videos show at least three other cameras in the room, and Gupta with an erection. "The women in the videos all have their genitalia exposed as they lie on the bed and appear largely motionless unless physically moved by Gupta himself," the agent said. "All but one of the women are wearing black hosiery, black heels, and/or dark corset, consistent with the attire that Gupta told KB to wear."
A search warrant later conducted at Gupta's private office at his practice in Toledo uncovered sex toys, Viagra, several cameras and many SD cards.
One of the cards found in a camera had a video of "Gupta having sex with an unidentified Caucasian woman who appeared to be unconscious in what appeared to be a hotel room," the affidavit said. That video was dated December 2019.
Agents also found vials of diazepam, a sedative, and ketamine, an anesthetic. Employees said ketamine was rarely used at the practice and diazepam was never used at the practice.
One employee recalled declining a large shipment of ketamine to the office, believing it was delivered by mistake, but later realizing Gupta likely ordered it.
Two State of Ohio Board of Pharmacy audits at Gupta's Toledo office, in 2016 and 2019, found that Gupta was not properly documenting when drugs were delivered and administered, according to the affidavit. The board issued Gupta warnings following the 2016 audit.
In 2019, the board also found Gupta had no records for diazepam and ketamine, even though the drugs were found on site, the affidavit said.
When the board compared Gupta's records with drug distributors', "significant, unaccounted-for losses of drugs were identified," including ketamine, diazepam/Valium, fentanyl, and morphine, the affidavit said.
"In addition, the Pharmacy Board audit revealed that Gupta had received a shipment of ketamine on Sept. 12, 2016, just two weeks before he drugged KB," the court documents said.
In 2020, both the State of Ohio Medical Board and the Toledo Police Department received calls from someone claiming Gupta had been raping women for years, according to federal investigators.
It was not immediately clear if Gupta has a lawyer. He appeared before a judge on Monday, at which point his case was handed over to a grand jury, a district court clerk told NBC News. He is being held without bond.
Calls to Artisan Cosmetic Surgery went unanswered Tuesday. A recording advised that "all upcoming appointments and procedures are canceled until further notice."