The Coast Guard reopened almost 4 miles of the Ohio River near Louisville, Kentucky, on Sunday as crews continued to search for three people still missing after a boat carrying nine people capsized during Fourth of July fireworks, killing two of them.
Authorities identified the victims Sunday night as Donald Swinney, 52, and Mark Swinney Jr., 14. Jefferson County Deputy Coroner Jim Wesley said the cause of death was drowning. Their exact relationship wasn't immediately known.
Authorities conducted aerial and water searches all day Sunday for the missing — a man, a woman and a young girl — but Louisville Fire Chief Greg Frederick said the current was high and the search conditions were "challenging."
"It's fast moving," Frederick said. "We think as fast as the river is moving, there is the possibility someone could be fairly far down the river."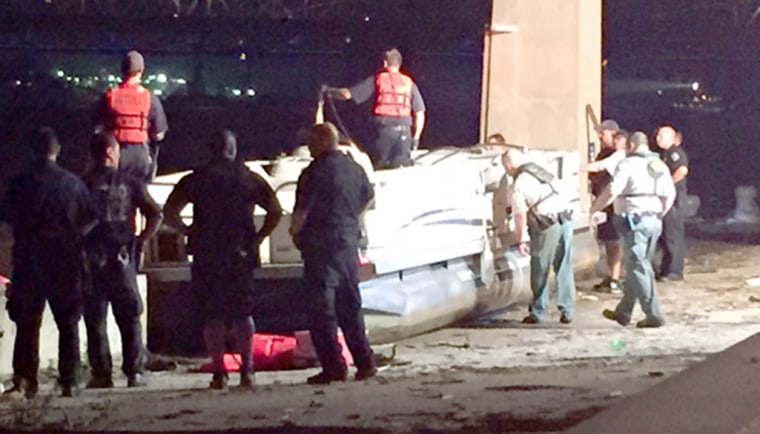 The nine people were thrown into the water when the boat capsized about 9:23 p.m. Saturday as crowds gathered to watch July 4th fireworks, Frederick said.
Isaiah Waddell, a young boy who was celebrating the holiday at Waterfront Park, told NBC station WAVE of Louisville that he saw the boat when it crashed into a work barge at a construction zone for a downtown crossing bridge.
"When it scraped a little bit, the side of the boat started to tip," Isaiah said. "Then it started flipping, and all of a sudden it was all the way flipped over. The people who were on the boat were basically trying to hold on to the boat."
The Coast Guard said Sunday night that it was lifting a safety zone prohibiting all boat traffic for the 3.9 miles straddling the scene.
The Kentucky Transportation Cabinet, the state department overseeing the project, said Sunday it was working with authorities to investigate the incident.