An Ohio child was killed Tuesday and more than 20 other children were injured when a minivan struck their school bus on the first day of school, and the minivan driver has been charged with vehicular homicide, officials said.
The school bus with the Northwestern Local Schools district was traveling westbound on State Route 41 in German Township in Clark County around 8:15 a.m. ET when it was struck by a 2010 Honda Odyssey minivan traveling eastbound, the State Highway Patrol said.
The school bus careened off the right side of the roadway and overturned, authorities said.
A child was pronounced dead at the scene, the state patrol said. Another child was taken to a children's hospital with serious, life-threatening injuries, while 22 other children were taken to area hospitals with injuries that were not life-threatening, it said.
The condition of the child who suffered life-threatening injuries was not immediately clear early Wednesday.
The bus driver suffered minor injuries but was not taken to a hospital, authorities said.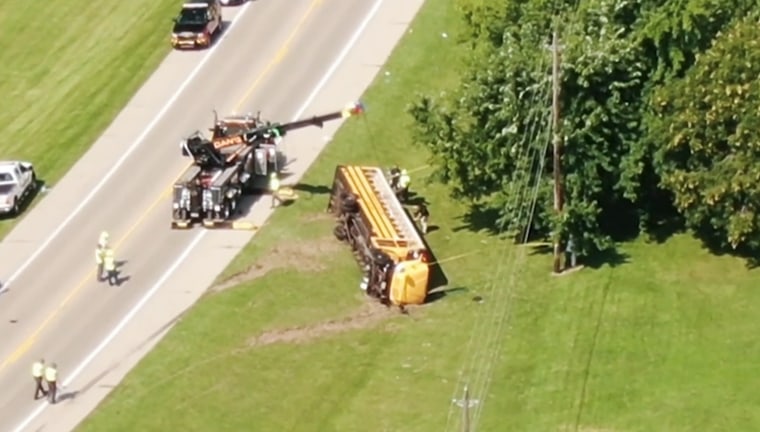 The driver of the Honda Odyssey, Hermanio Joseph of Springfield, was taken to Springfield Regional Medical Center with non-life-threatening injuries, along with an adult passenger, the highway patrol said.
Joseph, 35, was arrested and charged with aggravated vehicular homicide, the highway patrol said Wednesday. He was being held at the Clark County Jail, and the crash remains under investigation.
The school bus did not have seat belts, authorities said. Seat belts are not required on school buses in Ohio.
The National Highway Traffic Safety Administration does require three-point seat belts on small school buses weighing less than 10,000 pounds, but it allows states to decide whether to require seat belts on larger school buses.
"Large school buses are heavier and distribute crash forces differently than passenger cars and light trucks. These differences help bus passengers experience much less crash force than those in passenger cars, light trucks and vans," the NHTSA says on its website.
Instead of seat belts, larger school buses are meant to protect passengers through "compartmentalization," it notes. "This requires that the interior of large buses protect children without them needing to buckle up. Through compartmentalization, children are protected from crashes by strong, closely-spaced seats that have energy-absorbing seat backs," the NHTSA says.
Northwestern Local Schools confirmed on social media that the crash happened on an elementary school route. It happened on the first day of school, according to the district's website.
Classes were canceled Wednesday, and the school district said grief counselors would be made available for anyone in need of support.
"The Elementary and the Jr/Sr High will open at 8am for students, staff, and community members who need assistance and want to talk to a mental health specialist. Our hearts and prayers go out to the families that have been impacted by this tragedy," the school district said.
A number of surrounding school districts offered their condolences. Republican U.S. Rep. Mike Carey wrote on X, formerly known as Twitter: "My heart breaks for the students and families involved in this tragic accident."
The highway patrol had put out a statement on social media Tuesday warning about traffic incidents involving school buses.
"Thousands of Ohio school children will be heading back to school. For many of these students their day starts and ends by riding a school bus," it said.
Noting that there were 6,089 traffic crashes involving school buses in Ohio from 2018 to 2022, it said: "The safety of the students is top priority."