Ohio State University announced Friday it has settled 11 of the 18 lawsuits that were filed against the school by some 350 men who charged they were sexually abused by Dr. Richard Strauss.
OSU did not disclose how much money it agreed to pay out, but in a press release it said the funds would be allocated by an independent special master "on an individual basis based on the harm and damages experienced by each survivor."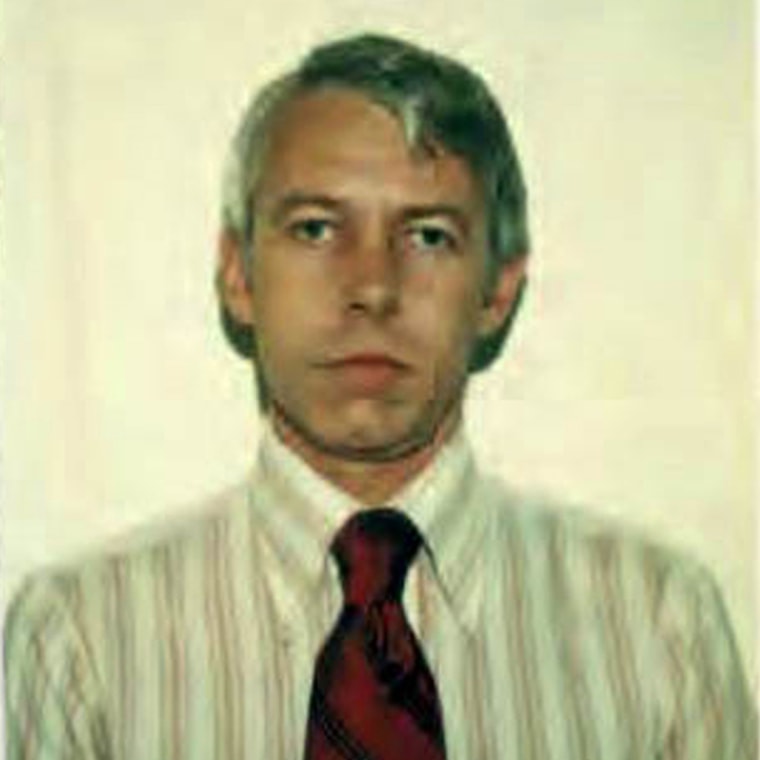 "Strauss' conduct was reprehensible, and the university's failures at the time are completely unacceptable," said outgoing OSU President Michael V. Drake. "While nothing can undo what happened here years ago, today's university has a responsibility to support our former students and alumni, and this initial settlement is another important step in the process of restorative justice."
Strauss died by suicide in 2005.
The surprise announcement came a little over a week after lawyers for half of the men asked a federal judge to intervene and complained that "OSU has not participated in the mediation process in good faith."
Rick Schulte, an attorney for some of the victims and a negotiator of the settlement, said they were "pleased that Ohio State stepped forward and did the right thing."
"This settlement will help our clients move forward with the healing process," he said in the OSU press release.
But there are still seven lawsuits that remain unsettled. Rocky Ratliff, an attorney for another group of Strauss survivors and a former Ohio State wrestler, said his group has not yet settled with the university and Steve Estey, who represents a group that includes outspoken Strauss victim Brian Garrett, said they too have not settled.
"We are pleased to see that Ohio State settled with a group of individual abuse victims that, for various reasons, valued their claims differently," he said. "We will continue to insist on full compensation for our clients, who suffered extreme physical sexual abuse and life altering trauma. As the only group that has filed a class action lawsuit, we also will act to ensure that OSU victims who are not ready to come forward yet will also be compensated in a settlement, and that institutional change is implemented so this never happens again."
Lawyers for activist Stephen Snyder-Hill and 82 other men said this settlement was reached "without giving every survivor a seat at the table."
"At the very least, OSU owes survivors transparency and honesty about what they are offering in response to the awful situation that happened on their watch," they said.
Ohio Attorney General Dave Yost said Ohio State took the high road by settling.
"As a matter of law, The Ohio State University could have simply defended these lawsuits on the basis of the statute of limitations, and would have won," Yost said in a statement. "I applaud the university for choosing to look beyond the dry letter of the law and doing a larger justice — a course of action not ordered, but chosen."
In the press release, OSU insisted "the Strauss matter was brought to light by the university, which launched and announced publicly an independent investigation of Strauss' abuse after one survivor came forward in April 2018."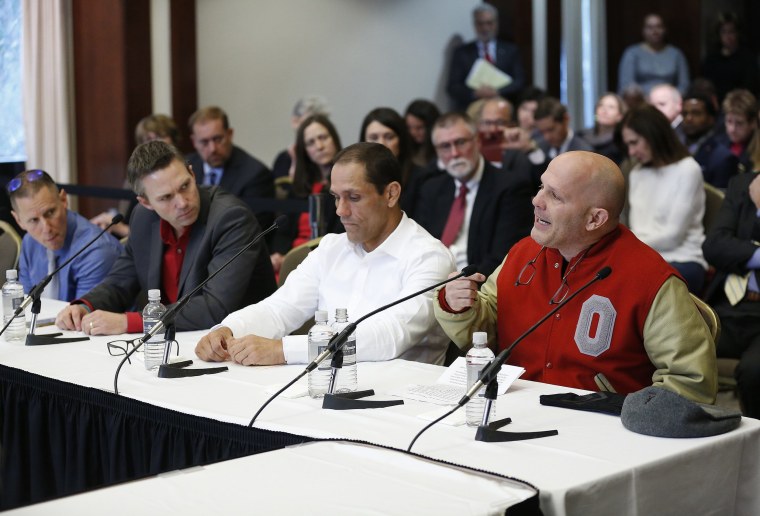 That survivor is former OSU wrestler Michael DiSabato, who confirmed to NBC News that he is part of the group covered by the settlement.
"It took them two years to do what they could have done in two months, which is accept responsibility," DiSabato said. "And despite the pain this process caused, I forgive them."
The settlement announcement appeared to bring OSU closer to closing a painful chapter in its history, a sordid story that got national attention in July 2018 after DiSabato and several other former wrestlers accused their then assistant coach, Rep. Jim Jordan (R-Ohio), of turning a blind eye to Strauss' abuses.
Jordan maintains that he never even heard any "locker room talk" about Strauss and would have protected the athletes had he known.
In May 2019, the Perkins Coie law firm was hired by OSU to investigate the Strauss scandal and concluded that coaches and athletic administrators at Ohio State knew for two decades that Strauss was molesting male athletes and students but failed to sound a warning or stop him.
"Students openly discussed Strauss' examination methods or complained about his loitering presence in the shower and locker room, including in front of coaches and other Athletics Department staff," the 180-page Perkins Coie report stated.
NBC News reached out to Jordan's spokesman Ian Fury for comment on the settlement. He has not responded.
Since the release of the Perkins Coie report, OSU has repeatedly apologized for failing to stop Strauss and has repeatedly insisted it has taken steps to make sure this does not happen again.
"Our focus has always been and remains on the survivors," the statement says. "They have our sincere appreciation for coming forward. We know that this takes great courage. Without them, the truth would have remained unknown."
Ohio State and some of its former employees still face scrutiny from the U.S. Department of Education Office for Civil Rights, which is examining whether the school responded "promptly and equitably" to students' complaints.
Also, the Ohio medical board is checking whether any licensed Ohio doctors who either knew or suspected Strauss was abusing young men failed to report it.