Hurrying to class at Ohio State University on Monday morning, education student Kerri Strausbaugh was suddenly aware of chaos unfolding around her — people screaming and running for their lives.
She looked around to see what was happening and saw a stranger coming straight at her with a butcher knife. They locked eyes and then he said something she will never forget.
"I'm going to kill you."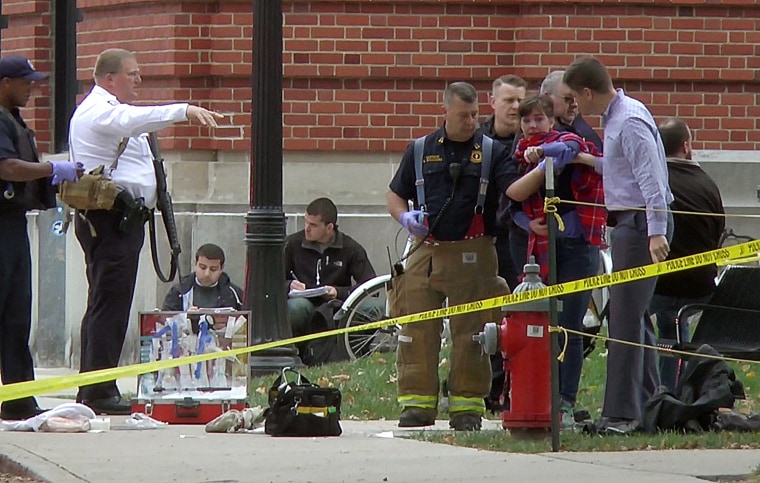 The young man who would later be identified as Abdul Razak Ali Artan slashed at her left arm, the blade slicing through the sleeve of her L.L. Bean ski jacket and into her skin.
Strausbaugh, 27, told NBC News it happened so quickly she didn't even have time to be scared. But she ran away from Artan as fast as she could.
"Your instincts take over," she said. "I just knew I had to get away as soon as possible."
She dashed to the entrance of the nearest building, where someone with a swipe card ushered her into a locked computer lab.
Inside, an "amazing girl" took a scarf from around Strausbaugh's neck and fashioned it into a tourniquet for her bloody arm, she said.
"A boy was holding my hand and saying, 'You are OK,'" she recalled. "It was so amazing how so many people tried to help me."
Outside, a campus police officer killed Artan with shots to the head and chest after he refused to drop the knife, according to officials.
The 18-year-old was a student at Ohio State, too. That morning he bought a knife at Walmart, posted a rant with references to ISIS and radical cleric Anwar al-Awlaki to Facebook and drove his older brother's car to campus.
A suspected gas leak had just forced the evacuation of Watts Hall. Students and faculty were milling about on the sidewalk outside, waiting for the all-clear to return to class when Artan roared onto the scene.
"The fire truck hadn't pulled away 30 seconds before when I heard a lot of screaming and people shouting," said a 21-year-old science major, who asked that her name not be used.
"I turned around and it looked like a big mass coming toward me," she said. "There were tires screeching and everything and I got out of the way."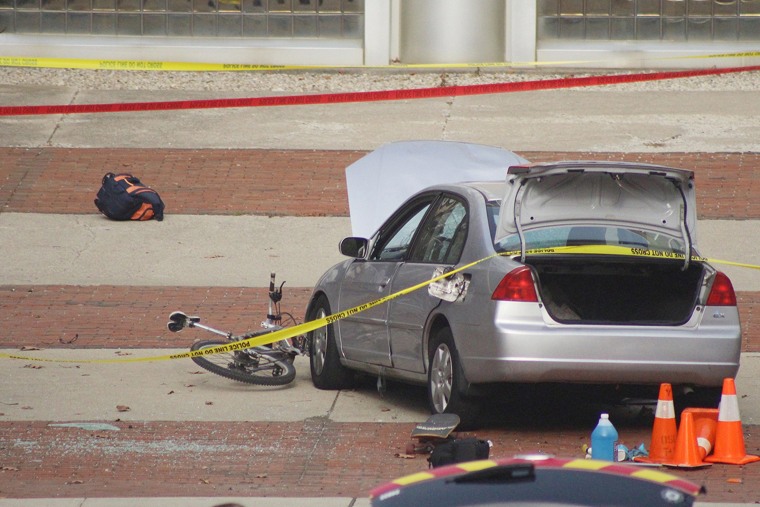 The Honda Civic mounted the curb and slammed into a large planter. The rear swung around and clipped several people, including the science major, who was knocked to the ground.
"I thought it was an accident," she said. "I looked to see if the driver was OK and then I saw him pull out a knife and then I knew — this was not an accident."
Artan, she said, "let out a war cry."
"He was angry and full of hate. He did start chasing people. I didn't stick around."
She ended up with some contusions and bruised bones.
"I consider myself really lucky," she said. "If I was a couple of feet to the left, I would have been hit with a more forceful part of the car. Maybe I wouldn't have been able to get up and run away. Who knows what would have happened?"
Strausbaugh walked away with 12 stitches in her arm and two starkly different memories — of the stranger who wanted to kill her and the strangers who rushed to her aid.
"It restored my faith in humanity," she said of the aftermath. "It's like something terrible can happen but you are immediately surrounded by so much help and love."