Ohio teenager Mackenzie Shirilla may spend the rest of her life behind bars after a judge ruled she intentionally drove 100 mph into a brick building, killing her boyfriend and his friend, in a "mission of death."
But Frank Russo, 61, the father of her boyfriend, Dominic Russo, 20, doesn't support sending Shirilla to prison for life. 
"It's horrible for everybody. Yeah, I lost my son, it's harder on our family, but I don't want the rest of her life ruined too. It isn't going to make me feel any better," he told NBC News Friday. 
 "The whole thing's just a shame," he said.
Shirilla was 17 when she crashed into a building around 5:30 a.m. on July 31, 2022, in Strongsville, Ohio, a Cleveland suburb. The passengers — Russo and Davion Flanagan, 19 — were pronounced dead at the scene. She miraculously survived.
Last week, a judge found Shirilla, now 19, guilty of 12 counts — including four counts of murder — after a four-day bench trial. Her sentencing is set for Monday.
Shirilla faces a maximum sentence of life in prison with eligibility for parole in 32 years, the Cuyahoga County Prosecutor's Office said.
'She's just a kid, her family's destroyed too,' father of victim says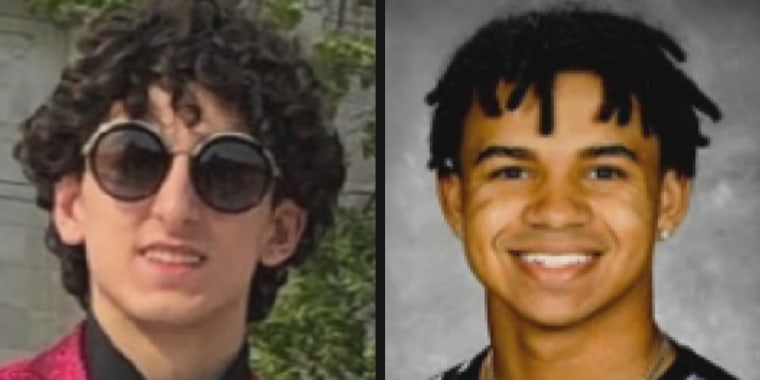 Frank Russo said the trial was difficult to sit through as it unfolded around the same time as the anniversary of his son's death. 
He described his son as a "go-getter," who loved playing basketball, and was driven.
"He was opening up his own clothing line, he was not average kid, I'll tell you that," he said. 
Despite his family's heartbreaking loss, Frank Russo said he wants Shirilla to get help.
"She's just a little kid. She f---ed up. She did a damn stupid thing but now her parents are destroyed, her family's destroyed too," he said. "I wish there was a way she could get some kind of help, some kind of treatment."
Frank Russo said he doesn't buy her claims that she doesn't remember the crash though. 
During the trial, the courtroom was shown a text Shirilla sent to Dominic's mother saying she didn't remember the crash and wanted to get hypnotized to recall it, NBC affiliate WKYC of Cleveland reported.
The text said: "I remember turning onto the street and then my vision fades to black. It really kills me not being able to remember anything. ... I've been asking my therapist why I don't remember and she said it's because of trauma but I'm gonna try to go get hypnotized and make myself remember."
Frank Russo said of her claim — "I wish she would just tell us what exactly happened and I'd be willing to reduce the sentence."
Dominic's oldest sister of seven siblings, Christina Russo, also said the trial was "complicated" for her family to endure. 
"If we hadn't known her, if my brother hadn't loved her … it is more complicated," she told NBC News. "I think I'd feel even more worse if it had went the other way. It's not bringing him back. Nobody's happy.
"Justice was served, when you do something intentionally you have to pay for your actions, but at the same time ... it's even more terrible now that it's in stone, that my little brother, his life was stolen, was taken intentionally," she said.
While prison time may be a hard sentence, it's more than the Russo family has left, Christine Russo said.
"[Shirilla's] family, they're all sad that she's going to be going to jail for a long time. All I have to say is that she's breathing. They can call her, they can tell her they love her. I would consider them lucky. We're not," she said.
She described her brother as a lover of fashion, who from a young age was particular about his shoes and socks, and was a doting uncle to her kids.
"In every picture, he's hugging and kissing the kids. He loved them so much," she said. "He's already so missed. I would do anything to bring him back really. It all sucks really bad. It's really really tough."
The family of Davion Flanagan also believes the conviction is complex.
Flanagan's mother, Jaime Flanagan, told WKYC after the verdict: "There's not a day that goes by that we don't miss our son, and justice was served for him today. But honestly there's no winners here. There's no winners here today."
His father, Scott Flanagan, wrote on Facebook after closing arguments in the trial: "We do not seek vengeance, only justice for our son who was nothing more that an innocent passenger looking for a ride home."
Judge: Shirilla was 'hell on wheels'
Shirilla cried in court and covered her mouth, seemingly in shock, when her verdict was read Monday.
She was found guilty of four counts of felonious assault, two of aggravated vehicular homicide, one of drug possession and one of possessing criminal tools, in addition to four counts of murder.
Prosecutors argued that Shirilla had been increasingly violent and threatening in the weeks leading up to the crash while the defense said the couple fought and it could not be determined if Shirilla intentionally crashed the car.
A key part of the case was surveillance video footage showing the moment Shirilla's vehicle zoomed into view and came to a roaring head-on crash into a building, without braking.
Cuyahoga County Common Pleas Judge Nancy Margaret Russo gave scalding remarks on the case in announcing the verdict.
"This was not reckless driving. This was murder," she said. 
"She morphs from a responsible driver to literal hell on wheels as she makes her way down the street," Russo said, saying Shirilla made a calculated decision to drive that morning, when not many people would be around, on "a route she visited a few days before, and a route not routinely taken by her."
An attorney for Shirilla declined comment. Family for Shirilla did not respond to requests for comment.