LORDSTOWN, Ohio — In the one year and six days since General Motors stopped production of the Chevy Cruze at its Lordstown Assembly plant here, Earl Ross suspects he's hosted more than 100 going-away parties at Ross' Eatery & Pub near the plant.
He's watched as lifelong friends — people who grew up riding bikes together in this part of northeast Ohio, then raised their children together with union wages — bought their final rounds of drinks, then gathered for a final photo.
"There were tears," Ross, 44, said of people posing together under the deer and caribou heads that he's collected in years of avid hunting. But not that many tears.
"Most people, you know, they all cowboyed up," he said. They "realized at the end of the day, they had a good job."
But keeping it meant leaving their homes and their friends behind: Most of the 4,500 workers who lost their jobs last year, and in two earlier waves of layoffs since 2017, have started over in GM plants in unfamiliar towns hundreds of miles away.
"They're thankful that they're able to go get another job," Ross said. "But it's still a punch in the gut."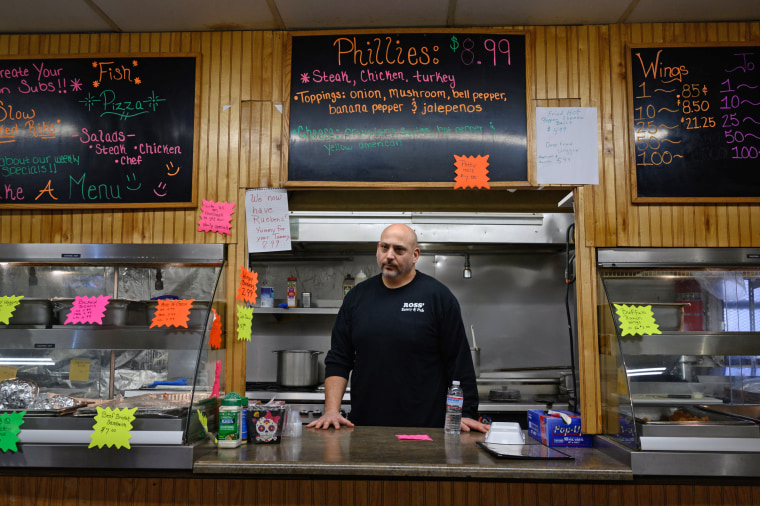 Back home, Ross is among those tallying the cost of their absence: Storefronts vacant in the Eastwood Mall. Desks empty in local schools. Jobs lost as parts suppliers shut their doors. And many families divided, one parent working in a faraway GM plant so as not to lose union retirement benefits while the other parent tries to keep things together at home.
"It was traumatizing," Holly Money, 43, said of watching her husband transfer to a GM job in Toledo, three hours away, while she stayed back with her kids. "As a family, we always did everything together."
Money's daughter Jules, 13, wrote an essay in which she described her father's leaving as "the death of life as we knew it."
Her father, Kevin, had coached the girls basketball team that she played on with her twin sister, Brooke. He was a regular presence in his children's lives, often spontaneously taking the twins and their brother, Cole, 16, out for dessert.
Now, he comes home only on weekends.
"I miss my dad the most when I'm getting ready to settle down for the night," Jules wrote in the essay, which a local elected official sent to the White House after the plant closed. "All the fear and sadness wash over me like a wave and all I can think about is how he is all alone in a different city — all alone without us to protect him. And we are here without him to protect us."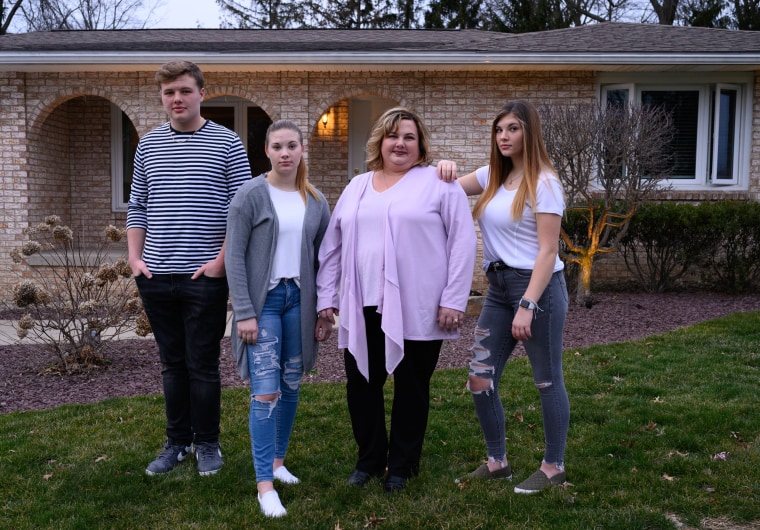 'They're all coming back!'
The people of Ohio's Mahoning Valley had hoped political pressure from the White House might help them avoid this fate.
President Donald Trump — whose surprise win in this crucial swing state in 2016 came with help from longtime Democrats and union members who hoped he could save their jobs — had vowed to keep plants like Lordstown open.
"They're all coming back!" Trump told a cheering crowd at a rally in nearby Youngstown in 2017.
"Don't move! Don't sell your house!" he said.
Some blamed the president when the auto giant went ahead with the closure, shuttering Lordstown and three other North American facilities to cut costs and focus on producing popular SUVs and light trucks rather than sedans like the Cruze.
"He lied to them," said Jim Graham, 72, a retired leader of United Auto Workers Local 1112, which represented workers at the GM Lordstown plant, as well as at some of its suppliers.
Graham is among critics who say Trump policies such as steel tariffs and changes to fuel economy standards helped seal the plant's fate.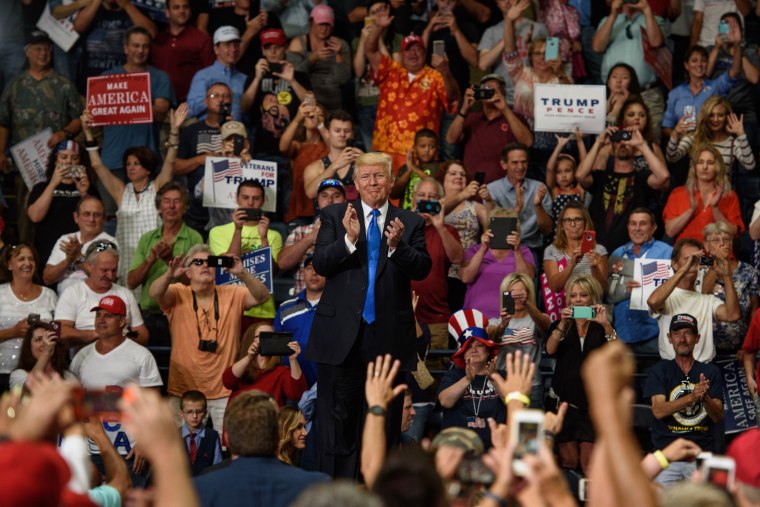 But there's also still plenty of support for the president here. As voters in Ohio go to the polls Tuesday for the state's presidential primary, many say they want a candidate who cares about the middle class and about creating jobs. Some are eager to see Trump re-elected; those who oppose him largely say they're deciding between former Vice President Joe Biden and Sen. Bernie Sanders, I-Vt., based on who they think is better equipped to defeat the president in November.
There haven't been any major opinion polls in Ohio since the shakeup in the Democratic primary campaign around Super Tuesday, but among Democrats interviewed over two days last week, Biden appeared to have more support in this politically moderate area than Sanders, whom some voters here consider too radical and unlikely to win. The candidate who came up the most was Trump, who inspires both devoted support and furious opposition here.
This part of Ohio near the Pennsylvania border, where Pittsburgh Steelers fans watch football beside those who cheer for the Cleveland Browns, is one of those rare places in this divided nation where some of Trump's most ardent supporters still routinely break bread with friends who say they'd never support the president.
Graham is a regular at the Mocha House cafe in Warren, not far from Lordstown, where his table includes longtime friends like Terry Nicopolis, a committed Trump supporter.
"Don't even try to say that jobs left here because of Trump," Nicopolis said, noting that the region was bleeding jobs long before Trump came into office. Trumbull County, which includes Lordstown, lost more than 20,000 manufacturing jobs — 63 percent — from 1990 to 2016, according to an analysis of federal jobs data.
Nicopolis is among residents who credit the president with the promising developments now coming to the area. It was Trump who broke the news in a tweet last year that a new electric vehicle company planned to buy the Lordstown plant.
That, Nicopolis said, was proof that Trump was keeping his promises.
"I like somebody that says something and does it," he said.
'Voltage Valley'
The miles of factory floor throughout the 6.2 million-square-foot Lordstown plant are eerily quiet these days.
The thundering noise and clang of the plant, which at its peak employed more than 13,000 people around the clock, has been replaced with a darkened hush. The robots and equipment are mostly frozen in place, waiting for a day when they might surge back to life.
Steve Burns believes that day will come soon. He's the president of Lordstown Motors, the electric vehicle startup Trump tweeted about. His company bought the plant from GM last year for $20 million and hopes to hire 400 workers this fall to begin producing an all-electric pickup truck called the Endurance.
He envisions a future in which thousands of employees will churn out hundreds of thousands of vehicles a year, just like GM used to do.
"The Ohio state motto is 'With God, all things are possible.' And we think we're going to do the impossible here," Burns said last week as he gave a tour of the plant to reporters and local elected officials.
In addition to Lordstown Motors, GM last year announced a partnership with LG Chem to build a battery cell assembly plant down the road from the Lordstown plant. The partnership hopes to employ 1,100 people by 2023, producing the batteries GM needs for its future electric vehicles.
Burns sees the beginnings of the Mahoning Valley's conversion to a "Voltage Valley" focused on electric vehicles.
"We don't want to just be a product," Burns said. "We want to be a movement."
People who care about the region say they very much want to believe in Burns' bullish vision. But he faces sizable obstacles. His company is a small startup competing with auto giants like GM and Ford, and he's yet to announce the major funding or partnership deals that have boosted some of his competitors.
"They are going to have to have some luck come their way," said Lordstown Mayor Arno Hill, who was among the elected officials who attended last week's tour. "But they do have a good team that they've put together."
Dan Crouse, a local industrial real estate agent, notes that the region is strategically located along a major railroad line and between Interstates 80 and 76, the Ohio and Pennsylvania turnpikes. He believes it's well positioned to adapt to the latest changes, just like it adapted in the past.
"Transitions like this have gone on forever," Crouse said. "We went from horses and buggies to cars. We went from coal to natural gas inside of houses. All of these things changed the way people live."
He's hopeful that local leaders can ensure that the changes are beneficial to the region. But others are more cautious.
"We're a little leery of the whole thing," said Mindy Moyers, a teacher at Lordstown Elementary School who stayed back with her children when her husband transferred last year to a GM job in Lansing, Michigan.
Even if Burns can pull it off, most in the area suspect that the wages and benefits won't rival what people made at GM.
The new battery cell plant will pay good wages, GM spokesman Dan Flores said, but they won't be anything like the $90,000 that the average hourly unionized GM worker made last year in wages and profit-sharing.
And for people who transferred to other GM plants, coming home to take an electric vehicle job would mean leaving union retirement benefits on the table, which most aren't willing to do.
"It ripped my heart out when I had to leave," said Jim Moyers, Mindy's husband, who is sharing a one-bedroom apartment with a friend who also transferred from Lordstown to Lansing. He works 50-hour weeks, then exhaustedly makes the four-hour drive to return to his family on Friday nights.
"I miss sleeping in my bed, holding my wife. Holding my kids. Hugging my family," he said.
He's missed an awards ceremony for his son's track team. He missed seeing his daughter dance during halftime at a local college basketball game.
He's not willing to give up his GM job yet, but that could change, Mindy Moyers said. "He's so miserable. He might rather make less money but be home."
'It's been really rough'
The electric vehicle startups aren't the only companies promising jobs in the Mahoning Valley.
TJX Companies, the discount retailer that operates TJ Maxx and Marshalls, is building a massive distribution center just across the road from the Lordstown plant. Other new businesses have opened, as well.
At Ross' Eatery & Pub, Ross said he's considering changes to the menu, such as more vegetarian items, to accommodate the visitors from around the world who are interested in electric vehicles.
"I'm cautiously optimistic that Voltage Valley is going to be a thing," Ross said.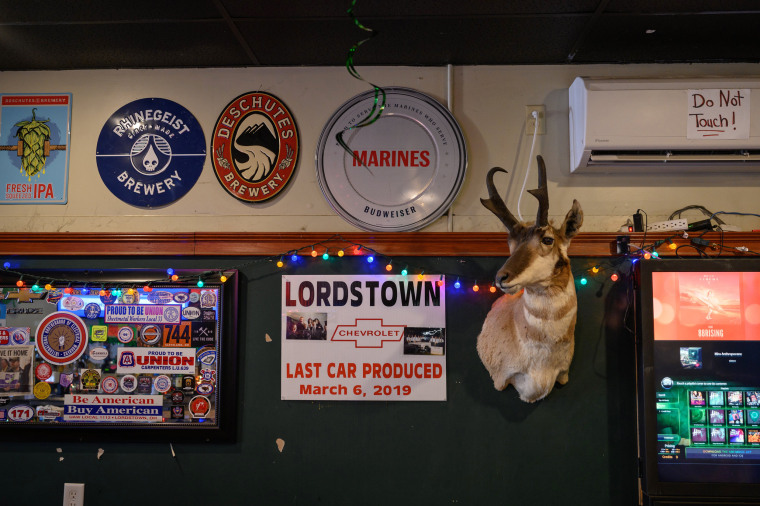 But for now, revenue is still down about 40 percent from a few years ago, when his customers included three shifts of GM workers, from the night shift that came in at 6:30 a.m. to the afternoon shift that helped close the bar after last call at 2 a.m.
He made a good living at this bar once, supporting his wife and three young children.
"Then all of a sudden the rug pulled out from underneath me," he said.
"I'm not a cry-in-my-beer type of guy, but the reality was there," he added. "I'm hitting lines of credit and I'm thinking, 'How long am I going to do this before I just hit the button and say that's it?' I don't know."
Trisha Amato, 42, is also trying to envision a better future for herself and her children. She earned a teaching degree while working on the line at Lordstown, writing papers during breaks. That could help her start over with a new career.
But since losing her job at the plant in 2018, she hasn't had time to complete her certification. She's working two jobs, including one helping her former co-workers find jobs and training at the UAW transition center. And she's living with the extreme fear that comes from raising two children without health insurance.
Her two jobs pay too much for her to qualify for Medicaid but not enough that she thinks she can afford private insurance.
"It's been really rough," she said. "The stress has taken a toll on my health. My kids have learned what it is to be without because you go from making $29 an hour to making $18 an hour."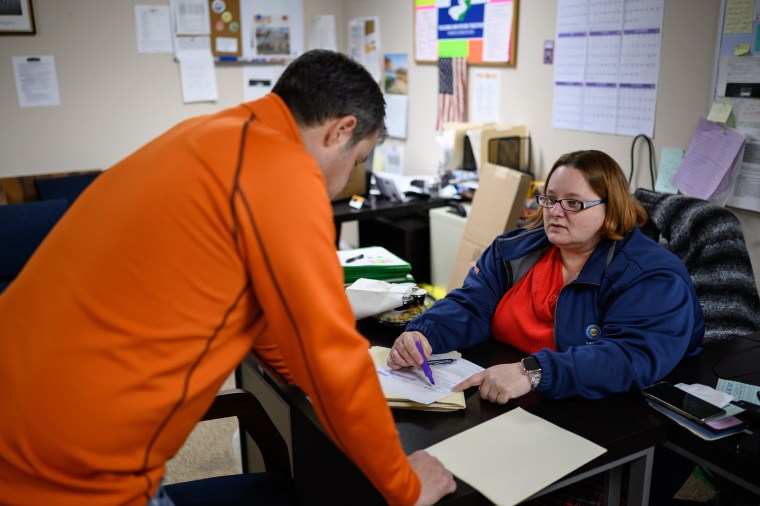 The experience has left Amato angry — at GM and also at Trump.
She was among the many blue-collar union members in this community who, in 2016, set aside their longtime support for the Democratic Party to help elect Trump.
"I honestly thought he stood for what I did," Amato said. "I thought it was good that he wasn't a lifetime politician. I thought he was going to make changes. And he's just created a lot of chaos."
She hasn't been impressed with the Democratic candidates this year, but she says she'll probably vote in next week's primary. She's just not sure yet whom she wants to support.
"I'm thinking maybe Mickey Mouse or Donald Duck," she said. "I'm a person who doesn't watch the news because it depresses me. It causes anxiety, so I avoid it."
Graham, the former head of the UAW local, is leaning toward Biden, who he thinks can give Trump "a run for his money."
He, too, worries about the future of the region but said he's encouraged by new restaurants and a newly renovated theater in downtown Warren, the seat of Trumbull County. Graham, a Democrat, is president of the Warren City Council.
"We are survivors," he said, noting that the region's steel mills have been closed for years and that many other factories have shut their doors.
There are some troubled areas as a result, rough neighborhoods in the Mahoning Valley that didn't used to be here, he said. People are struggling.
"But we're still alive and kicking," he said. "The object is to get up one more time when you're knocked down, and we're going to do that. We're going to survive."