Students at Ohio University plan to hold a rally and march Thursday against sexual violence after reports of more than a dozen sexual assaults in the college's town since the fall semester began late last month.
They became motivated to highlight the issue after being notified by the university about the incidents, said Mallory Golski, a senior and president of the university's Women's Panhellenic Association.
The protest comes amid the #MeToo movement and sexual misconduct allegations against Supreme Court nominee Brett Kavanaugh. Protesters will be calling on students to do more to call out predatory behavior, stand with victims and encourage a safe culture on the Athens, Ohio, campus.
In early September, a sorority on campus hung a banner on a white bed sheet painted with the words "CONSENT IS SEXY" with the word "SEXY" crossed out and replaced with the word "MANDATORY."
"They did that of their own volition," said Golski, 21, a journalism major, adding the president of the Sigma Kappa's Beta Upsilon Chapter came up with the idea, which quickly spread through the campus of about 24,000 undergraduate students.
Soon, sororities and some fraternities unfurled their own signs bearing supportive messages, such as "OUR BODIES, OUR RULES," "INTOXICATION IS NOT AN INVITATION. NO MEANS NO," "STAND WITH SURVIVORS" and "WOMEN GAVE US LIFE. WE CAN AT LEAST GIVE THEM RESPECT."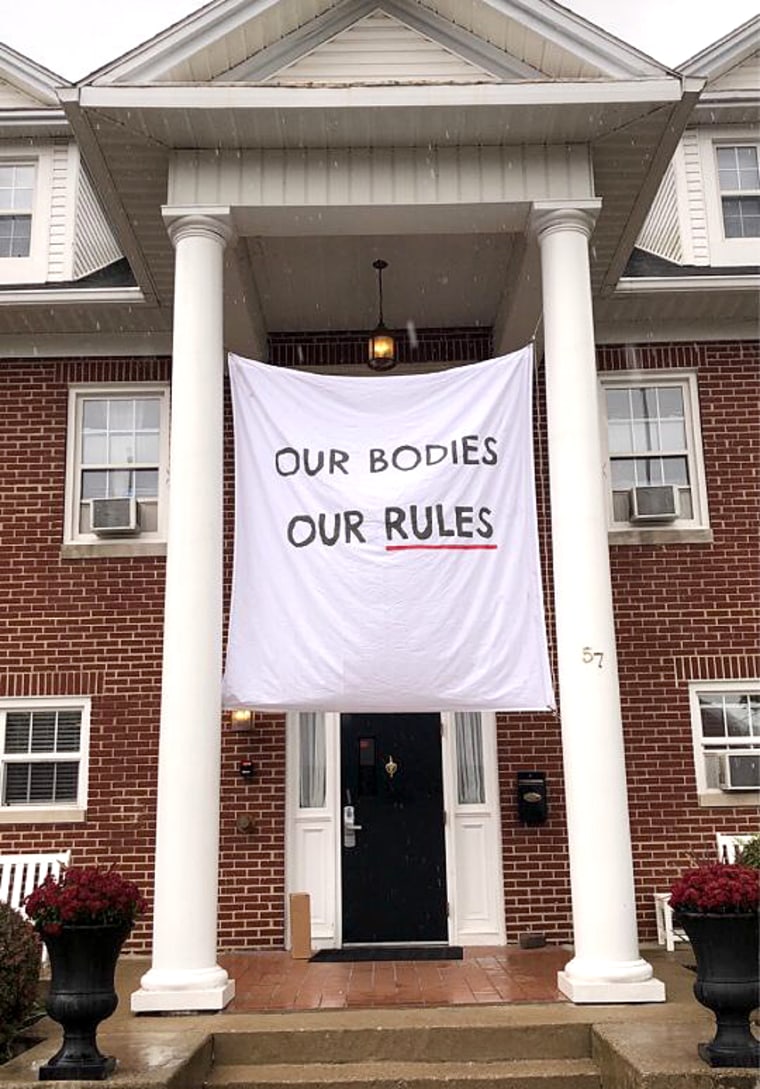 "This is the first time that any of us can recall that they just kind of did it and was a chain reaction like this for a cause," Golski said.
After the banners went up, Golski and two other students, Cody Shanklin and Hannah Burke, organized the "It's On Us, Bobcats," march, referencing the school's mascot.
On the march's Facebook page, more than 590 people have pledged to attend and another 1,200 indicated they are interested.
"I was surprised by how quickly this kind of continued to build momentum," Golski said.
The Ohio University Police Department said it had received two reports of rape, one of "gross sexual imposition" and one of voyeurism since Aug. 22. Police said they also received information from a third party about a separate rape, but no official report was filed. Police declined to say whether they had suspects in all the cases and if they were students.
The Athens Police Department said that it had taken eight rape and three sexual imposition reports since Aug. 22. The police department added that did not necessarily mean the alleged incidents took place within that time frame, it is simply when the reports were filed.
Of the eight rape reports, three indicated the victims were students, police said. It was unclear if any of the other victims were students and not marked as such in the police reports. Police declined to say if any of the accused were students as no one has yet been charged.
In the midst of the reports, the university also issued a statement to students addressing "repulsive, sexually explicit language" on banners hanging from off-campus housing during the school's "Welcome Week," roughly two weeks before the signs calling out sexual assault started cropping up.
Burke, an organizer of Thursday's march and vice president of the student senate, said she felt "disgusted inside" after walking past one particularly graphic banner.
"I think as that as a female walking down the street it makes you feel really unsafe, but I can also imagine it being very empowering to those who think that it's OK to commit those acts," said Burke, 21, a political science major.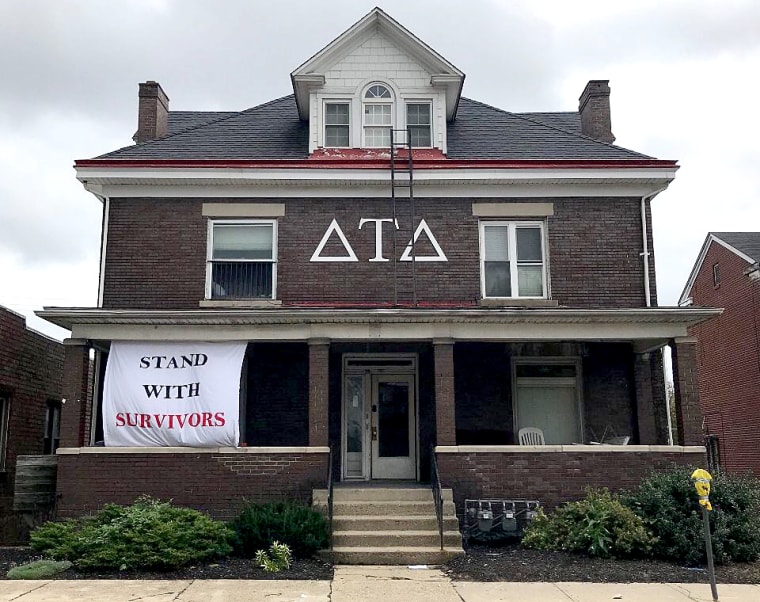 Burke said while she later felt safer and encouraged by the new banners, she hoped students' actions would go farther than just words of support.
"I also think it's really important that we don't just stop at the banners, and especially these men who are in fraternities specifically really need to be walking the walk, not just talking the talk," she said.
Jenny Hall-Jones, the dean of students at the university, said school officials were "really happy with the students' response because sexual assault is a public health issue."
"This isn't just happening in Athens, it's not just happening in Ohio University, it's happening everywhere and it needs to have a community response as well," she said.
Hall-Jones said the administration was working with students on increased safety measures such as getting better lighting on campus, working on a safety app for students and increasing late night shuttles for students. She said the university works closely with the city of Athens on any allegations and if a student is found in violation of their code of conduct for sexually assaulting or raping another person, they are expelled.
According to the university's annual security report, there were 32 rapes reported at the Athens campus in 2016, up from 20 in 2015 and 19 in 2014.
For the Thursday night march, students plan to gather at College Green, the university's central lawn, where students will speak and then proceed down a street known for its bars and restaurants, past sorority and fraternity houses and then back toward the lawn.
Burke said she hoped the event would make students feel like they have a "support system" to report misconduct and call out others for their behavior.
"People should feel like they need to step up but also that they have a system behind them that encourages them to step up and hold people accountable and make sure that people are safe," she said.