Two things have been on Jonathon Juarez-Alonzo's mind for some time now: the first is going to college, the second is the impending climate apocalypse.
As a senior at Native American Community Academy, Jonathon, 17, has been contemplating his next steps after high school. And as an organizer for Albuquerque's climate strike, he's worried about the future of New Mexico, a state on the front lines of climate change in the middle of a seemingly endless fracking boom.
But when New Mexico's newly elected Democratic governor unveiled her new tuition-free college program for the state's residents, those two worries became one.
In the 2018 midterms, Democrats swept New Mexico's elections: they flipped the state's sole red seat in Congress; elected Michelle Lujan Grisham, a Democrat, to the governor's office; and strengthened majorities in the state legislature.
Emboldened by the "Blue Wave" and coming off eight years of a Republican governor, New Mexico Democrats began to pursue a progressive agenda, passing gun control legislation, raising the state's minimum wage, reducing marijuana penalties, and trying to fix the state's education system.
In September, Lujan Grisham announced a proposal that would make New Mexico the first state in the country to eliminate tuition for all students in two- and four-year college programs, regardless of income, part of what her office says is a long term-initiative to diversify its economy.
Proponents of the bill say it would be a boon for a state with one of the nation's highest poverty rates and some of the country's worst-performing public schools. But critics, and some students like Jonathon – who stands to benefit from tuition-free college – see a conflict at the core of the governor's plan: free college would be funded largely through revenue from the state's ongoing oil and gas boom.
"We're not saying we don't want or we don't support free public education," Jonathon said. "But it's like we're in a hostage situation where we have to choose free public education or a livable planet in the future."
'Punch Drunk on the riches from oil and gas'
"New Mexico is a very poor state, and it's always been a very poor state," Denise Fort, an emeritus professor at the University of New Mexico who specializes in environmental and natural resources law, told NBC News. The state has always had a constant and good-sized oil presence, she said, but the recent boom is unprecedented.
Between 1980 and 2010, New Mexico produced crude oil at a relatively steady rate of around 60 million barrels per year, spending most of that time as the nation's eight-largest oil producing state, according to the U.S. Energy Information Administration. But between 2010 and 2018, crude oil production had soared nearly 400 percent to around 250 million barrels, making New Mexico the country's third-largest oil producer after Texas and North Dakota.
Taxes on increased oil production mean the state and its new Democratic government are flush with cash. In 2018, 32 percent of the state's general fund – or around $2.2 billion – came from taxes on oil and gas production, more than any other industry in New Mexico. Following increases in the education budget by the current administration, around half of the state's yearly budget now goes to funding public education, a number almost sure to rise if the governor's tuition-free college bill is passed.
The oil boom that's funding the government is due largely to massive investments in new horizontal fracking technology that has turned the Permian Basin in southeastern New Mexico and west Texas into the country's—and possibly the world's—top producing oil field.
But fracking, which involves injecting high pressure liquid into underground rock formations to release trapped oil and gas, has caused adverse environmental effects like earthquakes and the pollution of aquifers across the United States.
And in the Permian Basin, infrastructure hasn't caught up with growing demand and output. When less valuable natural gas is dug up alongside oil, companies in New Mexico are flaring or venting the gas, creating massive emissions with potentially devastating environmental impacts simply because there is nowhere, they say, to put the extra fuel.
New Mexico Democratic State Sen. Antoinette Sedillo Lopez co-sponsored a bill earlier this year that would have put a four-year moratorium on fracking in order to study its impact on the environment, a relatively modest proposal compared to calls by some Democratic presidential candidates to outright ban the practice.
After a state report said Sedillo Lopez's four-year moratorium could cost the state government $3.5 billion in lost tax revenue, the bill died without even coming to a vote.
Sedillo Lopez thinks that's a mistake. "They are ignoring health risks," she said of legislators who support the oil and gas industry.
Beyond her concerns about fracking's health effects, Sedillo Lopez says New Mexico's reliance on oil and gas is unsustainable, considering global fluctuations in the prices of energy resources that have hit oil-dependent states like Alaska hard.
"We are in the biggest boom cycle ever, but what's it going to be like when we are in a bust cycle?" she said. "Education will probably be the first thing that gets cut."
Sedillo Lopez also points out that many politicians take donations from the oil and gas industry, which was the third-largest contributor to New Mexican political campaigns in 2018, according to government data analyzed by watchdog group OpenSecrets.
But industry executives say a bust isn't coming anytime soon.
"This is the new normal for New Mexico," Ryan Flynn, the executive director of the New Mexico Oil and Gas Association, an industry advocacy group, said. "We are going to be in a prolonged period of unprecedented levels of production."
Flynn doesn't shy away from describing the state's close relationship to the industry: he thinks it's the best thing to happen to New Mexico in years.
"The state is tied directly to the oil and gas industry," he said. "If you were to eliminate that revenue, how are you going to balance the budget and pay for teachers, for law enforcement, for roads? How are you going to make up for a third of the state's budget being gone?"
Oil and gas advocates like Flynn have significant leverage over the state, something even fracking's critics acknowledge, and ties to the industry are largely bi-partisan.
"If you picked up the newspaper or heard a speech by the governor, you would think everybody thinks the industry is the greatest thing to happen to the state," Fort said. "We are kind of punch drunk on the riches from oil and gas."
Camilla Feibelman, the director of the Rio Grande Chapter of the Sierra Club, hopes her state sobers up.
"If you want to create a stable government and a stable economy for families and communities, depending on a boom and bust economy isn't going to get you there," she said. New Mexico, she says, needs to take a "hard look" at its economy, and map a way forward that's stable, sound, green, and "doesn't make false promises to our kids."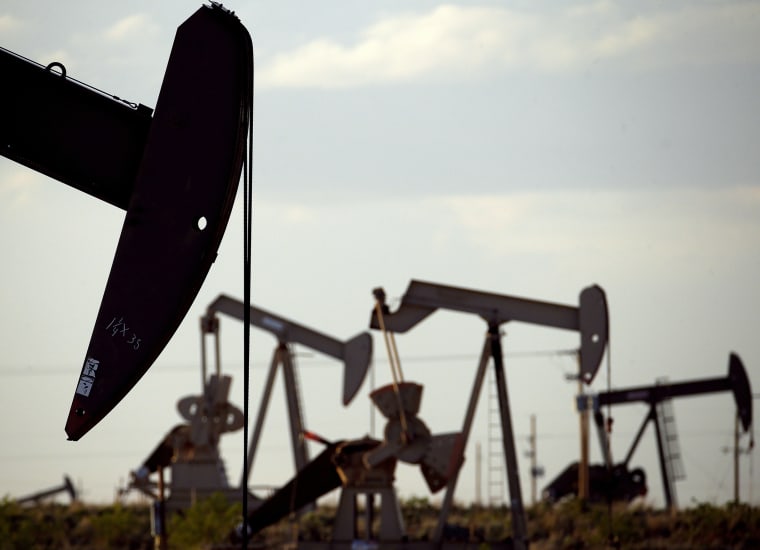 'An enormous moral question'
As Democrats barrel oil and gas money into education, they also say they're making the state more sustainable by pledging to clean up New Mexico's utilities.
In March, less than three months after assuming office, Gov. Lujan Grisham signed a bill that will require investor-owned utilities to source their energy from 100 percent carbon-free sources by 2045, following the lead of California and Hawaii, which have both set similar goals.
Since New Mexico exports the vast majority of its oil and gas, the state could theoretically transition to entirely carbon-free utilities while continuing to extract large amounts of fossil fuels.
"The governor is doing a great job domestically, within the boundaries of New Mexico, moving the state to a clean energy future," said Thomas Singer, a senior policy adviser at the Western Environmental Law Center, an environment and climate advocacy group. "But the reality is the climate impact of New Mexico's domestic policies is at risk of being swamped by the combustion of New Mexico's oil and gas."
Fort says Lujan Grisham and the state Democratic Party are skirting a line that can't go on forever.
"The state is going in two very different directions and has yet to reconcile our goals," she said. "It's an enormous moral question: How do we deal with the need for revenues contrasted with the fact that developing oil and gas is damaging our world and our children's future?"
Fifteen-year-old climate activist Emese Nagy, of Albuquerque, understands New Mexico's need for extra revenue.
"I've gone to public school and I've seen how bad our education is and how much funding we require," she said. "But I don't think it's worth it."
"I'm 15, so by 2030, which we expect is going to be the 'no turning back' point for climate change, I will be done with college," Emese added. "That's when I will be really starting my life. After I go through that entire process of high school and college, I won't be able to enjoy the fruits of my labor."
But the governor's office doesn't see a contradiction in using oil money to fund children's educational futures.
"Nothing needs to be squared" Judy Robinson, deputy director of communications for Lujan Grisham's office, said in a statement to NBC News. "We're going to use our present resources to prepare for a greener future and a diversified economy."
An oil-reliant state, the governor's office said, "is the reality of economy this administration inherited."
"If the idea is that New Mexico is 'paying' for this one plan with revenue from the current boom, the idea naturally extends that New Mexico is paying for … everything via revenue from this one economic source," Robinson said.
The governor, her spokesperson said, is working to broaden the economy, and using oil revenue to kickstart people's education and subsequent careers is one way her administration is doing that.
After Lujan Grishman attended a meeting of the New Mexico Oil and Gas Association, Albuquerque student activists, including Emese and Jonathon, sent her a letter.
"Fracking companies have snatched our hopes and dreams," the students wrote. "As our Governor, you have the duty of protecting our future and the futures of thousands of kids who are already feeling the black oil dripping down their necks."
In response, the governor's office told NBC News, "One imagines the activists you've spoken to would prefer the governor never interface with the state's single largest industry at all; that's simply not feasible." The governor's office also pointed to the state's carbon-free utilities plan as an example of progress in addressing climate change compared to the previous Republican administration.
But doing more than the previous administration isn't enough for Jonathon.
"In the last midterm elections, New Mexico really did see a 'Blue Wave.' We're a completely blue state, and so we hope we would be able to see a lot of progress on issues like climate, but we're seeing a lot of pushback," he said. "It's almost like betrayal."
CORRECTION (Oct 27, 2019, 2:15 p.m.): An earlier version of this article misstated the second-largest oil-producing state in 2018. It was North Dakota, not Alaska.