Oil prices surged as much as 8% at the open after OPEC+ announced it was slashing output by 1.16 million barrels per day.
Brent crude futures last jumped 5.1% to $83.95 a barrel on that news, and U.S. West Texas Intermediate crude futures soared 5.2% to $79.64 a barrel.
The voluntary cuts will start from May to end 2023, Saudi Arabia announced, saying it was a "precautionary measure" targeted toward stabilizing the oil market.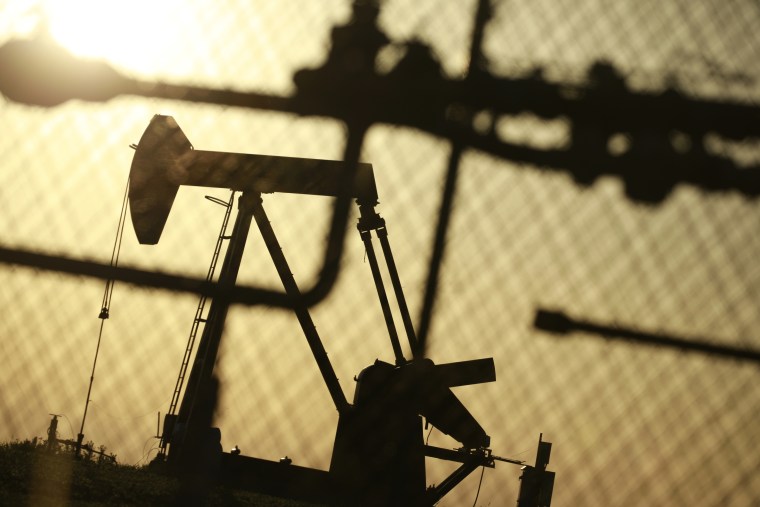 The move comes on the back of Russia's decision to trim oil production by 500,000 barrels per day until the end of 2023, according to the country's Deputy Prime Minister Alexander Novak.
In addition to Saudi Arabia's output cut of 500,000 barrels per day, other member states have also pledged cuts: the UAE will be cutting output by 144,000 barrels per day, while Kuwait, Oman, Iraq, Algeria and Kazakhstan will also be reducing output.
"The selected involvement of the largest OPEC+ members suggest that adherence to production cuts may be stronger than has been the case in the past," Commonwealth Bank of Australia's Vivek Dhar said in a note.
Oil at $100 per barrel?
"OPEC+'s plan for a further production cut may push oil prices toward the $100 mark again, considering China's reopening and Russia's output cuts as a retaliation move against western sanctions," CMC Markets' analyst Tina Teng told CNBC.
Teng noted, however, that the cut could also reverse the decline in inflation, which would "complicate central banks' rate decisions."
In March, oil prices tumbled to their lowest since December 2021, as traders feared the banking rout could dent global economic growth.
The oil cartel and its allies are looking to avoid a repeat of the 2008 crash, one analyst said.
"They're looking into the second half of this year and deciding they don't want to relive 2008," said Bob McNally, president of Rapidan Energy Group, citing oil prices crashing from $140 to $35 in six months in that year.
McNally added that while it's not his base case, oil prices could "make a dash for $100 … if Chinese demand goes back to 16 million barrels a day second half of this year [and] if Russian supply starts to go off because of sanctions and so forth,"
"Then these cuts, if they stick with them, are going to super tighten the market," he said.
According to Wood Mackenzie, China could make up 40% of the world's demand recovery in 2023.
In October, the oil cartel announced its decision to cut output by two million barrels per day.
The White House said at that time that President Joe Biden was "disappointed by the shortsighted decision by OPEC+" to cut production quotas while the world was still grappling with the war in Ukraine.
Significant but not 'set in stone'
However, some analysts say the latest cut is set to deliver a more significant impact than the one set last year.
"Most of the cuts will be made by countries that are producing at or above quotas, which implies a higher share of the announced cuts will translate into real supply reductions than in October 2022," said Energy Aspects' founder Amrita Sen, who also expects prices to hit $100 per barrel.
However, Sen holds the view that the output cut could potentially be reversed, hinging on easing global market pressures.
"I do believe if the market over tightens, exogenous issues or shocks fade, they will reverse this cut down the line so this isn't set in stone for the rest of the year — but very clearly defending a [price] floor," she said.
"Unlike [the cut in October], the momentum for global oil demand is up, not down with a strong China recovery," Goldman Sachs also said in a note.
That could nudge up Goldman's Brent forecasts by $5 per barrel to $95 per barrel for December 2023, the investment bank said in a note after the surprise decision overnight.
Goldman analysts led by Daan Struyven said the surprise cut is "consistent" with OPEC+'s doctrine to act preemptively.