Hundreds gathered Sunday at the former site of the Oklahoma federal building that was destroyed by a truck bomb 20 years earlier to honor the 168 victims of the blast, the survivors, and the spirit that helped the city and the nation through the worst terrorist attack the country had ever seen.
Loved ones of the victims, survivors of the horrific 1995 bombing and state and federal government officials, who lived through the attack attended Sunday's ceremony, held at the Oklahoma City National Memorial and Museum, built on the one-time site of the Alfred P. Murrah Federal Building.
The ceremony was opened by Richard Williams, a survivor of the attack, who, with his two grandchildren read the mission statement of the museum:
"We come here to remember those who were killed, those who survived and those changed forever. May all who leave here know the impact of violence. May this memorial offer comfort, strength, peace, hope and serenity."
The recitation was followed by 168 seconds of silence and Christian musician Michael W. Smith singing the National Anthem.
President Bill Clinton, attending the annual ceremony for the sixth time, thanked the people of Oklahoma for their resilience and outpouring of compassion that followed the bombing — a reaction to the tragedy that became known as the "Oklahoma standard."
"You turned away all of the petty squabbles in which we engage, leaving only our basic humanity," Clinton said. "I mostly came here to thank you today."
"There's still people who somehow think they can matter more and they can make a statement by killing innocents and snuffing our possibility," Clinton said. "They're wrong. As long as people like you make the right decisions with their mind and their heart."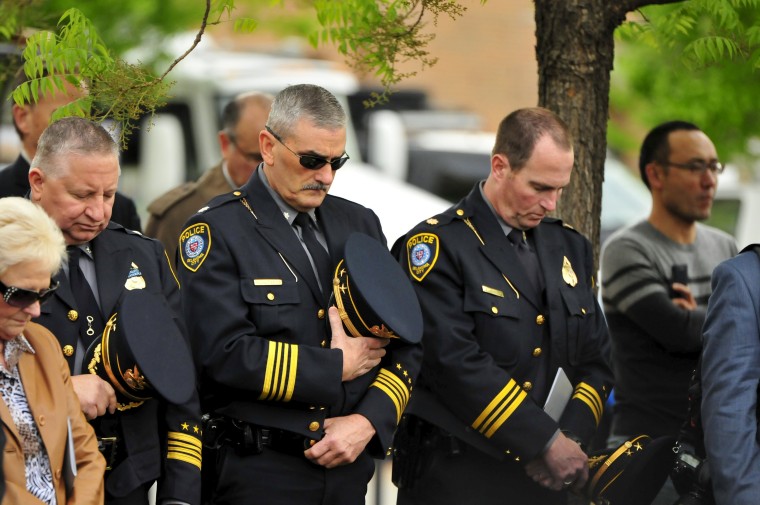 United States Secretary of Homeland Security Jeh Johnson echoed the former president, saying: "Today is a day to mourn and remember those who died here 20 years ago, but this is also a day to say to those who plan to terrorize us, 'no, you cannot.'" Oklahoma embodied that message, Johnson said.
Timothy McVeigh, an Army veteran with anti-government views, was executed in 2001 for setting off the explosion. His accomplice, Terry Nichols, is serving life in prison.
FBI Director James Comey, former Oklahoma Gov. Frank Keating, former Oklahoma City Mayor Ron Norick, current Oklahoma Gov. Mary Fallin and current Oklahoma City Mayor Mick Cornett also shared their memories of that dark time, which transformed the city and marked a palpable loss of innocence in the country.
"The agony was persistent. The agony appeared never to end," said Gov. Keating, who served until 2003. "This is a very hard time but it's a very wonderful moment of a celebration of hope and survival," he said.
The ceremony was closed with a reading of the names of those who lost their lives on April 19, 1995. Nineteen of the victims were children.
IN-DEPTH
SOCIAL