An Oklahoma county commissioner who was secretly recorded reportedly talking about killing reporters and lynching Black residents after a public meeting has resigned, according to the governor's office.
McCurtain County Commissioner Mark Jennings delivered a handwritten resignation letter to Oklahoma Gov. Kevin Stitt two days after the governor called for his resignation and for the resignations of Sheriff Kevin Clardy and two other sheriff's department employees, a spokesperson for Stitt confirmed.
"Effective immediately, I, Mark Jennings do hereby resign as McCurtain County District #2 commissioner," Jennings wrote on white-lined notebook paper. "I will release a formal statement in the near future regarding the recent events in our county."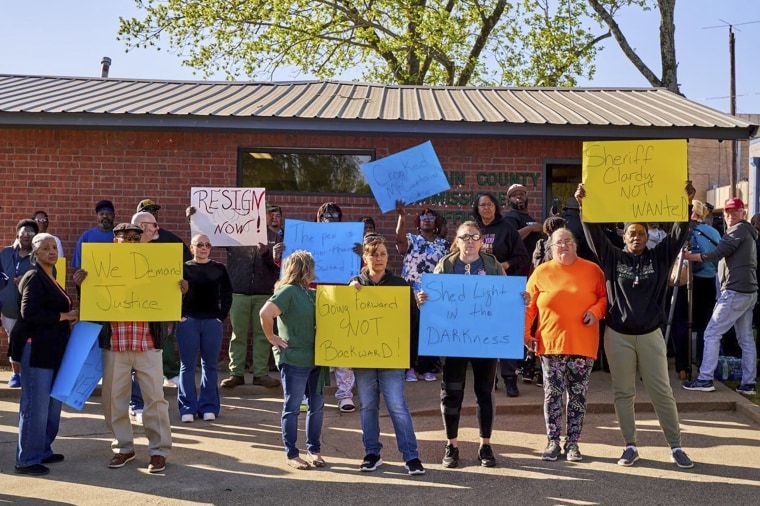 Meanwhile, the Oklahoma State Bureau of Investigation has launched a probe into the matter at Stitt's request, agency spokesman Gerald Davidson said Wednesday. 
Following Jennings' resignation, state Sen. George Burns, R-Pollard, who lives in McCurtain County, said in a statement that after listening to the recordings, he had urged the commissioner and Clardy "to resign immediately."
"When the words of public servants are so vile that they're hurting the people they serve, they should no longer hold those positions," Burns said.
It was Jennings who reportedly talked about lynching on the recording that was made March 6 by McCurtain County Gazette-News reporter Bruce Willingham, according to the newspaper.
When the talk turned to who might run for sheriff against Clardy, Jennings appeared to recall how a former sheriff "would take a damned Black guy and whoop their ass and throw them in the cell."
"Yeah," Clardy appears to have replied, according to the newspaper's account of the recording. "It's not like that no more."
"I know," Jennings allegedly said. "Take them down to Mud Creek and hang them up with a damned rope. But you can't do that anymore. They've got more rights than we've got."
Jennings, 59, could not be reached immediately for comment. He appears to have shut down his cellphone and did not respond to emails.
Clardy and the two other sheriff's department workers, investigator Alicia Manning and Jail Administrator Larry Hendrix, have also not responded to repeated requests for interviews since the McCurtain County Gazette-News story about the secret tape recording broke over the weekend.
None have spoken publicly about the scandal engulfing the county. On Monday, the sheriff's office claimed that the recording had been "illegally obtained," and that it appeared to have been altered and may have violated a state law prohibiting secret recordings by third parties.
Christin Jones, of the law firm Kilpatrick Townsend, which represents the newspaper, insisted the recording had not been tampered with and that Willingham, whose family has owned the newspaper for 40 years, did not break the law in making it.
"It is an accurate recording and does not violate the Oklahoma Security of Communications Act," Jones said by email. "The full audio is planned to be released on Thursday."
The entire recording has already been turned over to the FBI and the Oklahoma attorney general's office, the law firm has said.
The Oklahoma Sheriffs' Association suspended Clardy, Manning and Hendrix from the organization Tuesday. The move does not remove them from their jobs with the sheriff's department.